Discussion
The Mag: Blake Griffin is NEXT
The Clippers forward is ESPN The Magazine's next big thing in the NBA
Updated:
December 29, 2010, 12:05 PM ET
By
Ric Bucher
| ESPN The Magazine
As far back as anyone can remember, Blake Griffin has seen the world through a set of crosshairs. Out-of-reach fire bells, high fences or anything that big brother Taylor could do -- it all represented something to be slapped, hurdled or topped. "I'd ask my parents, 'Do you think I can do that?' " Griffin recalls. "If they said, 'Yeah,' then I wouldn't do it. It had to be something someone thought I couldn't do."
Those somethings and someones are in ever shorter supply. ...

Read full story
ESPN The Magazine: January 10, 2011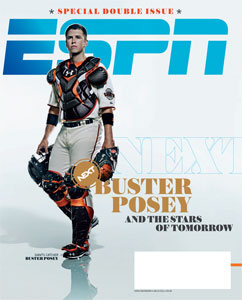 Check out ESPN The Magazine's January 10, 2011 issue -- NEXT -- below.
Features