Discussion
Melo to the Knicks: Seven questions
Originally Published:
February 23, 2011
ESPN.com
Now that the Melodrama is finally over, our experts tackle seven questions surrounding Carmelo Anthony, the Knicks and the Nuggets.
1. How well will Melo and Amare coexist?
Henry Abbott, TrueHoop: If Amare Stoudemire has really come into his own as a leader, that matters tremendously and creates an environment with a focus on team achievements -- not unlike what those other guys are doing in Miami. This has great potential to be a meaningful and creative duo.
The ...

Read full story
2011 NBA Trade Deadline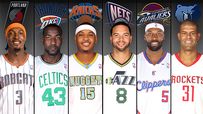 Follow the NBA on ESPN: Twitter / Facebook
LATEST CONTENT
CELTS SWAP PERK FOR GREEN
NETS NAB D-WILL
MELO TO KNICKS
OTHER DEADLINE DEALS
ESPNNBA

NBA on ESPN


You won't like D-Wade when he's angry. https://t.co/CGe74GKHr9
24 minutes ago

ESPNNBA

NBA on ESPN


You won't like D-Wade he's angry. https://t.co/sPkJMbWxFK
26 minutes ago

frankoesuave_

Dank


SO AWESOME LOL https://t.co/njMx0x4YXY
41 minutes ago

royceyoung

Royce Young


This oral history of the Doug Mirabelli trade is so fun: https://t.co/oFxZW4cQyX
44 minutes ago

BenGolliver

Ben Golliver


No iconic shot needed. Blazers dump Clippers w/ unselfish acts, hustle plays in the clutch https://t.co/o53TncMFEu https://t.co/vGVW1Fiw2v
about an hour ago

AlexanderMoylan

Alexander


Only 30 minutes in and I have to RT this already. I shouldn't be listening to this at the gym b/c I laugh too much. https://t.co/y9hfFsIJMi
about an hour ago

LaneDaniel23

DT


@TrueHoopTV I love that @BigWos has no predilection toward Hinkie, you can't inculcate losing into your franchise. #greatShow
about an hour ago

ESPNNBA

NBA on ESPN


Luke Walton filled in admirably for Steve Kerr this season. Can he have similar success with the Lakers? https://t.co/VMvzPhjTNn
about an hour ago

ESPNNBA

NBA on ESPN


ICYMI: 'Purple shirt man' exchanged words with Dwyane Wade, and Wade made him pay for it. https://t.co/33C6ObBMCO
about an hour ago

MazzESPN

Mike Mazzeo


Tonight is the NHL draft lottery. If the Leafs get the No. 1 pick, Game 7 may get a small mention in this town. https://t.co/HWR5w6IQu5
about an hour ago

mcten

Dave McMenamin


New story: Tyronn Lue has not signed a new contract since taking over as Cavs head coach, sources tell ESPN https://t.co/RqN1PeEE4w
about an hour ago

MazzESPN

Mike Mazzeo


Back in Toronto. Everyone, customs agents, baggage handlers etc... seems to be talking about the Raptors. Big game tomorrow.
about an hour ago

JustinVerrier

Justin Verrier


Uhhhhhhh.https://t.co/22PmunZXM5
about an hour ago

MyMikeCheck

Michael Wallace


With Game 6 win in Charlotte, the Miami Heat extended their franchise record to 17 consecutive playoff series with at least 1 road victory.
about an hour ago

BaxterHolmes

Baxter Holmes


Slated to talk Lakers and Luke Walton on @SportsCenter in a bit. Here's my column on the tall task ahead of Luke: https://t.co/hlZWbMZpTR
about 2 hours ago

JustinVerrier

Justin Verrier


From last night: It's a make-or-miss league, Steve Clifford says, and Kemba's moment was cut off by the improbable. https://t.co/YpXX9aCaGW
about 2 hours ago

ESPNForsberg

Chris Forsberg


IT also hoping to change Boston's lottery luck when he represents them on stage next month. https://t.co/GDgsPzyZGE
about 2 hours ago

ESPNForsberg

Chris Forsberg


Stung by Celtics early playoff exit, Isaiah Thomas says, "I promise you I'll be back better."https://t.co/bnRsWmsEBO
about 2 hours ago

MyMikeCheck

Michael Wallace


Wallace: Wade's dagger 3s deliver last word to shut up Purple Shirt Dude, lead Heat home for Game 7 https://t.co/JlcbAN76EI
about 2 hours ago

mfr234

mfr24


30:30⏲ @WindhorstESPN "Heat fans are some of the best fans in the NBA..arena is always full..toughest places to play https://t.co/vTouxKLGJo
about 2 hours ago