Discussion
Deron Williams latest to go big city
Updated:
February 24, 2011, 1:44 PM ET
ESPN.com news services
Sorry, Cleveland. Tough break, Toronto. You lose, Utah.
With Deron Williams traded from the Jazz to the Nets Wednesday, small-market teams again are left to wonder what the future holds for them. Is there something the NBA should do to protect teams from losing their star players?
"I think this is a relatively recent phenomenon, but one that I believe is being watched very closely," Jazz CEO Greg Miller said after trading away his All-Star point guard in exchange for rookie Derrick ...

Read full story
2011 NBA Trade Deadline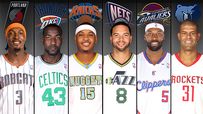 Follow the NBA on ESPN: Twitter / Facebook
LATEST CONTENT
CELTS SWAP PERK FOR GREEN
NETS NAB D-WILL
MELO TO KNICKS
OTHER DEADLINE DEALS
royceyoung

Royce Young


Through the chaos and noise of Game 2,Durant and the Thunder stood tall: https://t.co/ybsZ30nOK8
about 2 hours ago

MikeTrudell

Mike Trudell


Just finished OKC: I get that it was a Waiters PF, but SAS ended up w/fast break and nobody back. Turned out like "advantage" in ⚽️.
about 2 hours ago

mattheww_sean

Matt


Sat near the myth, the legend... @Chris_Broussard https://t.co/I3SgfaExRa
about 2 hours ago

kpelton

Kevin Pelton


Tom Coughlin asking "what is a podcast?" on the @MenInBlazers show. https://t.co/cwFDzISW80
about 2 hours ago

ESPNSteinLine

Marc Stein


What a sports day this was. Didn't deserve it on top of all the drama but @BaseballTitans ledge Khris Davis treated me two dingers #inperson
about 3 hours ago

NBAOfficial

NBA Official


Pool Reporter Transcript from tonight's OKC/San Antonio game https://t.co/uMXiRPdrqT
about 3 hours ago

ESPNSteinLine

Marc Stein


The Leicester tab on the @espn Bottom Line ... it's still there and might never go away
about 3 hours ago

ESPNSteinLine

Marc Stein


Leicester. Bloody hell
about 3 hours ago

kpelton

Kevin Pelton


I can't believe Leicester City won the Premier League and it wasn't the craziest thing in sports today.
about 3 hours ago

royceyoung

Royce Young


Re: Waiters: Ginobili stepped over the line, which is a technical foul. That started the domino effect of crazy: https://t.co/j2Jjlljc6f
about 3 hours ago

kpelton

Kevin Pelton


It is still called a delay of game, but yes, should be an automatic technical in the last two minutes. https://t.co/xfXCZQWVe5
about 3 hours ago

royceyoung

Royce Young


Can we also talk about how ballsy of a pass that was by Manu to Patty Mills in that moment? No-look over the head? Manu's the best.
about 3 hours ago

jadande

J.A. Adande


How did he go from "I don't know what happened" to "Manu stepped on the line" so fast? Selective memory much? https://t.co/v9RTjFwe0W
about 3 hours ago

royceyoung

Royce Young


Re: Waiters: Ginobili stepped over the line, which is a technical foul. That started the domino effect of crazy: https://t.co/yOxCwxMsF3
about 3 hours ago

ESPNNBA

NBA on ESPN


The results from the Association tonight... https://t.co/rZKOsgY6wd
about 3 hours ago

CBSSportsNBA

CBS Sports NBA


Waiters on if Manu stepped out: "Hopefully they're going to look at it and see he stepped out. Should have been a tech, too."
about 3 hours ago

royceyoung

Royce Young


So: Spurs would've had the ball, side out. They ended up with it anyway, with a 3-on-1... https://t.co/DvS4v32H2R
about 3 hours ago

ESPNNBA

NBA on ESPN


These guys led their teams to victory tonight. https://t.co/hSDugYQvxb
about 3 hours ago

ESPNNBA

NBA on ESPN


"Something certainly happened on the sideline there." -Gregg Popovich WATCH: https://t.co/raFzy7Vvsh
about 4 hours ago

kpelton

Kevin Pelton


Checks out: Some media/crowd on the court with time on the clock in a one-score game with the title on the line. https://t.co/JEvFlyqRUU
about 4 hours ago