Discussion
Jimmer Fredette works out with Pacers
Updated:
June 16, 2011, 9:27 PM ET
Associated Press
INDIANAPOLIS -- Former BYU star Jimmer Fredette has his first NBA workout under his belt and he admits he was a little winded.
Fredette worked out for Indiana Pacers president Larry Bird and other team officials on Tuesday. He at times was out of breath and was pushed by coaches to go harder. But he wasn't complaining.
"This was my first workout so it was a little tiring," Fredette said. "We went really hard for about an hour and 15 minutes straight through. That's what happens; ...

Read full story
2011 NBA DRAFT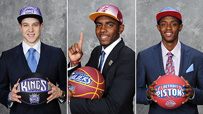 Follow the NBA on ESPN: Twitter / Facebook
LATEST CONTENT
mcten

Dave McMenamin


New column up in the blog: Cavs buying into attention-to-detail approach https://t.co/wFgbJe1aE3
about 2 hours ago

billoram

Bill Oram


@ArashMarkazi Why didn't you just show them yours?
about 3 hours ago

MrChuckMartin

Chuck Martin


@ArashMarkazi @USCAnnenberg I think I want to take this class.
about 3 hours ago

ESPNNBA

NBA on ESPN


Road teams stole the OT victories tonight. How'd your squad do? https://t.co/YyqEHZhbOI
about 3 hours ago

ArashMarkazi

Arash Markazi


Thanks to Linda McCoy Murray for bringing Jim Murray's Pulitzer to my @USCAnnenberg class tonight. https://t.co/q4EiduEaTD
about 4 hours ago

calvinwatkins

Calvin Watkins


I covered coach Naclerio back in the day. One of the best. https://t.co/oD67nfM24c
about 4 hours ago

calvinwatkins

Calvin Watkins


Ranking every Air Jordan sneaker 1-XX9 https://t.co/cihqEBkHUC FYI: This is very cool.
about 4 hours ago

NickFriedell

Nick Friedell


Blame for the way this season has turned out so far rests mainly on Paxson and Forman, not Hoiberg. https://t.co/ColzRtHPSM
about 4 hours ago

ESPNNBA

NBA on ESPN


Real recognize real. https://t.co/5xARV9pw9P
about 4 hours ago

MazzESPN

Mike Mazzeo


Nets' McCullough makes statement in NBA debut https://t.co/ABfAvll3hN
about 4 hours ago

MazzESPN

Mike Mazzeo


Mikhail Prokhorov ecstatic after Joe Johnson delivers again at the buzzer https://t.co/8hYo0TH9LY
about 4 hours ago

NickFriedell

Nick Friedell


Wow. RT @CodyWesterlund: This is pitiful transition D by the Bulls https://t.co/oZXwAEceK8
about 4 hours ago

ESPNNBA

NBA on ESPN


Damian Lillard leads the pack. Who else got buckets? https://t.co/5fnW3U96Cr
about 4 hours ago

mcten

Dave McMenamin


New story: LeBron says it's "emotional" watching Kobe play out his final season; shares his favorite Bryant moment https://t.co/AyXJMGXWhK
about 4 hours ago

mcten

Dave McMenamin


New story: LeBron says it's "emotional" watching Kobe play out his final season; shares his favorite Bryant moment https://t.co/AyXJMGXWhK
about 4 hours ago

BaxterHolmes

Baxter Holmes


One https://t.co/8Mmd4KuS4M
about 5 hours ago

BaxterHolmes

Baxter Holmes


.@Dloading's line tonight: 16 points, 5 rebounds, 5 assists, 4 steals and 1 block.
about 5 hours ago

ESPNNBA

NBA on ESPN


OKC bounces back from their loss to Golden State, beating the Suns 122-106.KD: 32 Pts, 6 Reb, 3 Ast & 2 Blk https://t.co/s46AwjglcC
about 5 hours ago

kpelton

Kevin Pelton


Shoutout to the dude courtside in Phoenix wearing a Detlef Schrempf jersey.
about 5 hours ago

royceyoung

Royce Young


Thunder beat the Suns 122-106. Durant 32, Westbrook 29-8-8, Waiters 15, 4 assists and 3 steals, Kanter and Payne each with 11.
about 5 hours ago