Discussion
#NBAMVP rankings: Back to work
To join the discussion and get your MVP comments on ESPN.com, respond to the NBA MVP Top 10 rankings using the Twitter hashtag #NBAMVP.
1. LEBRON JAMES, HEAT @KingJames
2011-12 STATS
GP MPG PPG RPG APG BPG SPG PER EWA*
33 36.7 27.4 8.1 6.8 0.7 1.8 32.42 13.2
@NBAonESPN LeBron's talent and ability to control the game are head and shoulders above everybody. He makes any team instant contender #NBAMVP
— Wilson Stanton ...
Read full story
MVP Rankings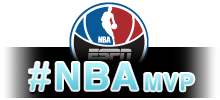 Follow the NBA on ESPN:
Twitter / Facebook / Google+
LATEST CONTENT
REGULAR FEATURES
ramonashelburne

Ramona Shelburne


I love this point of free agency https://t.co/zPnn4zqvPC
about 2 hours ago

ramonashelburne

Ramona Shelburne


Lakers apologized to LMA for not getting into more hoops at first mtg, when it was over an hour before Kupchak/BScott talked
about 2 hours ago

ramonashelburne

Ramona Shelburne


Lakers mtg with LaMarcus today lasted 90 mins. Basketball talk from Kupchak, Byron &Mark Madsen (who handles analytics for coaching staff)
about 2 hours ago

espn_macmahon

Tim MacMahon


I hear Mavs' 4-year deal with Wesley Matthews will probably average about $13 million per year. Flexible depending on DeAndre decision.
about 2 hours ago

ramonashelburne

Ramona Shelburne


In some ways, DJ should never leave Doc. He rejuvenated his career. But that's as coach. It's Doc/Ballmer vs. Cuban on other side
about 2 hours ago

kpelton

Kevin Pelton


Guilty. https://t.co/c8aCJdeoYN
about 2 hours ago

ramonashelburne

Ramona Shelburne


Mavs don't have as much locked in place with roster, but sometimes a new voice -- with Cuban's track record -- matters. We'll see Fri
about 3 hours ago

IanBegley

Ian Begley


For those asking: if the #Knicks sign Robin Lopez, they'll lose the ability to absorb David Lee's $15 million contract in a trade.
about 3 hours ago

ramonashelburne

Ramona Shelburne


As for the Clips. DeAndre has concerns about roster. Doesn't know if it will age well. Worries what happens with only 2 years left of Blake
about 3 hours ago

ramonashelburne

Ramona Shelburne


Word is that LaMarcus needs a little more time and is genuinely torn by the choices in front of him.
about 3 hours ago

ramonashelburne

Ramona Shelburne


To sum up Aldridge race: Spurs, Suns are leaders.Portland trying for a Hail Mary. Mavs trying...Lakers flailing. Knicks in the green room
about 3 hours ago

espn_macmahon

Tim MacMahon


Wes Matthews' commitment to Mavs gives DeAndre Jordan one more reason to have Dallas racing through his mind as he puts his head on pillow.
about 3 hours ago

MazzESPN

Mike Mazzeo


Well... https://t.co/QZk63MXe18
about 3 hours ago

kpelton

Kevin Pelton


A thing I've learned today: I don't value Markieff Morris as much as many people whose opinion I respect.
about 3 hours ago

MazzESPN

Mike Mazzeo


DeAndre Jordan should just take a free throw to decide. Make: Clips. Miss: Mavs. Ultimate 50-50 shot.
about 3 hours ago

ESPNSteinLine

Marc Stein


DA (@daldridgetnt) says it's a four-year deal. ESPN sources say specific $$$ won't be known until after Mavs' pursuits of Jordan & Aldridge
about 3 hours ago

ESPNSteinLine

Marc Stein


As @daldridgetnt just tweeted, Wes Matthews has officially given a verbal commitment to the Mavs after turning Sacramento down
about 3 hours ago

BaxterHolmes

Baxter Holmes


Chatted with the fine folks at ESPN about the Lakers, their brand, free agency, Jeanie & Jim Buss, etc. http://t.co/TX2296bnUz
about 4 hours ago

ESPNSteinLine

Marc Stein


Wes Matthews Latest: ESPN sources say Matthews' camp has notified Kings he's unlikely to take their offer, making Dallas even more likely
about 4 hours ago

IanBegley

Ian Begley


Terms for Robin Lopez are unknown at this point. If he signs for $13 million per year, #Knicks will have roughly $6 million left to spend.
about 4 hours ago