Discussion
A tale of two halves
D-Rose debuted his endless bag of tricks against the Heat
Updated:
August 15, 2012, 11:46 AM ET
By
Ric Bucher
| ESPN The Magazine
LET'S FACE IT: During last year's Eastern Conference finals, the Heat trapped, swarmed and all but gang-tackled Derrick Rose, holding the league's MVP to 2011 playoff lows of 23 points per game and 35 percent shooting. If Rose had one focus in the off-season, it was to develop the skills and strategy to prevent that from ever happening again. "Last year, they kind of had us," says Rose. "I wasn't studying enough film to see how they were defending me."
During the off-season, he buckled down with coach Tom Thibodeau. He and Thibs found the weaknesses in a defense that overloads as hard on the ball as Miami does (think far wing and baseline). Meanwhile, during a lockout-induced trip to the Philippines, Rose soaked up advice from Kobe Bryant about what plays would make it harder for the Heat to force the ball out of his hands (think edges of the free throw line). While overseas, he performed drills and workouts no matter how late he arrived in a new city or how spartan the training facilities. He even passed up summer-league games; each game played meant one less day to train. Now, finally, the chance to test his new weapons on the monster that inspired them was here -- and quarter by quarter, he unwrapped them. Pay close attention. They're a road map for what's to come.
---
To read a quarter-by-quarter breakdown of D-Rose's 34-point performance against the Heat, become an ESPN Insider.
Insider
ESPN The Magazine: April 16, 2012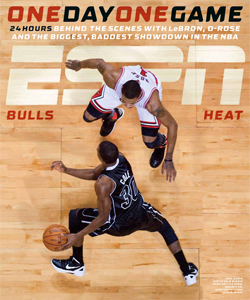 FEATURES IN "ONE DAY, ONE GAME"

COLUMNS

MORE FROM THE ISSUE