Discussion
#NBAMVP rankings
To join the discussion and get your MVP comments on ESPN.com, respond to the NBA MVP Top 10 rankings using the Twitter hashtag #NBAMVP.
1. LEBRON JAMES, HEAT @KingJames
2011-12 STATS
GP MPG PPG RPG APG BPG SPG PER EWA*
59 37.7 27.1 7.9 6.3 0.8 1.9 30.54 22.2
@NBAonESPN #NBAMVP LeBron has the highest PER lead in a decade. He defends every position, sets up plays, scores big numbers- its obvious.
— Kat Locke (@xoxokatlocke) ...
Read full story
MVP Rankings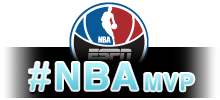 Follow the NBA on ESPN:
Twitter / Facebook / Google+
LATEST CONTENT
REGULAR FEATURES