Discussion
Duo becomes more dynamic
The chemistry between Chris Paul and Blake Griffin showed in a Game 3 comeback
LOS ANGELES -- You can't really say that the Los Angeles Clippers have a winning formula.
A formula suggests a recipe that consists of a precise measurement of elements and ingredients.
What the Clippers concoct in the closing minutes of games can more aptly be described as an exotic potion whipped up by a sorcerer. Call it a witches' brew -- the witch, of course, being Chris Paul.
"That's how we planned it," said Paul with a tinge of sarcasm about the Clippers' ...

Read full story
2012 NBA Finals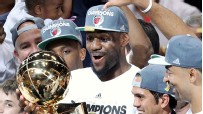 Follow the NBA on ESPN:
Twitter / Facebook / Google+
LATEST CONTENT
FINALS FEATURES
AUDIO/VIDEO
FINALS PAGE
ESPNNBA

NBA on ESPN


Last season, Atlanta got swept by Cleveland in ECF. This time around, the Hawks have a better shot. MORE: https://t.co/lgQvG540lw
18 minutes ago

royceyoung

Royce Young


The standard move is to wait until after Game 2 to make a change to the starting five. The progressive one is to do it now. We'll see.
18 minutes ago

renjunsd

Renjun Bao


Thanks @H_Grove for the shot, Dave is great! @mcten https://t.co/JwSLbvESap
25 minutes ago

ESPNNBA

NBA on ESPN


LeBron James has 13 points (6/10 FG) as Cavs lead Hawks at half, 51-41. Paul Millsap: 2-10 FG, 7 points. https://t.co/6rbz4pQBg3
26 minutes ago

kevinarnovitz

Kevin Arnovitz


Attn, @transcript. "Katz Asks Russ" will be the best digital sports feature of 2016. Don't miss this opportunity. https://t.co/Pq1TILSweh
27 minutes ago

royceyoung

Royce Young


Billy Donovan says starters will be announced when they have to be made official. But also said not to expect any changes.
29 minutes ago

ESPNSteinLine

Marc Stein


Have to believe, after what Stotts did with this group despite all of us know-it-alls writing Pottland off, that an extension is coming soon
36 minutes ago

ESPNSteinLine

Marc Stein


Report from @sam_amick: Terry Stotts' option year for 2016-17 has not yet been picked up despite near-COY season --> https://t.co/O1IAx4mkbc
37 minutes ago

ESPNNBA

NBA on ESPN


Larry Bird said he hasn't decided whether or not to bring back Pacers coach Frank Vogel. (via @indystar) https://t.co/SbwjLwwVCP
43 minutes ago

mcten

Dave McMenamin


Kevin Love is 0-for-6 but I like the way he's playing -- calling for the ball, aggressive cuts, good body language.
about an hour ago

kevinarnovitz

Kevin Arnovitz


My dad is worried about Houston: "You know I am a James Hardin fan and what's his name with the big shoulders from South Atlanta Christian."
about an hour ago

ArashMarkazi

Arash Markazi


L.A. was the top-selling market for NFL merchandise from Thursday-Sunday on @Fanatics. L.A. Rams gear saw a 335% spike during the NFL Draft.
about an hour ago

IanBegley

Ian Begley


Pacers' Larry Bird expresses uncertainty about Frank Vogel's future in Indiana: https://t.co/ut5hzDaaNU
about an hour ago

GreggDoyelStar

Gregg Doyel


Larry Bird on Frank Vogel's future with #Pacers: "I don't know what's going to happen." https://t.co/XcCl3RpJFA
about an hour ago

jadande

J.A. Adande


Welp. It's been a good run, Frank Vogel. I actually thought he did his best work this season https://t.co/897lRrqBYo
about an hour ago

calvinwatkins

Calvin Watkins


Always good to hear. https://t.co/2rvpT6RCRf
about an hour ago

jadande

J.A. Adande


Not everyone feels good about the feel-good story https://t.co/zLTyK7MltT
about an hour ago

ESPNNBA

NBA on ESPN


Dwyane Wade got emotional when learning he was Prince's favorite NBA player. https://t.co/3ciMQWBLrV
about an hour ago

kpelton

Kevin Pelton


I'm president of the Kevin Love at C Fan Club but I agree with @ZachLowe_NBA that this is not the series for it: https://t.co/FZDwCeeZ5R
about an hour ago

bleebasket

Bernard Lee


Would also produce more injuries then professional bull riding or bobsled https://t.co/jyYvTFYDlK
about 2 hours ago