Discussion
Wade's huge sacrifice for LeBron
Wade took a step back with one goal in mind this season: an NBA championship
Flat on his back after a post-practice shooting routine Friday, with his entire body behind the 3-point arc, Dwyane Wade starting flinging basketballs toward the rim.
A couple went in, but not enough to satisfy him, so he decided to sit up and sling overhead shots from that position.
Of his last five attempts, three went in.
All the while, LeBron James was facing a mob of media members to discuss the emboldened Pacers and their newfound trash-talking ways.
When ...

Read full story
2012 NBA Finals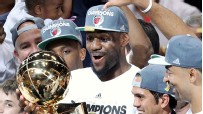 Follow the NBA on ESPN:
Twitter / Facebook / Google+
LATEST CONTENT
FINALS FEATURES
AUDIO/VIDEO
FINALS PAGE
kpelton

Kevin Pelton


His palms are sweaty, knees weak, 36-inch arms are heavy /Going to get drafted in the first round: Germain Ifedi
5 minutes ago

EricPincus

Eric Pincus


.@Basketball Insiders Podcast: Walton to Lakers, Time to Break Up Clippers? - my latest podcast wth @LarryCoonhttps://t.co/JXO5U4c6JP
11 minutes ago

royceyoung

Royce Young


Game 1 did not go well for the Thunder: https://t.co/OQbZThZwxy
40 minutes ago

MazzESPN

Mike Mazzeo


The game will miss him when he finally does hang it up. A great competitor. https://t.co/cPeIoeJ7Cb
47 minutes ago

calvinwatkins

Calvin Watkins


Bosh won a state title but LJ was great. Pick LJ. https://t.co/0QT1r1PikW
about an hour ago

royceyoung

Royce Young


The last time OKC won a postseason game in SA? James Harden hit a dagger in Game 5 in 2012. Since then: four losses by an average of 28 ppg.
about an hour ago

MazzESPN

Mike Mazzeo


Former CAA players fear no one https://t.co/lCJhjXEY9j
about an hour ago

TrueHoopTV

TrueHoop TV


This gotta be a show https://t.co/E3lsKb1DUV
about an hour ago

royceyoung

Royce Young


Kevin Durant on his emotions after Game 1: "I'm not telling you." https://t.co/LdNiFynKjR
about an hour ago

TrueHoopTV

TrueHoop TV


Awesome postgame montage on @NBAonTNT right now
about 2 hours ago

royceyoung

Royce Young


This is not an encouraging stat. https://t.co/qpRhY77rKZ
about 2 hours ago

ESPNNBA

NBA on ESPN


Well that's one way to start Round 2, Kawhi. https://t.co/QHvQ2H6nWm
about 2 hours ago

ESPNNBA

NBA on ESPN


38 Pts in 30 minutes for LaMarcus. https://t.co/n0GZE7Sh1k
about 2 hours ago

ESPNNBA

NBA on ESPN


Spurs led by as many as 43.It's the 1st time in the Popovich era the Spurs led a playoff game by 40 or more Pts. https://t.co/yOdJ8GVAnT
about 2 hours ago

BaxterHolmes

Baxter Holmes


@PabloTorre Frame that right meow
about 2 hours ago

royceyoung

Royce Young


Pop on LaMarcus Aldridge's night: "The ball went in the basket a lot. Not trying to be flip, but that's what happened."
about 2 hours ago

ESPNNBA

NBA on ESPN


Spurs improve to a perfect 8-0 in Game 1s following a sweep under Gregg Popovich. https://t.co/uIT1y827Rb
about 2 hours ago

MazzESPN

Mike Mazzeo


Mike Richards misses. Eric Fehr doesn't. Hockey Night in Canada and Jim Hughson on point tonight.
about 2 hours ago

royceyoung

Royce Young


@TrueHoopTV My recap: RIGBY, the Thunder are terrible and have no chance, RIGBY. RIGBY, Durant and Westbrook were total no shows, RIGBY.
about 2 hours ago

ESPNNBA

NBA on ESPN


Game 1, advantage San Antonio. Spurs handle the Thunder, beating OKC 124-92. https://t.co/dZ1HzhlZTZ
about 2 hours ago