Discussion
Greatest NBA playoff performances
We rank the top 25 single-game performances in NBA postseason history
Originally Published:
June 20, 2012
ESPN.com
The 2012 postseason has featured two instant-classic performances: Rajon Rondo's amazing 44-8-10 game and LeBron James' cold-blooded 45-15-5 follow-up to save Miami's season.
To put these games into perspective, we asked our writers to select the best playoff performances ever in the modern era, 1978 to 2012.
Here are our selections for the top 25:
25. Dwyane Wade, Heat: 2006 NBA Finals, Game 3
MIN FGM-A 3PM-A FTM-A REB AST STL BLK TO PTS
43 14-26 1-2 13-18 13 2 2 0 1 42
Dwyane ...

Read full story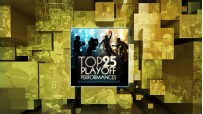 TOP 25 PLAYOFF PERFORMANCES
ESPN.com ranks the top 25 single-game postseason performances of all time in the National Basketball Association, Major League Baseball, the National Football League and the National Hockey League.
THE NBA
MAJOR LEAGUE BASEBALL
THE NFL
THE NHL