Discussion
Greatest playoff runs: Top individuals
Where does LeBron's 2012 postseason rank among all-time great performances?
Now that the championship confetti has settled along Biscayne Boulevard, it's as good a time as any to try to put LeBron James' title run into perspective.
Here's the big question: Was James' playoff campaign, in which he averaged 30.3 points, 9.7 rebounds and 5.6 assists, the best ever in a championship season?
To answer that question, we'll need the trusty help of player efficiency rating, which tallies up box score contributions into an all-in-one metric that normalizes for tempo ...

Read full story
2012 NBA Finals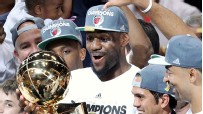 Follow the NBA on ESPN:
Twitter / Facebook / Google+
LATEST CONTENT
FINALS FEATURES
AUDIO/VIDEO
FINALS PAGE
ESPNSteinLine

Marc Stein


You know what that last tweet means: #eventhehawks love tennis #tennisisalive
about 2 hours ago

ESPNSteinLine

Marc Stein


RT @DeMarreCarroll1: Great Event with the homie @JackSock...All my #ATLHawks fans go support him this week!!! http://t.co/CRQ4Cb5kXM
about 2 hours ago

ESPNSteinLine

Marc Stein


Just hit me that the Team USA plane to Spain leaves in a month and a day. #theother2014worldcup
about 2 hours ago

ESPNSteinLine

Marc Stein


Coupla contract bits: Third year of Kris Humphries' $13.3M Wiz deal fully unguaranteed; Heat gives Birdman two-year, fully guaranteed $10.4M
about 2 hours ago

ESPNSteinLine

Marc Stein


RT @TheTennisNerds: Dudi Sela dominating early against Donald Young in Atlanta (cc: @ESPNSteinLine) - http://t.co/CIoQfgumWn (MY MAIN MAN)
about 5 hours ago

ESPNSteinLine

Marc Stein


Hearing Pistons second-rounder Spencer Dinwiddie has landed a three-year deal from his new team
about 7 hours ago

shehan_peiris

Shehan Peiris


.@jadande explains how "retaining is the new improving" in the #NBA--and nobody retained like the #Spurs:http://t.co/dv8z0KAYCe
about 8 hours ago

ESPNSteinLine

Marc Stein


Official numbers on Ryan Kelly's new deal with Lakers: $1,650,000 in 2014-15, $1,724,250 in 2015-16
about 8 hours ago

coachthorpe

david b. thorpe


Not drafting someone because of their religion, color, sexual orientation, or ethnicity can only be discrimination. Right?
about 9 hours ago

WhitlockJason

Jason Whitlock


Story and link to my podcast interview with Maverick Carter @mavcarter http://t.co/X2Ebzd6Rbx #nba #lebronjames
about 10 hours ago

coachthorpe

david b. thorpe


@GottliebShow except that is is clearly and completely discriminatory. He has a lot of apologizing to do.
about 10 hours ago

petebeatty

pete beatty


being into "longform" is slightly like being into songs that are over 7 minutes long regardless of what the music is like
about 11 hours ago

JustinVerrier

Justin Verrier


A little weird to walk outside and not be in a 100-degree cesspool.
about 11 hours ago

NBARumorCentral

ESPN


Are the Pistons now prepared to hold on to Josh Smith, who has three years and $42 million remaining on his deal?http://t.co/KphLAujMen
about 11 hours ago

NBARumorCentral

ESPN


Are the Pistons now prepared to hold on to Josh Smith, who has three years and $42 remaining on his deal?http://t.co/KphLAujMen
about 11 hours ago

NBARumorCentral

ESPN


The #Heat are one of two teams considering a former first round pick from 2011. http://t.co/AakzCFExom
about 11 hours ago

ESPNNBA

NBA on ESPN


The Spurs epitomize the underrated story of the '14 free-agent fest: Retaining is the new improving, writes @jadande. http://t.co/kXzTnz0HRn
about 12 hours ago

kpelton

Kevin Pelton


Looking forward to celebrating 4 of Seattle's championship teams at tomorrow's @seattlestorm game: http://t.co/wDCpgAEWHV
about 12 hours ago

kpelton

Kevin Pelton


@billbarnwell If Part 2 of the trade rankings doesn't include #trolled, I will be very disappointed.
about 13 hours ago

ESPNNBA

NBA on ESPN


Talking stats, steals and blocks with @NerlensNoel3 -- http://t.co/TqwKou5tRt (in)
about 13 hours ago