Discussion
Reggie Miller, Don Nelson inducted
Updated:
September 7, 2012, 11:55 PM ET
Associated Press
SPRINGFIELD, Mass. -- Reggie Miller wasn't always the biggest name in his own family. On Friday night, he was the top star in the biggest basketball Hall of Fame class in a half-century.
The former UCLA and Indiana Pacers star was inducted in the Naismith Memorial Basketball Hall of Fame, joining sister Cheryl as the first brother-sister pair in the Springfield shrine. Cheryl Miller, a two-time NCAA tournament MVP at Southern California and 1995 Hall inductee, was on stage to welcome him.
"I ...

Read full story
2012 Basketball Hall Of Fame Inductions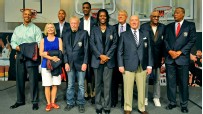 Follow the NBA on ESPN:
Twitter / Facebook / Google+
2012 Hall of Fame index
/
Topics: Naismith Hall
HALL OF FAME CONTENT
ESPNSoccerToday

ESPN\'s Soccer Today


Mondays stink but maybe our podcast can make it a little better. @SteveDavis90 + @ESPNSteinLine + @KellynAcosta https://t.co/6DDPu8zZot
12 minutes ago

StephenCurry30

Stephen Curry


A Look into my soul right now...but it's all good we will be back! https://t.co/fKbDjGx0on
about an hour ago

MazzESPN

Mike Mazzeo


Tough to appreciate at the time with so much chaos going on, but it was fun in retrospect. https://t.co/Twmf5qkOga
about 6 hours ago

MyMikeCheck

Michael Wallace


Wallace: The Clippers are thriving in choppy waters https://t.co/FOAlxsQYyE
about 6 hours ago

MyMikeCheck

Michael Wallace


Amen, brother. And on that note, I'm done with it for the season. https://t.co/K6EhJvqY1t
about 6 hours ago

MazzESPN

Mike Mazzeo


Dmitry Razumov's smartest move was pushing Jason Kidd as coach ... it feels like so long ago ...
about 7 hours ago

MazzESPN

Mike Mazzeo


The #Nets have lost 28 games at home since the #Warriors last lost at home. They once won 15 in a row at home w/ Jason Kidd at the helm ...
about 7 hours ago

espn_macmahon

Tim MacMahon


This Super Bowl run really won't impact Peyton Manning's legacy, but it eliminates any doubt that DeMarcus Ware is a Hall of Famer.
about 7 hours ago

MazzESPN

Mike Mazzeo


Most head coaches since 2006-07: #Nets 8, #Kings 8 (@ESPNStatsInfo). This week could go a long way toward finding stability ...
about 7 hours ago

ShotDrJr

Rob Peterson


Holy Moses ... https://t.co/8uQMdKmSXF
about 7 hours ago

PTanner34

Phillip Tanner


If you are a NFL QB and think you are too good to be criticized by fans and media and you can't handle it. You may want to find a new job.
about 9 hours ago

DezBryant

Dez Bryant


@J_No24 pick your head up bro.. hell of a year.... I need you right for when we meet again
about 9 hours ago

ramonashelburne

Ramona Shelburne


This is great https://t.co/D5ZhIpIhFz
about 9 hours ago

MrMichaelLee

Michael Lee


Cam's got nothing to say. Walks away (via @CamInman) https://t.co/XX4gPlU6oX
about 9 hours ago

mcten

Dave McMenamin


Congrats to @benhunted 🏉💍 to go with your 🏀💍
about 9 hours ago

coachthorpe

david b. thorpe


@ryenarussillo that's the only play I saw tonight, with the volume muted, and I figured the play was blown dead. Dudes get cut for that.
about 9 hours ago

espn_macmahon

Tim MacMahon


Cam Newton isn't going to quiet his haters with this postgame press conference.
about 9 hours ago

StephenCurry30

Stephen Curry


A Look into my soul right now...but it's all good we will be back! https://t.co/fKbDjGx0on
about 9 hours ago

ProfBlackistone

Kevin B. Blackistone


1. 3. 13. The TDs, interceptions and sacks #WadePhillips D v. #CamNewton, #TomBrady #BenRoethlisberger in playoffs #SuperBowl #Broncos Wow.
about 9 hours ago

pstiegman

P. Stiegman


On the field, Olivia Manning to https://t.co/UKgo7zanP8 & the LA Times: "I want Peyton to retire." https://t.co/tCXQQBnmr9
about 10 hours ago