Discussion
Carmelo Anthony's way
After nine seasons, Melo can get what he wants. But is it what he needs?
Originally Published:
October 16, 2012
By
Tim Keown
| ESPN The Magazine
THE NBA IS is one of the world's most exclusive clubs, a bastion of privilege and entitlement. But like any exclusive club, there are levels of exclusivity. Even in the rarefied social strata of the NBA, there is significant cachet in becoming one of the select few who reside behind the rope line.
Within this subset of exceptionalism, the VIP club within the VIP club, one quality is exalted above all others: the power of the individual to impose his will on teammates, ...

Read full story
ESPN The Magazine: October 29, 2012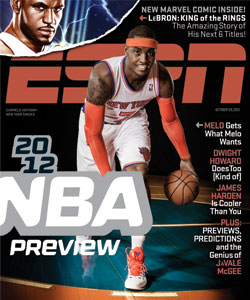 NBA PREVIEW

COLUMNS

MORE FROM THE NBA PREVIEW ISSUE

SPECIAL FEATURE