Discussion
Is LeBron the Lakers' next big target?
If Kobe Bryant hangs it up in 2014, the door is open for a new King of Los Angeles
No team reloads like the Los Angeles Lakers.
Their track record of leveraging their hometown appeal and history, plus applying shrewd management, over the past 30 years is virtually without peer.
With their latest coups -- the stunning Steve Nash sign-and-trade and a victory in the Dwight Howard sweepstakes -- just now coming together for the first time, could the Lakers already be plotting out the next one?
Opposing executives think so. As teams continue their long-range ...

Read full story
The NBA On ESPN.com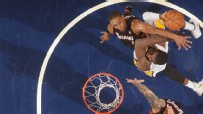 Follow the NBA on ESPN:
Twitter / Facebook / Google+
LATEST CONTENT
REGULAR FEATURES
ESPNNBA

NBA on ESPN


ICYMI: LeBron snapped at Mario Chalmers during the Heat-Pacers game, but later apologized - http://t.co/yXMw0GRtBC
about 4 hours ago

ESPNNBA

NBA on ESPN


Who had the top play of the night, @KingJames, @RickyRubio9 or @KembaWalker: http://t.co/YgSaoflxZ9
about 5 hours ago

DimeUpdate

Dime Update


Anthony Davis with 24 and 12 in his return from injury, but that isn't enough to overcome Lob City. Clips win 108-95.
about 5 hours ago

ESPNNBA

NBA on ESPN


Wednesday @BrandonKnight07, @Dame_Lillard, @deandrejordan and @Teague0 topped the stats leaderboards: http://t.co/921iQ2yLCw
about 5 hours ago

ESPNNBA

NBA on ESPN


.@utahjazz PG @Trey_Burke3 earned one of @SportsCenter's #SC3stars of the night. http://t.co/uli4LAOX6D
about 5 hours ago

ESPNNBA

NBA on ESPN


Jordan 6-6 from field, finishes with 14p, 20r, 5b in Clippers win over Pelicans.BOX SCORE: http://t.co/qtBg97yGNa http://t.co/dDaNsoKVIq
about 5 hours ago

DimeUpdate

Dime Update


After three, the Clippers lead the Pelicans 78-65. Blake Griffin leads all scorers with 21 points
about 6 hours ago

ESPNNBA

NBA on ESPN


Catch NBA Tonight with @CassidyHubbarth and @CoachKarl22 (1 AM ET, ESPN2). They're #DroppingDimes with the best passes of the week.
about 6 hours ago

ESPNNBA

NBA on ESPN


Howard posts 23p, 9r as Rockets blow out Bulls.BOX SCORE: http://t.co/DPaV2zWHIZ http://t.co/8ty3Bc3qye
about 6 hours ago

ESPNNBA

NBA on ESPN


Visual evidence of JR Smith's 17 3-pt attempts RT @TheRealJRSmith: Lol 17 threes tho! Had to say damn my self! http://t.co/SBjvjub3Rg
about 6 hours ago

DimeAlert

Dime Alert


Clippers with a 13-2 run, take a 68-53 lead midway through the 3rd quarter. Pelicans timeout.
about 6 hours ago

ESPNNBA

NBA on ESPN


RT @jadande: Remember: blowouts increase the likelihood of Jeff Van Gundy rants/tangents. #Rockets #Bulls #staytuned
about 7 hours ago

jadande

J.A. Adande


Remember: blowouts increase the likelihood of Jeff Van Gundy rants/tangents. #Rockets #Bulls #staytuned
about 7 hours ago

ESPNNBA

NBA on ESPN


The @HoustonRockets ended the 3rd on a 15-1 run to take an 83-66 lead over the @chicagobulls on ESPN: http://t.co/UufcfDUXMb
about 7 hours ago

DimeUpdate

Dime Update


Clippers lead the Pelicans 52-45 at the half. Difference is the FT line. Clips are 16-18. Pelicans are 3-5.
about 7 hours ago

ESPNNBA

NBA on ESPN


Manu Ginobili (24p, 6r, 7a) comes up big off bench as Spurs beat Suns.BOX SCORE: http://t.co/przLdcb5bJ http://t.co/eFv0yLXDwk
about 7 hours ago

DimeUpdate

Dime Update


Ballgame! Spurs win 108-101. Vintage Ginobili tonight with 24, 7 assists, 6 rebounds. Frye had 21 for the Suns
about 7 hours ago

ESPNNBA

NBA on ESPN


4:21 left in the 3rd and the @HoustonRockets lead the @chicagobulls 71-65. Tune in on ESPN/WatchESPN: http://t.co/UufcfDUXMb
about 7 hours ago

DimeUpdate

Dime Update


With just a little more than 5 mins left in the second quarter, the Clippers lead the Pelicans 40-35. Darren Collison has been key off bench
about 7 hours ago

DimeSmash

Dime Smash!


OH SHOOT OH SHOOT EMAAAANUEEEL
about 7 hours ago