Discussion
Andrew Bynum's future in Philly?
The Sixers will soon have to make a big decision about their injured center
J.A. Adande and Israel Gutierrez are teaming up this season for a look at the NBA from two perspectives, called West Side/East Side. Today's edition is a dialogue between J.A. and Izzy.
ADANDE
Izzy, I'm convinced that 87 percent of the available Internet bandwidth has been consumed by Andrew Bynum hairdo memes and bowling GIFs over the past week. Yeah, it's all funny, and I might have clicked on them a time or two (hundred), but they all obscure a very serious issue: Bynum ...

Read full story
The NBA On ESPN.com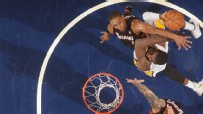 Follow the NBA on ESPN:
Twitter / Facebook / Google+
LATEST CONTENT
REGULAR FEATURES
ESPNSteinLine

Marc Stein


This has been such an amazing year for Mexican basketball. Their best year ever, really. Tonight's arena issues NOT the capper they deserved
about a minute ago

DimeUpdate

Dime Update


#LeaguePassAlert 4:30 in the Mavs lead Pelicans 91-90
about a minute ago

DimeAlert

Dime Alert


Another big run in #SunsAtRockets. Suns go 6-0 to take an 81-74 lead with 5:30 left to play.
4 minutes ago

DimeUpdate

Dime Update


Pacers go on a run to end the half, but still trail the Utah Jazz 48-47. Stephenson with 13, Scola with 12 for IND, Favors/Kanter with 10.
5 minutes ago

DimeSmash

Dime Smash!


B3ST MAN, HOLIDAY 2: D33P IMPACT
6 minutes ago

DimeUpdate

Dime Update


New Orleans closes Dallas lead back to 3 with just over 7 minutes remaining.
7 minutes ago

DimeUpdate

Dime Update


Bucks are being gifted a chance to get back into the game, but they can't do anything with the Pistons turnovers. 83-73 Detroit, 8:33 4Q
10 minutes ago

ESPNNBA

NBA on ESPN


Spurs-Wolves from Mexico City has been officially postponed and will be rescheduled for a later date in Minneapolis.
10 minutes ago

DimeUpdate

Dime Update


Rockets have cut the Suns' lead to 4 points with eight minutes left in the game. Patrick Beverly-Aaron Brooks backcourt tandem is dominating
11 minutes ago

DimeUpdate

Dime Update


The West is this good? Western Conference last place Jazz lead Eastern Conference 1st place Pacers 42-31 with 4:49 left in the 2nd.
14 minutes ago

DimeAlert

Dime Alert


13 point swing in New Orleans on a big run by Dalllas
15 minutes ago

ESPNNBA

NBA on ESPN


Millsap's big game (25p, 9r, 6a, 3b) helps Hawks upend Clippers.BOX SCORE: http://t.co/xBA3OPdRId http://t.co/RPoHW24hXK
16 minutes ago

DimeUpdate

Dime Update


Griffin finished with 24-7-4, CP3 with 19 points and 11 assists in the loss. @bochurney signing off from Philips Arena in Atlanta.
18 minutes ago

DimeUpdate

Dime Update


What a comeback in the third by the Pistons. They out-score the Bucks by 18, turn a 5-point halftime deficit into an 80-67 lead after 3Q.
18 minutes ago

DimeUpdate

Dime Update


Hawks win, 107-97. Atlanta improves to 10-10, Clippers fall to 12-7. Millsap had 25-9-6, Korver with 23 for ATL.
19 minutes ago

DimeAlert

Dime Alert


#Suns close out the third quarter on a 10-0 to lead the Rockets 73-61.
19 minutes ago

ESPNNBA

NBA on ESPN


Ricky Rubio heads to the bus as the Spurs-Wolves game from Mexico City has been postponed. http://t.co/yPSz99Aq57
19 minutes ago

DimeUpdate

Dime Update


Kyle Singler plays like the boring guy at the YMCA who ends up doing shockingly well during 3-v-3. *****-hum.
20 minutes ago

DimeUpdate

Dime Update


Timeout Utah, Jazz lead 32-29. Jazz youngsters playing well: Kanter 6p/6r, Burke 8p/3a, Favors 6p/7r. Scola making a run for IND with 12.
21 minutes ago

DimeUpdate

Dime Update


New Orleans lead 77-75 heading into the final quarter. Balanced effort from both sides, though Jrue Holiday has 16 and Vince Carter has 13
21 minutes ago