Discussion
LeBron's encore
"I felt different coming into last season, period."
Originally Published:
November 29, 2012
By
Michael Wilbon
| ESPN The Magazine
MICHAEL WILBON: MVP, NBA champion, Olympic gold medal, what's the encore? LeBRON JAMES: With no Olympics this year, I can't top [laughs] exactly what I did this past year. But it was a great year for me, a great year for our team and all the teams I played for. It was a fun ride.
WILBON: I know that getting better is something you started talking about at the end of last year, not resting on it and specifically getting better. But how, given what you did last ...

Read full story
ESPN The Magazine: December 10, 2012
http://espn.go.com/mma/story/_/id/8766646/future-mma-kids-crazy-rayfield-espn-magazine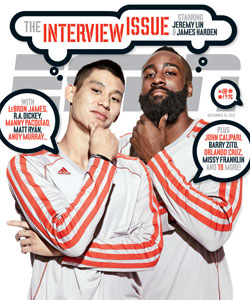 THE INTERVIEW ISSUE

More from the issue