Discussion
Time for the Celtics to blow it up?
What Boston should do now that Rajon Rondo is on the shelf for the season
J.A. Adande, who lives in L.A., and Israel Gutierrez, who lives in Miami, are teaming up this season for a look at the NBA from two perspectives. Today, they discuss the impact of Rajon Rondo's injury on the Celtics' future plans.
GUTIERREZ
If you hear an explosion in the near future, J.A., don't be concerned. That will just be the Boston Celtics blowing their team up, with Paul Pierces and Kevin Garnetts and Jeff Greens falling out of the sky and into the grasp of teams ...

Read full story
The NBA On ESPN.com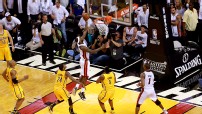 Follow the NBA on ESPN:
Twitter / Facebook / Google+
LATEST CONTENT
REGULAR FEATURES
ESPNNBA

The NBA on ESPN


What to make of LeBron, Paul George and Frank Vogel in Game 1? Let's go 5-on-5: http://t.co/GyEWpV0Gun
5 minutes ago

LarryCoon

Larry Coon


Maybe I've been an imposter all along... Seriously, I don't know how it works. RT @TheThrill9: I don't get why your twitter isn't verified
11 minutes ago

Chris_Broussard

Chris Broussard


DWade did not foul George on 3-pt attempt, so George should not have gotten 3 FTs and hence, taken the lead for Indy.
13 minutes ago

tomhaberstroh

Tom Haberstroh


He knew. Just didn't adjust game plan. RT @BeckleyMason: So George didn't know Hibbert wasn't on the court? Or just couldn't adjust?
13 minutes ago

Chris_Broussard

Chris Broussard


Plus, Indy was lucky to have shot to win. George's 3pt was great shot but lucky; Ray Allen's missed FT was severe aberration and......
14 minutes ago

Chris_Broussard

Chris Broussard


Remember, the Pacers were 17-27 when he took over for Jim O'Brien. Vogel's turned them into contenders.
15 minutes ago

kpelton

Kevin Pelton


Now wondering where NBA is. RT @robneyer: Marching along the statistical color spectrum http://t.co/I9Yoi4mYk5 via @sbnbaseball
15 minutes ago

Chris_Broussard

Chris Broussard


Frank Vogel is a terrific coach. He's taking way too much heat today (no pun intended). I would've had Roy in,but Vogel rationale was sound
15 minutes ago

WallaceNBA_ESPN

Michael Wallace


Considering way Heat shot FTs, I'd at least foul LeBron hard to avoid &-1, made him make 2 shots from line instead of 1 pt-blank at rim
17 minutes ago

tomhaberstroh

Tom Haberstroh


Paul George on overplaying LBJ: "I'm used to having Roy back there. I gotta know who's going out on the floor with me."
18 minutes ago

chadfordinsider

Chad Ford


5-on-5 panel with me @DaveTelep @franfraschilla @AminESPN & @kpelton on draft's over & underrated prospects http://t.co/YETc6lHe30 (insider)
20 minutes ago

WallaceNBA_ESPN

Michael Wallace


We can all play hindsight game, but there were a number of ways Indy could have better defended LeBron on that play. They chose none.
20 minutes ago

tomhaberstroh

Tom Haberstroh


Paul George was up til 4 am: "I watched SportsCenter for so long that they continued to show the same highlights."
23 minutes ago

coachthorpe

david b. thorpe


One thing I'm sure will be changed if they are in the same spot-besides Hibbert staying in; George won't play James for the quick jumper.
27 minutes ago

tomhaberstroh

Tom Haberstroh


Vogel also said he would've put Hibbert on the ball but only if there was <1 second left. 2.2 seconds too much time.
31 minutes ago

tomhaberstroh

Tom Haberstroh


PG admitted today that he played D on LeBron at the end as if Hibbert was behind him. "That's why I was so aggressive."
32 minutes ago

tomhaberstroh

Tom Haberstroh


Vogel already has plans to play a ton of zone in next preseason so he can implement Hibbert zone on critical plays next season.
33 minutes ago

tomhaberstroh

Tom Haberstroh


Vogel said he would've zoned up with Hibbert on the final play but he didn't feel comfortable doing it with no practice.
34 minutes ago

WallaceNBA_ESPN

Michael Wallace


Hibbert at today's Indiana practice said he and Vogel spoke in depth since last night, and the two have an understanding moving on.
48 minutes ago

WallaceNBA_ESPN

Michael Wallace


Paul George on last play: "I don't think coach wants to be burned the same way. So I think Roy will be out there."
49 minutes ago