Discussion
Identity thief
Mike D'Antoni needs to pay more attention to the numbers
Originally Published:
March 6, 2013
By
Peter Keating
| ESPN The Magazine
DESPITE A POST-ALL-STAR BREAK warm streak that has many fans and talking heads chirping about a playoff run, the Lakers are the biggest underachievers in all of sports. Certainly there are statistical reasons the team's fortunes are likely to improve -- the Lakers were unlucky in the first half, when they outscored opponents yet lost more than they won, and their second-half schedule is considerably easier. Still, LA's fundamental chemistry remains poor. Personality clashes aren't solely responsible for this, and neither are injuries. The numbers scream that the Lakers are less than the sum of their parts because of how Mike D'Antoni builds lineups.
To read more about the real reason behind the Lakers' struggles this season, you must be an ESPN Insider.
Insider
ESPN The Magazine: March 18, 2013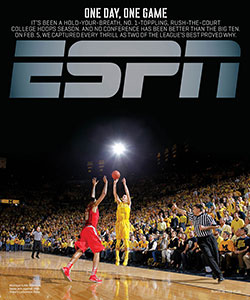 ONE DAY ONE GAME ISSUE FEATURES