Discussion
Pain, no gain
Deron Williams is the Nets' superstar. But is an injured D-Will better than no D-Will?
Originally Published:
April 5, 2013
By
Beckley Mason
| ESPN The Magazine
DERON WILLIAMS, THE NETS point guard in the prime of his career, was about to drive the lane in a March 1 home game against the Mavericks. Just one thing stood in his way: Dirk Nowitzki, hardly a renowned rim protector. Easy decision, right? Speed past the creaky forward for the quick two?
Not exactly. Williams hesitated and, unable to elevate, hoisted an off-balance layup that clanked off the rim and skittered out of bounds. Mavs' ball.
It was just ...

Read full story
ESPN The Magazine: April 15, 2013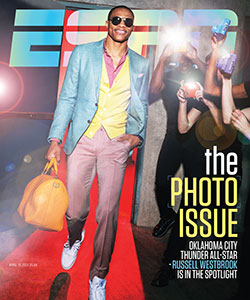 PHOTO ISSUE FEATURES

COLUMNS

MORE FROM THE PHOTO ISSUE