Discussion
Mile high, mile deep
The Nuggets have no superstar but plenty of depth. So can they win it all?
HERE'S A LITTLE argument on behalf of the starless Nuggets: It's a mid-March game against the Bulls in Chicago, 16.9 seconds left in overtime, and the Nuggets are desperately trying to extend an 11-game winning streak. Denver trails 118-116 but has the ball, and coach George Karl is drawing up a play in the huddle during a timeout. On the opposing bench, Tom Thibodeau, the NBA's top defensive mind, is considering how to stop him.
To read more about the Denver Nuggets, become an Insider today.
Insider
ESPN The Magazine: April 29, 2013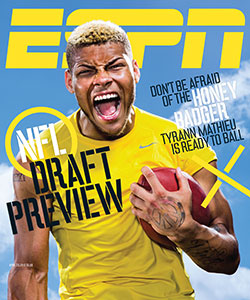 NFL DRAFT FEATURES

COLUMNS

MORE FROM THE NFL DRAFT ISSUE