Discussion
Spurs beat Lakers with parts to spare
LOS ANGELES -- This time last year, Aron Baynes was pining for a chance at the postseason.
Not the in the NBA. In the Greek League.
"I was finished," said Baynes, who spent last season, his fourth as a professional, with Ikaros Kallitheas B.C. "We finished pretty early. April 11th I think was our last game."
But here was Baynes, three months removed from signing with his first NBA team after spending the first half of the season in Slovenia, starting for an ...

Read full story
The NBA Playoffs On ESPN.com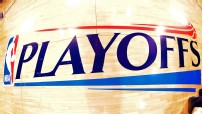 Follow the NBA playoffs on ESPN:
Twitter / Facebook / Google+
LATEST CONTENT
SERIES PAGES
ESPNNBA

NBA on ESPN


Clippers end Pelicans' 3-game winning streak. CP3: 17 Pts, 8 Ast. Griffin: 20 Pts, 6 Reb, 6 Ast. https://t.co/cPx9s9bU4n
5 minutes ago

ESPNNBA

NBA on ESPN


Clippers end Pelicans 3-game winning streak. CP3: 17 Pts, 8 Ast. Griffin: 20 Pts, 6 Reb, 6 Ast. https://t.co/Tcsc3gEjC4
6 minutes ago

jadande

J.A. Adande


Clippers up 23 with 90 seconds left, so DeAndre Jordan joins the Dance Cam competition during the timeout. #michaeljacksonlegkick
13 minutes ago

JustinVerrier

Justin Verrier


DeAndre Jordan is dancing to Michael Jackson for the Dance Cam while the Clippers huddle. Safe to say this one's in the bag.
13 minutes ago

ESPNBoston

ESPNBoston


Celtics blog: Marcus Smart uncertain on return date: 'You can't tell your body what to do' https://t.co/8DaIs4ljcE
17 minutes ago

royceyoung

Royce Young


The Thunder said it was just another game, and it ended up as just another win: https://t.co/BEVKpJ1Fcc
18 minutes ago

JustinVerrier

Justin Verrier


Anthony Davis is already back on the bench.
23 minutes ago

BaxterHolmes

Baxter Holmes


#portland @ Multnomah Whiskey Library https://t.co/TxYr9ufznX
23 minutes ago

PelicansNBA

New Orleans Pelicans


Update: Anthony Davis (right knee contusion) is questionable to return.
26 minutes ago

ESPNNBA

NBA on ESPN


Steph Curry passed LeBron James for 35th on the all-time 3-PT FG list with this triple.https://t.co/mtzLWJRexw
28 minutes ago

JustinVerrier

Justin Verrier


Anthony Davis (right knee contusion) is questionable to return, according to Pelicans.
28 minutes ago

JenHale504

Jennifer Hale


Medical staff says @PelicansNBA Anthony Davis suffered a Right knee contusion in collision w/ CP3, no structural damage. Questionable return
30 minutes ago

MoBrooksESPN

Maurice Brooks


Dangit man... https://t.co/1AywPUWUbz
33 minutes ago

ESPNNBA

NBA on ESPN


Timberwolves improve to 6-2 on the road with a 101-91 win in Sacramento. Wiggins: 22 Pts. LaVine: 19 Pts. https://t.co/QBOboRsEIA
33 minutes ago

ESPNNBA

NBA on ESPN


'How to Create Space' starring Steph Curry.https://t.co/vTkxGK5qkb
37 minutes ago

MoBrooksESPN

Maurice Brooks


It's silly that Luke Walton isn't getting credit for all of the Warriors' wins.
41 minutes ago

ESPNNBA

NBA on ESPN


A Draymond Green kind of night... https://t.co/Rd6B4LZ6fW
42 minutes ago

ESPNNBA

NBA on ESPN


A Draymond Green kind of night... https://t.co/i7WZ5RprF4
44 minutes ago

jadande

J.A. Adande


CP3 and Anthony Davis bumped while running down court, Davis went down and grabbed right leg. Davis carried to locker room
45 minutes ago

NBA

NBA


1 month into NBA season 🚫 chill... https://t.co/llQ4YTWZWg
45 minutes ago