Discussion
San Antonio defangs Zach Randolph
Two years after leading upset of Spurs, Memphis big man stymied in opening loss
Originally Published:
May 19, 2013
By
Marc Stein
| ESPN.com
SAN ANTONIO -- There was only one reasonable course of action, Zach Randolph concluded, after he managed a measly two points on just eight shots in the biggest game of his playoff life.
"He kind of tried to apologize," Memphis Grizzlies teammate Mike Conley said.
Except that didn't work, either.
The big lefty's my bad response to his afternoon nightmare played out as well as everything else Z-Bo tried while amassing zero points in the first three quarters of this 105-83 clinic ...

Read full story
The NBA Playoffs On ESPN.com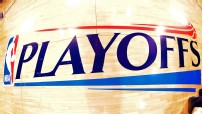 Follow the NBA playoffs on ESPN:
Twitter / Facebook / Google+
LATEST CONTENT
SERIES PAGES
ESPNSteinLine

Marc Stein


You have to wonder now how much more consideration Boogie Cousins or Andre Drummond get just to have SOME bulk to throw at Spain if needed
about 7 hours ago

ESPNSteinLine

Marc Stein


You know what team could really use Kevin Love? Team USA for starters. Lucky to have him back with Durant. And you have to wonder now ...
about 7 hours ago

ESPNSteinLine

Marc Stein


RT @StuJackson32: @usabasketball roster losses @russwest44 @kawhileonard @aldridge_12 and @blakegriffin32 loom large for @FIBAWorldCup
about 7 hours ago

ESPNNBA

NBA on ESPN


Chris Paul says sitting out is a possibility if Donald Sterling remains owner at start of season (via @GoodmanESPN): http://t.co/l82yplIQiq
about 8 hours ago

ESPNSteinLine

Marc Stein


Cavs can't trade Wiggins for 30 days BUT Bulls can't get KLove, either, w/out including Mirotic and/or McDermott & sweating out similar wait
about 9 hours ago

jadande

J.A. Adande


The quotes from Dwight, Harden & Parsons the past week make me want to see Rockets - Mavs as a Christmas Day game
about 10 hours ago

kpelton

Kevin Pelton


@johnhollinger Çhameful.
about 10 hours ago

kpelton

Kevin Pelton


@johnhollinger What if Portuguese grammar sticklers protest?
about 10 hours ago

ajkatzart

Andrew Katz


@QtipTheAbstract If knowledge is the key then just show me the lock... @hiphopgods @HipHopRuckus @MrChuckD #LouBrock http://t.co/aomOpuS7Ev
about 11 hours ago

ESPNSteinLine

Marc Stein


Tell the Order Of Play guys what I want to see tomorrow, @bgtennisnation!!! #selavision
about 11 hours ago

ESPNSteinLine

Marc Stein


Are we sure @franfraschilla that Spain survives Bracket of Death to get to Sept. 14? Instinct tells you yes, obviously, but path ain't easy!
about 11 hours ago

ESPNNBA

NBA on ESPN


Blake Griffin announces he will not participate on the USA Basketball Men's National Team this summer. http://t.co/F5hPUnl2pc
about 11 hours ago

kpelton

Kevin Pelton


There's a nightclub in Seattle called "Ampersand." For my money, the best punctuation club name is "Ellipsis."
about 11 hours ago

ESPNSteinLine

Marc Stein


Clippers just issued statement from Blake Griffin that he's pulling out of Team USA duty this summer
about 11 hours ago

ESPNSteinLine

Marc Stein


Official numbers on Jameer Nelson's new contract with Dallas: $2,732,000 next season, $2,854,940 player option next season
about 12 hours ago

ESPNSteinLine

Marc Stein


ESPN latest on John Wall's addition to Team USA roster starting with Monday's training camp in Las Vegas -- http://t.co/ChzjX3RdsB
about 13 hours ago

ESPNNBA

NBA on ESPN


Sources: John Wall, Chandler Parsons, DeMar DeRozan added to @usabasketball camp roster (via @ESPNSteinLine). http://t.co/FnylNSi1sk
about 13 hours ago

_tandemse

TANDEM


The reports that Ray Allen intends to play for the Cavs are unfounded. He has not yet decided if he will play next season or for which team.
about 13 hours ago

ESPNNBA

NBA on ESPN


Jeremy Lin joins Lakers, says "Linsanity" is a thing of the past (via @mcten).http://t.co/itdrd1dJuQ http://t.co/zdz1feoI3f
about 13 hours ago

ESPNSteinLine

Marc Stein


Wall was natural invite for USA Basketball and joins Chandler Parsons and DeMar DeRozan as additions to initial Team USA roster from January
about 13 hours ago