Discussion
Do the Grizzlies miss Rudy Gay?
Updated:
May 27, 2013, 12:58 PM ET
By
Kevin Pelton
| ESPN Insider
When the Memphis Grizzlies advanced to the Western Conference finals by knocking off the Los Angeles Clippers and Oklahoma City Thunder without the benefit of home-court advantage in either series, it looked like the Rudy Gay question was dead. But with the San Antonio Spurs taking a 3-0 lead over Memphis by winning a pair of overtime games, suddenly the question of whether the Grizzlies miss Gay, who was traded at midseason, has become relevant again.
To continue reading this article you must be an Insider
Insider
The NBA Playoffs On ESPN.com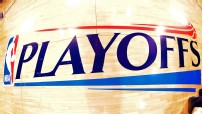 Follow the NBA playoffs on ESPN:
Twitter / Facebook / Google+
LATEST CONTENT
SERIES PAGES
asolomon6

Aaron Solomon


.@AroundtheHorn 5ET / ****ESPN2****! w/@jadande @woodypaige @IzzyESPN @FisolaNYDN! 2day: Seahawks, Cowboys, Raiola, Beckham vs Rams, MORE!
less than a minute ago

LarryCoon

Larry Coon


...he was also talking about all the things Adams would do, all game long. Confessed he lost his head for a moment. @LoveSic7
2 minutes ago

LarryCoon

Larry Coon


When Nick menstioned "sneaky, dirty" RT @LoveSic7 I know, just irony at it's finest. I don't watch Adams enough to say one way or another.
3 minutes ago

LarryCoon

Larry Coon


...record wins). That said, nobody's going to claim Smith's dog contract. He'll clear waivers. @dancorsi
5 minutes ago

LarryCoon

Larry Coon


...team can just claim him; doesn't have to convince the player. Only competing against other teams who might claim him (worse @dancorsi
6 minutes ago

LarryCoon

Larry Coon


Only advantage to waivers is that a RT @dancorsi there is any advantage to a team to sign on waivers then? Seems to me that is better wait.
6 minutes ago

LarryCoon

Larry Coon


Offset not 100%. RT @KevKlassix Why does Houston bi-annual exception a big deal if wherever Smith signs, his salary is offset anyway.
7 minutes ago

LarryCoon

Larry Coon


My pleasure. RT @USFCollin You're a gentleman and a scholar, Larry. I mean that literally. Thanks for making all of us smarter.
8 minutes ago

LarryCoon

Larry Coon


...or look up "set-off" in my FAQ for explanation. He can double-dip to a certain extent. @karimthedream11
9 minutes ago

LarryCoon

Larry Coon


Yes, See my tweets earlier RT @karimthedream11 Can Smith get his salary from new team + Pistons? If not why offer anything but the minimum?
9 minutes ago

LarryCoon

Larry Coon


My sense is that Lakers aren't his first choice. RT @DougKoal You don't think that is enough to entice the guy to join the Purp/Gold?
11 minutes ago

LarryCoon

Larry Coon


...have is whether to stretch the cap hit to match the salary payout. @USFCollin
13 minutes ago

LarryCoon

Larry Coon


...This season not stretched b/c it's in progress. Remainder is stretcched 2X+1. Two left, so five years. Only choice Pistons @USFCollin
13 minutes ago

LarryCoon

Larry Coon


They have no choce. RT @USFCollin Is the stretch provision? As in is it only 2 years or 5 or can Pistons make it 3 or 4 if they choose?
14 minutes ago

TrueHoop

Henry Abbott


Fun peek at some of the cool http://t.co/nnVgwMq5RB visuals of 2014: http://t.co/fm8c71JmcE #espndotcomsizzle
14 minutes ago

LarryCoon

Larry Coon


http://t.co/iWkSSCW0FP RT @AnthonyD80 how is max determined for different players? Service time? Legacy salary? Combo?
15 minutes ago

LarryCoon

Larry Coon


Full. RT @ChuckMyron if set off is 1/2 the difference between player's new salary and the min. for a 1-year vet, is that prorated min.?
16 minutes ago

kpelton

Kevin Pelton


Breaking down the Josh Smith move. Why would the Pistons waive him? And where does he fit next? http://t.co/mlhBWndMvK (In)
16 minutes ago

TrueHoop

Henry Abbott


Fun peek at some of the cool http://t.co/nnVgwMq5RB visuals of 2015: http://t.co/fm8c71JmcE #espndotcomsizzle
17 minutes ago

LarryCoon

Larry Coon


They were a cap team, so they only had the room exception (which went to Jameer Nelson). RT @samscott_fitz where did the Mavs exceptions go?
18 minutes ago