Discussion
No middle ground
Shoot short, shoot long and avoid everything in between
Originally Published:
June 7, 2013
By
Peter Keating
| ESPN The Magazine
OMER ASIK IS a valuable NBA player -- he led the league in total rebounds this season -- but Stephen Curry he ain't. The Houston center took nearly four-fifths of his shots at the rim and still made only 60.5 percent of them, 31st among centers who played at least 20 minutes a game in 20 games or more, according to Hoopdata. Asik lacks the touch of, say, Kevin Garnett, who shot 77 percent at the basket in 2012-13 and was also more accurate on attempts three to nine feet from the rim, 16 to 23 feet away and behind the three-point arc.
Still, somehow, Asik's overall shooting percentage (54.1 percent) was far superior to Garnett's (49.6 percent). In fact, he shot better than all but 10 other players in the entire league. How is that possible? The answer lies in a statistical phenomenon called Simpson's Paradox, which can help isolate who's playing smart basketball and explain why some NBA teams are winning now and others are taking an extended vacation.
tk
Insider
ESPN The Magazine: June 10, 2013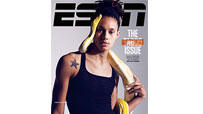 The Mag on Twitter | Facebook | iPad
COLUMNS
MORE FROM THE MAG