1. Dwyane Wade Soars On His Proving Ground
MIAMI -- Dwyane Wade still gets territorial.
Even at age 31 with nine All-Star selections, two championship rings and one NBA Finals MVP, there are nights Wade walks onto the court with something to prove.
There's something to prove to himself. And more to prove to the league and some critics who suggest he's lost a step and is firmly on the backside of his career.
But especially something to prove to younger players gaining on his heels, and even an older rival out West who still battles with Wade for distinction as the NBA's preeminent shooting guard.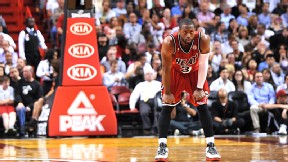 Steve Mitchell/USA TODAY SportsWade relishes a challenge like he had Wednesday.
So if it appeared Wednesday night that Wade had a little extra lift in his legs, a bit more swagger in his step and a lot more aggression in his overall game, it wasn't an illusion.
James Harden and the Houston Rockets were in town Wednesday night. And Kobe Bryant and the Los Angeles Lakers arrive for a nationally televised showdown Sunday. That means in a span of five days, Wade will have faced two of the other most lethal scoring guards in the league.
"Of course you have to be up for James Harden or Kobe Bryant, or they'll try to embarrass you," Heat forward LeBron James said when asked Wednesday night about Wade's motivation this week. "It's part of the competitive nature of all of us when you have some of the best coming into your building. You have to play at a higher level."
Wade has played his best against his toughest rivals at the position. The Heat are 3-0 against the Rockets and Lakers this season, with Wade shooting 50 percent and averaging 25.6 points, 6.7 assists, 5.0 rebounds, 2.3 steals and a block in those games.
To suggest Wade still gets up for these challenges would be an understatement. That's why Wade was eager to allow his performance to speak for itself following his most complete game of the season in Miami's 114-108 victory that extended its home-court winning streak to five games and improved the Heat to 20-3 at AmericanAirlines Arena.
In what evolved into arguably the best shootouts of the season between elite guards, Wade closed with 31 points, eight assists, five rebounds, four steals and two blocks in 35 minutes. He needed every bit of that production -- plus 32 points from James -- to offset a relentlessly remarkable effort from Harden, who had 36 points, 12 rebounds, seven assists and three steals in 41 minutes.
Wade and Harden didn't defend each other for much of the game until the final seconds. That's when Wade's block of Harden's jumper essentially secured Miami's victory and thwarted the Rockets' late rally from a 17-point deficit.
Even after all of these games and accolades, moments like Wednesday night are still a point of pride for Wade -- probably more so than they've been in the past, considering the questions he's faced after recovering from offseason knee surgery that still requires rehab and strengthening.
"[Harden] has a franchise where he's the main guy, and here, I'm one of three now," Wade said. "My opportunities come different than they did. But when I do get a chance to showcase that, I obviously want to prove to myself and to my teammates that I'm still a player that everybody has come accustomed to seeing, especially now that I'm healthy and feeling as good as I've felt in two years."
Wade knows he can't turn back the clock every night of the regular season. But he can offer steady reminders to skeptics who might doubt if he's the NBA's top 2-guard.
In fairness, it wasn't just Harden who brought out the best in Wade on Wednesday. Another factor was the absence of perennial All-Star forward Chris Bosh, who missed the game because of flu-like symptoms. That required more heavy lifting from both Wade and James, who took 18 shots apiece and combined to shoot 20-of-36 from the field.
Harden scored 16 of his 36 in the fourth quarter and had four teammates who also scored in double figures. But it wasn't enough to overcome Wade, who has the luxury of playing alongside a three-time MVP in James, who is in the midst of the best shooting season of his decorated career.
For Harden, a 23-year-old sensation who is fifth in the league in scoring and will be a first-time All-Star next week in Houston, facing the Heat continues to be an unfair fight. After falling to Wade, James and the Heat in the Finals last season with Oklahoma City, Harden's Rockets were swept by Miami in the two-game series this season.
"He's a tremendous scorer," Harden said of Wade. "They're a tremendous team. They've got a lot of guys over there that can score. I was just doing whatever it takes to keep my team in the game, whether it's making shots or making passes, trying to rebound and just do whatever it takes."
Wade sees a lot of himself in Harden, who is in his fourth season. Wade led the Heat to a title in his third season and became an superstar while playing alongside Shaquille O'Neal in Miami. But soon after, Shaq's departure left Wade the burden of having to carry a transitioning team.
Wade sees in Harden the same type of look he used to have during his early matchups against Kobe Bryant.
"Yeah, young and up-and-coming guys who have a bright future. I remember being in that position, going up against guys like Kobe," Wade said. "And you look forward to it. I do as well. I still do now. And I enjoy it."
So much so, that it was part of the reason Wade arrived at the arena nearly two hours before the Heat's morning shootaround before Wednesday's game. Yes, it's Harden-Kobe week for Wade. But it's also about methodical knee maintenance and conditioning to gear up for the stretch run.
What resulted Wednesday was Wade's fourth 30-point game of the season and only the second time on the year both he and James each hit that mark in the same game. Wade also attacked the basket and made all 13 of his free-throw attempts, which was the first time he's made at least that many from the line without a miss in a home game.
Coincidentally, or perhaps not, the only other time in his career that Wade reached his statistical totals (31 points, 8 assists, 4 steals, 2 blocks) from Wednesday's game came on Jan. 19, 2012, against Kobe and the Lakers.
"You know how it is," said Heat forward Udonis Haslem, the only member of Miami's team who was with Wade during the 2005-06 title run. "At one point, D-Wade was the little brother, knocking on the door of the big brothers. Now, he's the bigger brother, and all of these little brothers are knocking on his door, competing, trying to beat him. He'll continue to establish himself against those guys."
Haslem then paused for a moment and shook his head as he reflected on how fast time flies in a league in which even elite players rapidly transition from hunters to the hunted.
"At the end of the day, Dwyane Wade is still Dwyane Wade," Haslem added. "And now, just like back then, [when] we need a bucket or a big game, we can depend on him."
Harden proved Wednesday night just why he's widely considered the best shooting guard in the league under 30. But with Kobe, 34, challenging for the season's scoring title in his 17th season, and with Wade shooting the best field goal percentage of his career, don't expect either elder statesman at shooting guard to give ground anytime soon.
"Nope," Wade said. "Because, right now, I want to continue to feel that way. I just try to stay on it. It's crazy. I've done so much the last two days to stay feeling good. You get nicked up from game to game, so you have to do certain things. So I do what I have to do, and I'll continue to do it. You continue to put yourself in position so you can do things like have the kind of games you had tonight."
If this is rivalry week for Wade, he's ready for the challenge.
After all, there's still personal turf to protect.
Michael Wallace covers the Miami Heat for ESPN.com. Follow him @WallaceNBA_ESPN
Dimes past: Jan. 23 | 24 | 25-26 | 27 | 25-26 | 27 | 28 | 29 | 30 | 31 | Feb. 1-2 | 3 | 4 | 5
2. Around the Association
3. Wednesday's Best
Wade
Dwyane Wade, Heat:
Showing he still has more than a little in the tank, Wade went for 31 points (making all 13 free throws), 8 assists, 5 rebounds, 4 steals and 2 blocks in Miami's win over James Harden and Houston.
4. Wednesday's Worst
Shooting by Sixers starters:
Going 15-for-59 (24.4 percent) from the field is not going to win many ballgames. Evan Turner led the brick brigade by going 1-for-10 in the 88-69 loss to Indy.
6. Tweet Of The Night
Get used to Dirk with a beard. He's one of several Mavs who have vowed not to shave until they get back to .500.

—Tim MacMahon (@espn_macmahon) February 6, 2013
8. Late Wall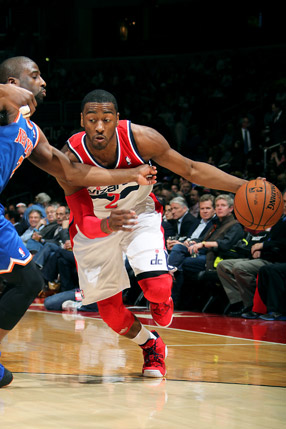 Ned Dishman/NBAE/Getty ImagesJohn Wall scored 10 of his 21 points in the fourth quarter to lead the Wizards past Raymond Felton and the Knicks.
9. Stat Check
Harden
The Heat defeated the Rockets by a score of 114-108 on Wednesday night in a game filled with masterful performances by star players. James Harden led the Rockets with 36 points, 12 rebounds and 7 assists, but he was outdone by Miami's dynamic duo of LeBron James, who had 32 points, 6 rebounds and 5 assists, and Dwyane Wade, who contributed 31 points, 5 rebounds and 8 assists.
It was the first NBA non-overtime game in nearly 23 years that featured three players with at least 30 points, 5 rebounds and 5 assists. The last time that happened in a regulation game was on March 14, 1990, when the Lakers' Magic Johnson and Philadelphia's Charles Barkley and Johnny Dawkins all did it in a Sixers win.