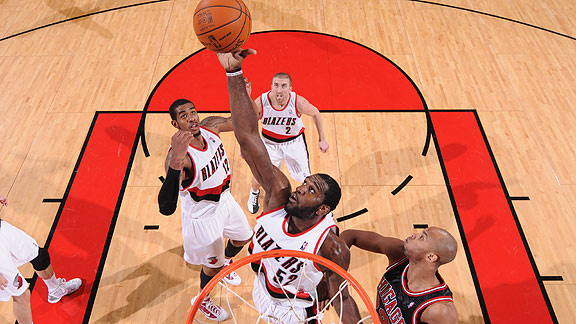 Photo by Sam Forencich/NBAE via Getty Images Greg Oden, who has made 20 of his last 25 shots, has the Blazers' hopes at the tip of his fingers.
1. West Playoff Forecast: Thunder In, Spurs Out
Four weeks of action in the 2009-10 NBA season have given us a good outline of how this season might play out. In fact, I've changed my projection of how I initially saw the field of playoff teams in the West. The
Dallas Mavericks
in particular have moved up. This team is playing with a lot of energy, getting guys to buy into roles. Notably,
Jason Kidd
has transformed himself into a consistent 3-point shooter, something you couldn't say about him in his last season in New Jersey. That shooting has helped open up the offense and spread the floor. On the downside, the
San Antonio Spurs
have looked so disinterested, they actually moved out of the playoffs. I thought the additions of
Richard Jefferson
and
DeJuan Blair
would give them some energy, along with
Manu Ginobili
being healthy (he's not). But the Spurs, who moved back to .500 with a win Monday over Milwaukee, have not played with a whole lot of passion. Still, we've learned not to write the final book on them until spring. Come April, here's how I see the Western Conference playoff seeds playing out from 1 to 8:
1. Los Angeles Lakers
-- When
Andrew Bynum
is playing this well, this Lakers team is scary. Complacency is the only thing that keeps them from challenging 65-70 wins. Clearly the best in the West.
2. Dallas Mavericks --
They've been a nice surprise when this could have been a team headed in the opposite direction. They've played good defense. Dirk Nowitzki has been one of the 2 or 3 best fourth-quarter players this year. The Mavs have done a good job spreading around the job of helping him carry the scoring load, sometimes
Jason Terry
,
Shawn Marion
, J.J. Barea, Kidd and others. This team is playing with a lot more energy than it did a year ago.
3. Phoenix Suns
-- Good to see the Suns back to being themselves. I understand that you need to be able to compete when the game slows down in playoff basketball -- but that doesn't matter if you don't make the playoffs in the first place. So the Suns are back to letting
Steve Nash
make great decisions and pick an opponent apart better than anybody. The team has had some unexpected contributions from
Channing Frye
and solid play from
Grant Hill
, while
Jason Richardson
has just been great. The Suns finally got back to who they were: Nash and
Amare Stoudemire
in the middle of the floor, running the pick-and-roll, surrounded by 3-point shooters outside.
4. Denver Nuggets
--
Carmelo Anthony
is in the best shape of his life and looks to be more committed to winning than at any point in his career. He's taken on a leadership role. It's much easier to get role players to follow when the best player sets the tone.
5. Portland Trail Blazers
-- An improving team whose key will be continuing to get consistent play from
Greg Oden
, who had a big night Monday in the win over Chicago. He needs to be a guy who finishes around the rim (he's shooting an NBA-best 64 percent from the field) and is a deterrent at the other end. He's off to a good start.
6. Houston Rockets
-- If you looked up the word "team" in the dictionary, you would find the Rockets. They take off fewer plays than anybody else in the league. They have very few blown assignments. On offense, it's going to be a struggle to score. Coach Rick Adelman keeps his fingers crossed that somebody will get hot.
Trevor Ariza
has more than lived up to what was expected (18.3 points, 5.4 rebounds and 3.4 assists) to earn his money. Regarding Tracy McGrady's injury history: If I'm Adelman, I coach the team as if T-Mac won't return.
7. Utah Jazz
-- The Jazz are playing their best ball of the season now. However, until they learn to win on the road in a good team's arena, we can't take them seriously as a contending team, even with the talent they have. You must win on the road.
8. Oklahoma City Thunder
-- Their day is coming.
Russell Westbrook
was my preseason pick to be a breakout player.
Kevin Durant
will be a scoring champ one day. James Harden has come in and done a good job as a rookie in the sixth-man role. This team looks like they're having lots of fun playing together. They have the parts to become the next formidable team to rise in the West, whether it's this season or next.
ESPN analyst Tim Legler is a regular contributor to the Daily Dime.
Dimes past: November 6-7 | 8 | 9 | 10 | 11 | 12 | 13-14 | 15 | 16 | 17 | 18 | 20-21 | 22
2. What's About T-Mac In N.Y.?
By Chris Sheridan
ESPN.com

McGrady
Brandon (RVC, NY): Do you see the Knicks making a move for Tracy McGrady? Motivation would appear to be present on both ends, and the knicks have expiring contracts to match up. Thoughts?
Chris Sheridan: I see the motivation on the Knicks' part -- I have always said McGrady is their panacea, if they can get Houston to take on Eddy Curry/Jeffries in such a deal -- but I think the Rockets would be silly to take either of those bad Knicks contracts unless what came along with it was too good to pass up, and I can't see N.Y. putting together a package of anything -- unless you start throwing in multiple future No. 1 picks -- that would make the Rockets bite.
To read the entire Sheridan chat wrap, click here
3. Daily Dime Live Recap
ESPN.com writers and TrueHoop Network bloggers chatted with fans and gave their in-game opinions throughout Monday night's slate of games -- all in Daily Dime Live.
4. Grizz Producing Up Front
Elias Sports Bureau

Gay
The Grizzlies' Rudy Gay, Marc Gasol and Zach Randolph each scored at least 15 points and shot better than 50 percent from the floor in Monday's game. It was the second time in less than a week that all three starters in Memphis' frontcourt did that, after not having done so in more than two years.
MONDAY'S BEST

Al Thornton, Clippers: Goes for 31 points and 10 rebounds in a 91-87 win over the Wolves. Don't hack Al, either. He was 9-for-9 from the stripe, helping deliver win No. 200 to Mike Dunleavy as Clippers coach.

MONDAY'S WORST

Baron Davis, Clippers: The Good: His one hoop sealed the win over the Wolves, and assured his streak of 468 consecutive regular-season games with at least one field goal was intact. The Bad: His first nine shots, all misses, made that hoop necessary.

QUOTE OF THE NIGHT

"I'm not saying my game is where it should be, but when I can get good deep post position and overpower people and get good shots up, I definitely want to use my strength."

-- Greg Oden, who was the first pick of the 2007 NBA draft.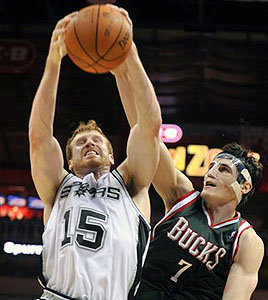 Barry Gossage/NBAE
When Matt Bonner's on the court, the Spurs usually have the advantage (See Box 8).
By Timothy Varner
TrueHoop Network

Bonner
In a game that featured
Brandon Jennings
,
Tim Duncan
and
Tony Parker
, few would suspect
Matt Bonner
to emerge with the game ball. Bonner helped lead the Spurs to a 112-98 victory over the Bucks on the strength of 23 points (6-of-8 from deep) and 6 boards. Bonner's 23 points were surprising, but anyone who follows the team closely wouldn't second-guess his game-high plus-26 plus/minus.
It's not that the plus-26 isn't impressive, because it is. It's just that it's nothing new for Matt Bonner, who led the team in adjusted plus/minus last season at +8.85. And this season brings more of the same: Bonner currently leads the team with an APM of 15.66.
Bonner's adjusted plus/minus numbers provide a helpful window into a difficult-to-quantify area of team success: the value of a well-spaced court. So long as Bonner makes .426 percent of his 3s, opposing opponents have no choice but to shadow Bonner with one of their bigs. This, in turn, creates driving lanes for Tony Parker and allows Tim Duncan to operate one-on-one in the pivot or pass out of a double-team to an open shooter. It's a formula that works for the Spurs.
For his part, Bonner's postgame evaluation skipped the complicated stuff and kept it simple.
"It was one of those nights when everything was falling. My teammates did a great job of finding me when I was open, and I wish I could have just kept on shooting."
Bucks guard Charlie Bell, however, clearly sees Bonner's shooting as more than a great stroke. "Matt is one of those players that when he gets the ball and he's open, you may as well count the points. It's a tough task when you have Tim Duncan in the post ... and then you have Matt shooting the way he was tonight. It is very tough to guard."
To read more, check out Varner's TrueHoop Network blog, 48 Minutes Of Hell.
9.

Don't Bury Hornets Just Yet
By John Hollinger
ESPN.com

Thornton
Rumors of the Hornets' demise have been greatly exaggerated. New Orleans may have lost to Miami on Sunday thanks to an unplanned bank shot from Udonis Haslem and a final play that seemed equally unscripted (unless the play was called "exchange blank looks and confused pointing"), but this was a very strong week from a team that was supposed to be roadkill without Chris Paul.
To read the entire Hollinger column, click here