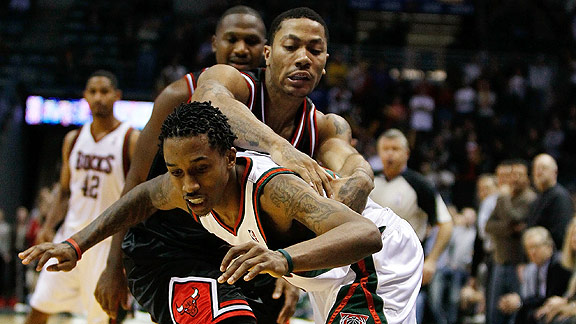 Photo by Jonathan Daniel/Getty Images Bucks rookie Brandon Jennings and reigning rookie of the year Derrick Rose battled in the Bucks' win.
1. Budding Rivals Square Off
By Nick Friedell
ESPNChicago.com
MILWAUKEE --
Derrick Rose
and
Brandon Jennings
spent most of Monday trying to downplay their burgeoning rivalry. Sure, they liked playing against each other (they've been doing it since high school), but both players said they didn't view the matchup differently than any other game. For three quarters it was easy to believe them. Both players struggled to find their respective shots and the game crept along at certain points. But then Rose got hot. Lightning hot. He took over the game a couple times and finished with 19 points. In truth, it might have been the first time all season he looked like his old self. "Flashbacks," he cracked after the game. "I'm like an old person getting flashbacks." The funny thing is that although Jennings didn't have a particularly stellar game, 15 points (5-for-15 from the floor) and eight assists, he appeared to step his game up a little more when Rose started stealing the show. The Bucks' 99-97 win over the Bulls on Monday night won't go down as the greatest game that the young pair has ever played against each other, but there were certainly flashes of brilliance in which you see the makings of a star-studded duel beginning to form. No matter what either young player says, you can tell that they have the ability to bring the best out in each other. "I look forward to facing everybody. This is my first year so I want to go against everybody. I want to play against all the best point guards in the league," Jennings began to explain before the game. "But [Rose] is somebody that I am inspired by. I think everything he did last year showed what a true point guard really is and how to run a team. I think last year he did a helluva job running the Bulls team, getting them to the playoffs. That's something I do try to take from him." Both players are so supremely talented that the talk of a continuous one-on-one battle seems unavoidable. "It can happen. Anything can happen," Rose said of a possible rivalry. "He's a good guard on a real successful team. They're playing good now. We're just trying to get our wins up, play good together and close games. But if the rivalry comes, it will come. " Jennings knows that it is probably coming sooner than later. "We're so close," he said while calmly sitting in front of his locker. "We play each other, what, three or four times a year? Milwaukee's not that far from Chicago so it could be. It just depends on how I develop as a player. This is still only my first year so it depends on how I develop. Right now, he's doing his thing with his team, so it just depends on how we both develop." There are a lot of NBA fans who think both players are developing just fine. The thought of a Rose/Jennings rivalry brings a smile to plenty of fans' faces, especially when you consider that in all likelihood they'll be playing in the Central Division for the next decade. "I definitely think it's something for the next few years it will be fun to watch," Bucks forward
Hakim Warrick
said. "Just to see how their progressions [go]. I know that they're just going to continue to get better. They're both young. They're still learning." That's the beauty of something so new. Rose, 21, and Jennings, 20, haven't come close to reaching their potential just yet. At any given time, they have the types of games that make veteran players watch in wonderment. "It's crazy," Warrick said of the pair. "I had a chance to watch Derrick down in Memphis his freshman year. [He was] just a freak of nature. Just a tremendous athlete. Really explosive. So I knew he was going to be a special player. "I think that 55-point night for Brandon, that was the most impressive thing I've seen in person in all my years of basketball." They also have the ability to impress each other. Jennings admitted that he spent some of his free time in Italy last season following Rose. "I'm not going to lie," the Bucks guard said. "I was always on the Internet. I ordered the League Pass, I was always watching his games. I think what he did, that's something I'm trying to do now. Get my team to the playoffs. He just separated himself from all the other rookies." For the time being, Rose and Jennings seem to feel more comfortable separating from the rest of the pack without each other. "I just want to keep it team," Jennings said. "I don't want people to think it's a one-on-one thing between me and Derrick right now. The main thing is to try and get the win against him. That's the main thing. I feel like if I get the win against him, then I won that night." Jennings did win Monday night. But if he and Rose continue to play and improve throughout their respective careers, this rivalry will explode over time. Their games speak louder than their words do.
Dimes past: November 12 | 13-14 | 15 | 16 | 17 | 18 | 20-21 | 22 | 23 | 24 | 25 | 27-28 | 29
2. Year Of The Cats?
By John Hollinger
ESPN.com

Could this be the season the Bobcats finally make the playoffs? All the signs seem to point in their favor. For one, the awfulness of the East makes it possible that a team with roughly 38 wins could reach the postseason. More important, however, is the unexpected fact that the Bobcats' defense has been good enough to offset their ineptitude on offense. Through 16 games, it's the surprising Bobcats who lead the NBA in defensive efficiency, making up for an anemic offense that stands just 28th -- only the league's two doormats, Minnesota and New Jersey, are worse. Nonetheless, the recent trade for Stephen Jackson has made the Bobcats a bit more potent offensively. When combined with their defensive prowess, that enables them to be the East's fifth-ranked team in the Power Rankings. The Bobcats' stout D shouldn't come as too big a shock: Charlotte ranked seventh last season in its first full season under Larry Brown and has several strong defensive players (Gerald Wallace, Boris Diaw, Tyson Chandler, DeSagana Diop). The Bobcats may not stay on top all season, but they shouldn't stray too far down the leaderboard, either. Although they have little depth, they may finally break the franchise's playoff hex if they can stay healthy.
To read the entire story, click here
3. Daily Dime Live Recap
ESPN.com writers and TrueHoop Network bloggers chatted with fans and gave their in-game opinions throughout Monday night's slate of games -- all in Daily Dime Live.
4. Jennings In Good Company
Elias Sports Bureau

Jennings
Brandon Jennings finished November with 308 points in 14 games, an average of 22.0 per game. Last season O.J. Mayo averaged 23.1 points in 15 November games, but before that, the last rookie to average 22 points per game in November while appearing in at least a dozen games was Michael Jordan for the 1984 Bulls (26.2 per game in 14 games).
MONDAY'S BEST

Monta Ellis, Warriors: Goes for a career-high 45 points in a 126-107
win over the visiting Pacers. Ellis made 15 of 27 field goals, and probably could have cracked 50 if he had not fouled out with 6:03 left.

MONDAY'S WORST

Marc Gasol, Grizzlies: Almost the low point in an otherwise strong season, putting up five points and three boards in a blowout loss to the Jazz. Nothing like the second leg of a West back-to-back to sink a big man.

QUOTE OF THE NIGHT

"He's a charming individual. It was really good, really intriguing."

-- Sixers coach Eddie Jordan after talking to Allen Iverson, whom the Sixers are wooing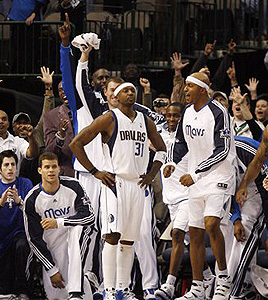 AP Photo/Mike Stone
Jason Terry stands with hands on hips after hitting the game-winning shot against the 76ers. The Mavericks won 104-102.
By Spencer Hall
TrueHoop Network

The
Utah Jazz
have gone crazy over the past few weeks with rookie
Eric Maynor
teaming up with
Deron Williams
for a two-point-guard approach. How crazy? Against the
Memphis Grizzlies
on Monday night the Jazz won their sixth game in the past seven and very nearly finished with 60 percent shooting for the third straight game. The night ended with double-digit scoring from seven of the nine Jazz players who saw court time. And one of those wasn't even
Mehmet Okur
. If I knew anything about football I'd say the tandem point guard approach might be the NBA's answer to the NFL's Wildcat. I do know that I enjoy watching
Ronnie Brewer
filling up the basket with a variety of absurdly acrobatic dunks and layups. His 25 points in the 120-93 win were one point short of a career high, but if the shot value were weighted for degree of difficulty, he would have been in Wilt-esque territory. Meanwhile, the elephant in the room is the beastly play of
Carlos Boozer
. After making himself persona non grata with his trade talk this summer, Booz is playing his way into All-Star caliber form and forcing disaffected Jazz fans into coming to grips with a world in which the erstwhile malingerer is now the most dependable and exciting player on the floor. The haters can remind everyone that he's in a contract year, but I don't care. Rather than criticize the circumstances, let's celebrate the chance to watch a motivated, and coincidentally healthy, Booz play superb ambidextrous ball, and enjoy it while it lasts. The bottom line is that the Jazz are rolling and now have four days off to relax at home before the Pacers come to town Friday. Let's enjoy the good times while they last.
To read more, check out Spencer Hall's TrueHoop Network blog, Salt City Hoops.

Frank
ESPN Radio's Ryen Russillo talks with TrueHoop's Henry Abbott about the Nets' firing of Lawrence Frank, the Clippers' strange win against the Grizzlies and how fun it is to watch the Suns.
• Listen to the podcast