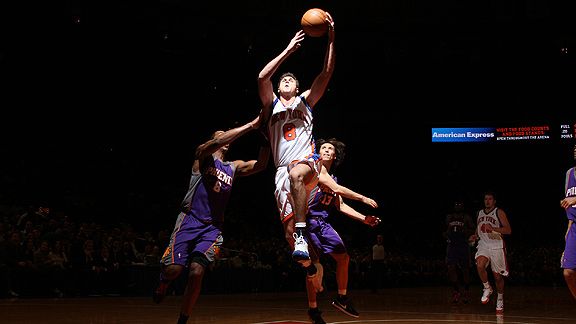 Photo by NBAE/Getty Images In just 17 games this season, the Knicks' Danilo Gallinari has drained a league-leading 54 3-pointers.
1. NBA's Best Clobbered By Knicks: How?

By Chris Sheridan
ESPN.com
NEW YORK -- We'll skip the full moon theory, because although crazy, nutty, bizarre things happen when the moon is at its brightest, rarely is it anything this crazy, nutty or bizarre.
We'll skip the fatigue excuse, too, because Suns coach Alvin Gentry told us to. And he had that right, being as he is the one who scheduled a morning shootaround for a team that had just spent an entire day off in the city that never sleeps. And at times, it looked like his team hadn't gotten any sleep.
We'll also skip the "on any given night ... " theory, even though that is the explanation that probably makes the most sense.
Instead, we'll hand the microphone over to Steve Nash, who couldn't have been more succinct.
"We took them a little lightly, but you can take a team lightly and still try to play hard," Nash said. "But they got all the loose balls, offensive rebounds, putbacks, obviously they made some shots, and you take your hat off when they make shots. But all the layups and hustle plays and not getting back on defense and not talking -- that kills you."
And killed the Suns were, losing by their largest margin of the season after toting the NBA's best record, best field goal percentage and highest-scoring offense into Madison Square Garden and making use of none of those things, dropping a 126-99 decision to the New York Knicks that marked the first time Phoenix failed to reach 100 points this season.
The game was such a blowout -- Gentry pretty much threw up his hands after his Suns allowed the Knicks to open the second half with a 23-10 run -- that all of the Suns' starters sat out the final quarter, allowing Alando Tucker and Robin Lopez the rare treat of seeing 12:00 of playing time listed next to their names in the box score.
But this was no treat for a Suns team that entered the game on such a roll that their 3-point shooting percentage (.445) was actually higher than 10 teams' overall shooting percentage (Charlotte, Chicago, Detroit, Indiana, Milwaukee, Minnesota, New Jersey, New Orleans, New York and Washington).
And the Suns were actually shooting 53 percent at halftime when they went to the locker room trailing by 13 (71-58), but the speech they heard about ending their matador defense fell on deaf ears, and the Knicks never were threatened in what was by far their most impressive all-around performance of the season's first 18 games.
Danilo Gallinari made six 3-pointers (he leads the NBA with 54) and scored 27, David Lee added 24 and grabbed four offensive boards, combining with Jared Jeffries (five offensive rebounds -- plus four blocks, five rebounds and four assists) and Wilson Chandler (four offensive rebounds) to grab more offensive boards than the Suns managed as a team (12).
At one point in the first half, Larry Hughes of the Knicks had 10 assists of his own to the Suns' seven as a team. And it was at about that point that you realized that the Phoenix team that had piled up 14 victories in its first 17 games (despite playing 11 of them on the road) was having one of those nights that players are quick to dismiss afterward by saying it was "just one of 82."
Which is pretty much the way Gentry flushed this one down the toilet.
After all, he's got the Cleveland Cavaliers to worry about Wednesday night, and harping on what he certainly hoped was an aberration would serve no useful purpose heading into a tough matchup on the final night of a seven-night road trip.
The loss snapped a six-game road winning streak for the Suns and dropped their record against Eastern Conference teams to 5-2. After Wednesday, they won't play on the road again in the East until Jan. 11, and after Saturday night's game against the Sacramento Kings, the Suns face a stretch of six straight tough games against the Lakers, Mavericks, Magic, Nuggets, Spurs and Blazers, with four of those games on the road.
Once that stretch passes, we'll have a better idea if Phoenix is truly among the league's elite -- a distinction the Suns certainly qualified for as they began the month of December with the best record in the entire NBA.
"I don't want to take anything away from New York, because I thought Mike [D'Antoni] did a great job, he had them well-prepared and they did a good job defensively -- we were about 13 below our average, so it wasn't so much us as it was them," Gentry said. "This is the first game where I thought we didn't establish ourselves defensively from the standpoint of taking away easy baskets and making them make jump shots. They made jump shots, so we needed to take away easy baskets, and we just didn't do that. They just outplayed us, and it's just one game, but I know those guys in the locker room, and I know they'll bounce back."
Chris Sheridan covers the NBA for ESPN Insider.
Dimes past: November 15 | 16 | 17 | 18 | 20-21 | 22 | 23 | 24 | 25 | 27-28 | 29 | 30
2. Wolves Worse Than Winless Nets
By John Hollinger
ESPN.com

The Nets are 0-17, they've fired their coach and, in all probability, they're going to break the league record for season-opening futility with an 18th consecutive loss when they play the Mavericks on Wednesday night.
But amazingly, another team has played worse this season.
While all eyes have been on New Jersey, the Minnesota Timberwolves ended their own pathetic 15-game losing streak on Sunday night with a win in Denver. Nonetheless, one can make a persuasive case that the 2-15 Wolves are significantly worse than the winless Nets.
To read the entire story, click here
3. Daily Dime Live Recap
ESPN.com writers and TrueHoop Network bloggers chatted with fans and gave their in-game opinions throughout Tuesday night's slate of games -- all in Daily Dime Live.
4. Oden Stars In Defeat
Elias Sports Bureau

Oden
Greg Oden's 13 points, 20 rebounds and four blocks went a wastin' as the Trail Blazers dropped a 107-100 decision to the visiting Heat. But we have to take notice of that kind of performance. Oden became only the third different Trail Blazers player with 20 rebounds, double-digit points and at least four blocks in a game since 1973, when the NBA started keeping track of blocks. The others who did it were Bill Walton (seven times from 1974 to 1977) and Joel Przybilla (in 2005).
By Maurice Brooks
ESPN.com
TUESDAY'S BEST

Jamison

Antawn Jamison, Wizards: He continued his strong play since returning from a shoulder injury on Nov. 18, tallying 30 points and 12 rebounds to win his duel against Chris Bosh's Raptors.

TUESDAY'S WORST

Phoenix Suns: The Suns brought a league-leading 14-3 record to Madison Square Garden, while the Knicks were 3-14. The game figured to be lopsided, except nobody thought it would be in New York's favor.

QUOTE OF THE NIGHT

"His teammates are on him. We talked to him about it. But at the end of the day, he's going to have to solve that on his own. Rasheed has a reputation, and he's earned it."

-- Celtics coach Doc Rivers on Rasheed Wallace, who picked up his eighth technical foul against the Bobcats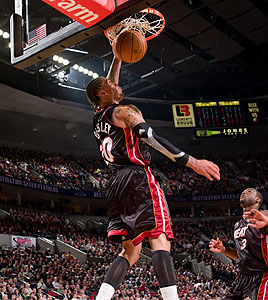 NBAE/Getty
Michael Beasley popped in a season-high 27 points and Dwyane Wade gave out 12 assists as the Heat ran past the Blazers in Portland.
8.

Paul Shoots, Passes, Sits

Paul
LOS ANGELES -- Chris Paul spent an hour putting his sprained left ankle to the test in a workout on the Staples Center court before the Hornets played the Lakers on Tuesday night, but he still isn't ready to proclaim himself ready to play.
Paul ran forward and backward across the width of the court, took shots from around the perimeter and went one-on-one (all on offense) against assistant coach Robert Pack. He made spin moves, got a little elevation on his shot and looked comfortable taking off and landing on his left foot.
"It's getting better," Paul said. "That was the first time I was able to do all that, so every day it's getting a little bit better."
Paul didn't give an estimate for his return.
"I don't know," he said. "When I'm 100 percent."
To read the TrueHoop blog, click here.
9.

Talking Lottery Scenarios

There may be 168 days until the NBA draft lottery but, given how poorly a handful of teams are playing this season, we already have a pretty good idea of who will be hoarding the pingpong balls this year.
The New Jersey Nets are a historically pitiful 0-17. The Minnesota Timberwolves aren't far behind at a pathetic 2-15. And the New York Knicks aren't faring much better at a paltry 3-14. While there are plenty of other teams struggling, it seems like these three teams in particular are in for a long season.
That means that fans of all three teams are already focusing on this summer and the 2010 draft. Whom would each team draft if they were to win the lottery?
To read the entire Ford column, click here.