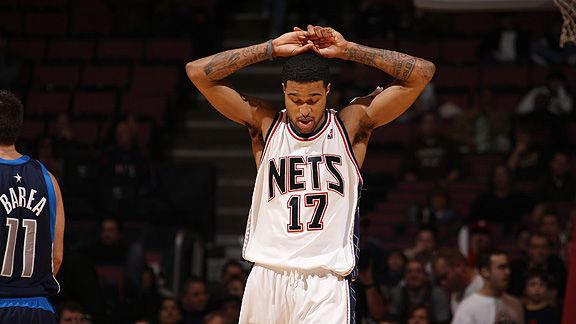 Photo by NBAE/Getty Images Despite 24 points from Chris Douglas-Roberts, the Nets couldn't keep pace with the red-hot Mavs.
1. Nets At 0-18: Inside The Locker Room

By Chris Sheridan
ESPN.com
EAST RUTHERFORD, N.J. -- I am sitting where no man has ever sat before, typing this sentence while sitting against the back wall of the locker room of an 0-18 NBA team, and I am getting a dirty look from a security guy who doesn't seem to like the idea of someone hacking away on a laptop inside this den of misery.
On the bright side, that means there's still someone on the Nets, even if his nickname is Pinkerton, capable of producing a fiery look in his eye.
Josh Boone has been sitting catatonic at his locker for quite some time now, and Chris Douglas-Roberts is sitting to my left pointing out that there is a time and a place -- as evidenced by the Minnesota-Denver game of the previous night -- for things to take a turn for the better, no matter how bleak the prospects might appear.
Sean Williams is to my right, being left undisturbed -- and that can't be the greatest feeling. You are a bit player on the team off to the worst start in NBA history, and there is nothing anyone can ask of you or say to you of any relevance whatsoever.
Trenton Hassell just arrived back at his locker, next to Williams, and is saying how deposed coach Lawrence Frank was undeserving of the blame that came his way when he was fired after the Nets lost their first 16, and Courtney Lee has now arrived on the other side of Williams' locker and is being courteous to the YES TV crew.
I figure I'll wait the crew out, ask what positives can be taken from this loss, and see what Lee has to say -- or how he reacts. Absurd question, but hey, 0-18 is absurd in its own right, so I figure I'm on solid ground.
Stand by ...
OK. I'm back. And Lee has some goodwill stored up for the end of the season when I get to vote for the NBA's All-Interview Team.
Because Lee not only answered the question, he made a valid point -- that Dallas coach Rick Carlisle had to summon Dirk Nowitzki and Jason Kidd off the bench with 6:48 remaining in the fourth quarter after the Nets opened the period with a 13-2 run to cut a 27-point deficit to 16.
The Nets managed to fritter that opportunity away by missing a pair of 3-pointers and committing a turnover on their next three possessions, but hey, you take your small moral victories wherever you can find them.
"We had one unit in there in the second half that was competing and playing defense and getting a couple of stops, letting our defense lead to our offense. So if we can take that out of there and watch it, and hopefully it'll motivate everybody to play the whole game like that," Lee said. "Starting off, what are we waiting for? They had a 50-point second quarter [actually 49]. That's unheard of. They shot 81 percent in the first half. That's unheard of. That's just a lack of defensive effort."
Outside the locker room, there were no tears being shed by Devin Harris, but rather hugs and smiles.
That was because Harris was saying his first hello in a long time to Del Harris, his former assistant coach in Dallas who will now be interim coach Kiki Vandeweghe's lead assistant beginning Friday night against Charlotte when New Jersey will try to avoid dropping to 0-19.
"We're going to get this thing turned around," Devin Harris was told by a cheerful Del Harris, who spent the night watching the game from the stands with Vandeweghe while interim coach Tom Barrise -- the other interim, the one who replaced Frank this past weekend -- manned the sidelines one last time.
Barrise said afterward that he was particularly appalled by the lack of defensive effort in the second quarter when Dallas shot 17-for-19 (89.5 percent) from the field and 10-for-10 from the line to score 49 points and take a 77-50 lead at intermission.
The Mavs' lead got as high as 31, and the second half was highlighted by two fans donning brown paper bags with Santa caps affixed atop them and sneaking down into the second row of seats, where they were mobbed by photographers during a timeout.
"It doesn't pain me, it's unfortunate," said Dallas' Jason Kidd, who led the Nets to two NBA Finals appearances earlier this decade before the rebuilding (or demolition, some would say) of the roster began with the trade that sent him to Dallas. "I can always say there was whispers of this coming, you could see it coming. It's unfortunate; they're going through some changes on that side and they have to stay with it and stay positive, and things will turn eventually."
Vandeweghe has said he will try to play a more wide-open style on offense and encourage his team to gamble and trap more on defense, trying to quicken the game and take advantage of the speed of some of the team's younger players.
Barrise noted that Wednesday morning's shootaround marked the first time all season that all 15 players took part.
The new beginning begins Thursday morning when the new interim tag team, Vandeweghe and Harris, attempt to orchestrate a turnabout.
"It's a bit unfair to make an evaluation yet with so many guys either coming back or down, and going against a good team that just won their [14th] game and got hot in the second quarter. We've got some good guys, and I think they're playing hard, and there's some things I think we can work on to do better," Harris said. "But it's not a hopeless situation."
Not hopeless? OK, we'll give him that one. Injuries have decimated this team, and if there hadn't been two devastating losses at the buzzer to Minnesota and Miami, we'd have a quote from Frank somewhere in this column.
But if it isn't hopeless, it certainly is humiliating. Not to mention historical.
And if it keeps getting worse, there is still hope on the horizon: Only 20 more days until the Minnesota Timberwolves come to town.
Chris Sheridan covers the NBA for ESPN Insider.
Dimes past: Nov. 16 | 17 | 18 | 20-21 | 22 | 23 | 24 | 25 | 27-28 | 29 | 30 | Dec. 1
2. Will Bad Starts Affect Deadline Dealings?
By John Hollinger
ESPN.com

Ready to talk trades yet?
The trade deadline is more than two months away, but we're watching and waiting already. The reason: The biggest variable in any trading season is which clubs will look to retool (or dismantle) their rosters based on disappointing starts to the season.
On this front, two clubs in particular bear watching given their high expectations entering the season and subpar performances thus far -- the Washington Wizards in the East and the Portland Trail Blazers out West.
To read the entire story, click here
3. Daily Dime Live Recap
ESPN.com writers and TrueHoop Network bloggers chatted with fans and gave their in-game opinions throughout Wednesday night's slate of games -- all in Daily Dime Live.
4. Westbrook's Scoring Makes Up For Shooting
Elias Sports Bureau

Westbrook
Russell Westbrook had 15 assists but made only 1 of 11 shots from the floor in the Thunder's 117-106 win against the 76ers. Westbrook's .091 field goal percentage was the lowest for any NBA player (minimum: 10 attempts) in a game in which he handed out at least 15 assists since New Jersey's Jason Kidd went 1-for-17 from the floor (.059) in a 15-assist game at Dallas on Jan. 21, 2002.
By Maurice Brooks
ESPN.com
WEDNESDAY'S BEST

Durant

Kevin Durant, Thunder: The surprising Thunder handed the Sixers their eighth straight loss thanks to Durant's 33 points.

WEDNESDAY'S WORST

Nash

Steve Nash, Suns: The league's best playmaker, who is averaging almost 12 assists per game this season, had more turnovers (six) than dimes (five) against the Cavs.

QUOTE OF THE NIGHT

"It's something where you've got to take the good with the bad. Be ready to play whenever your number is called. That's what I'm going to do. I'm going to do everything I can to be that good teammate."

-- Knicks guard Nate Robinson on being benched the entire game against the Magic
6.

Hawks Rout Visiting Raptors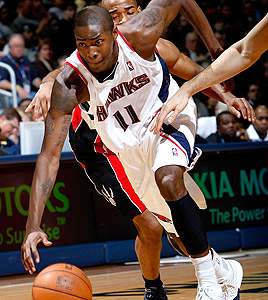 NBAE/Getty
Jamal Crawford (16 points) was one of nine Atlanta players in double digits as the Hawks exploded for a 146-115 win against the Raptors.
8.

Is Artest Telling The Truth?

Artest
How many players besides Ron Artest could make statements that ricochet off four teams? Artest somehow managed to put the Chicago Bulls, Houston Rockets, Indiana Pacers and Los Angeles Lakers on alert with his comments in an interview with The Sporting News.
It was his Rockets-related quote that could be the most "actionable" by the league office, which didn't quite know what to make of Artest's claim that he used to drink during halftime of his games with the Chicago Bulls. But the NBA is reviewing his comments about the 2009 Western Conference semifinals, when Artest was a Rocket playing the Lakers. "[Referee] Joey Crawford basically said, 'Who cares about the Houston Rockets? Kobe Bryant is on the floor.'" Artest said.
"I didn't catch that one, but that did not surprise me about Ron," Rockets center Chuck Hayes said. "It actually seems like he's everywhere right now. That game [Game 2, when Artest was ejected], it was a fierce game, Ron and Kobe got into it, Shane was bloody."
As for Artest's halftime Hennessey-sipping claim, "I've heard that before, and I don't believe him. I don't think that happened," Hayes said. If he did do that, I don't see how he was able to function during the games. Especially dark liquor. That's crazy."
Hayes' comment is notable on two fronts. First, his differentiating between light and dark liquor, as if he took a distilling class at Kentucky.
Then, his noting that this wasn't the first he'd heard of this, which indicates that Artest didn't just spout this off in the Sporting News interview. So either it's a rumor that's worked its way around the league or Artest is a serial fabricator with a set plan to build his image (whatever that might be). A teammate of Artest's in Chicago was skeptical that Artest actually drank, saying, "Consider the source. Since when did he become a credible witness?"
Rockets coach Rick Adelman didn't want to touch the Crawford comment. As for the drinking statements, "It wasn't in Houston, so that was a good thing," Adelman said.
"Ron's going to say a lot of things, and I think a lot of it's for effect. And a lot of people are going to listen and react to it. As a coach, I've learned I don't really pay much attention to it unless it's something that adversely affects the team. Then I'll talk to him. He loves to talk and he loves to say things. Maybe it's harder here to get in the paper here. I like Ron. He plays hard every game and he was good for us and he's in a really good situation for himself right now."
9.

Ilgauskas Sets Cavs' Record
By John Hollinger
ESPN.com

Ilgauskas
CLEVELAND -- Zydrunas Ilgauskas set a Cavaliers record for games played, and the Cleveland fans showered him with appreciation for it. As for the appreciation between Ilgauskas and the franchise he's represented for the past 13 years, that still seems in short supply at the moment.
First, the good news: Ilgauskas set the club record for career games played, with 724, by checking in during the first quarter of Cleveland's 107-90 win over Phoenix, and it was a genuinely heartwarming moment. He drew a rousing "Zeeeeeeeeeee" cheer from the fans when he got up to check in late in the first quarter, even while play continued, and it continued through his first two trips on the floor. He deserved it. Ilgauskas survived all the bad years, battled through five foot surgeries to become an All-Star, and through it all has been one of the most classy, likable players in team history.
"It was the closest I've come to tears on the basketball court," said the 7-foot-3 Lithuanian.
To read the entire TrueHoop blog, click here.