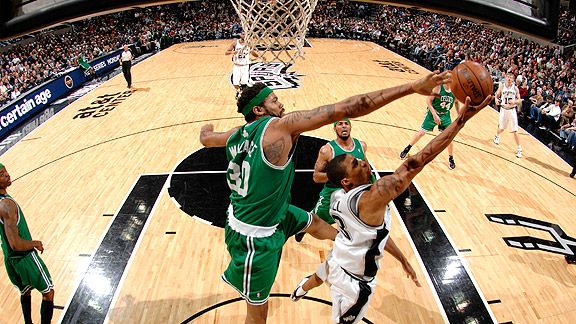 Photo by NBAE/Getty Images Rasheed Wallace was just one of the Celtics who came up with a big play on defense against the Spurs.
1. Celtics Get Defensive In Win Over Spurs
SAN ANTONIO -- The Celtics used their dominating defense from the opening tap against the Spurs and the result was a 90-83 win in San Antonio. Boston (15-4) has won six in a row and is tied with Orlando for the best record in the East.
The Celtics have the league's top road record (8-1). When they play defense like they did Thursday night, they are tough to beat. Boston forced 18 San Antonio turnovers and kept the Spurs from executing their offense consistently.
The Spurs made some runs and rookie forward DeJuan Blair was terrific, going 9-for-11 and scoring 18 points. He surprised me. He has a big body, and he was able to grab 11 rebounds, including five on the offensive end. He showed some good footwork.
Spurs big man Tim Duncan added 16 points and 15 rebounds and point guard Tony Parker played well, but overall the Celtics did not allow the Spurs to dominate on offense. Also, San Antonio misses the production of Manu Ginobili. He played, but he clearly isn't 100 percent physically. He made just 4 of 12 shots in 18 minutes. The Spurs need their Big Three to be clicking to be their best.
Boston big men Kendrick Perkins and Rasheed Wallace (four blocks) did an excellent job defensively of protecting the paint. Kevin Garnett is such a big part in everything that the Celtics do. He is a helper on defense. He is not the dominant player he once was -- he had only seven rebounds and no blocks -- but clearly he is very important for what coach Doc Rivers wants his team to do.
Ray Allen and Paul Pierce didn't contribute for the Celtics as much as they normally do, but the mark of a great team is when you're not playing your best, you still win the game. The Celtics had a variety of players step up.
Boston point guard Rajon Rondo had 12 points and 12 assists and committed only three turnovers. He came up with a key strip late on Parker and also made some great passes and a couple of alley-oops to Garnett.
Garnett added 20 points and five assists. Before the game began, I commented that KG was really pumped for this game. The players all respect him, and he is the center of their defense. And along with Rondo, he is the guy who makes the offense go. He makes big passes and consistently hits his jumper, and the Celtics always seem to get high-percentage shots.
In the East, the Celtics are the best. Overall, the two best teams in the league are the Celtics and the Lakers. They are both playing outstanding basketball, but I would give the Lakers the advantage if they made the NBA Finals because of their front line.
Lakers big man Andrew Bynum is what separates these two teams. He is a very confident post player.
Dr. Jack Ramsay is a regular contributor to the Daily Dime.
Dimes past: Nov. 16 | 17 | 18 | 20-21 | 22 | 23 | 24 | 25 | 27-28 | 29 | 30 | Dec. 1 | 2
2. What's Wrong With The Suns?
By John Hollinger
ESPN.com

CLEVELAND -- Regression to the mean, or something much worse?
In the wake of blowout losses to the Knicks and Cavs that sullied a league-best, 14-3 start, the Suns find themselves asking whether this was just a road-heavy, early-season schedule finally getting the better of them, or whether something more nefarious was at work.
Phoenix fell behind by four touchdowns in the first half of Wednesday night's 107-90 defeat to the Cavs; combined with Tuesday's 27-point defeat in New York, the Suns were beaten 183-117 over a period of six quarters. Ouch. The stumble dropped Phoenix from first in the Power Rankings on Tuesday all the way to 12th Thursday morning and from the league's best record to a tie for fourth-best.
Certainly the Suns were due to see a dip in the scorching shooting percentages they posted in the early part of the season. As recently as last week, their 3-point percentage was better than 10 teams' field goal percentages, but after shooting 14-of-40 from distance in their past two defeats, they're at a somewhat more realistic 43.6 percent from downtown -- now ahead of only two teams' field goal percentages.
To read the entire story, click here
3. Daily Dime Live Recap
ESPN.com writers and TrueHoop Network bloggers chatted with fans and gave their in-game opinions throughout Thursday night's slate of games -- all in Daily Dime Live.
4. Rookie Watch: What Needs Fixing?
David Thorpe
Scouts Inc.

Jennings
We're a full month into the season, so let's look at some of the rookies' weak points that need to be addressed as quickly as possible. Some of the problems can be fixed quickly, others may require a few seasons.
Although the impulse of fans may be to defend their rooks and say, "Leave my guy alone, he's just one month into the season," opponents already know all too well their faults and will try to exploit them as often as possible.
To read the entire Thorpe column, click here.
By Maurice Brooks
ESPN.com
THURSDAY'S BEST

Brooks

Aaron Brooks, Rockets: He scored 25 points, including the two winning free throws with just 2.1 seconds left, to lift Houston to a 111-109 win over Golden State.

THURSDAY'S WORST

Jefferson

Richard Jefferson, Spurs: He missed 10 out of 13 shots from the field, including all four 3-pointers. He had six points in 35 minutes.

QUOTE OF THE NIGHT

"Coming back home, all I could think about was the people who made me who I am."

-- Allen Iverson at the press conference announcing he was back with the Sixers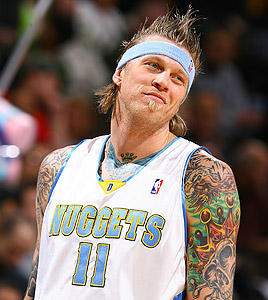 NBAE/Getty
Chris Andersen came off the bench to post nine points, 10 rebounds and three blocked shots in 28 minutes as the Nuggets routed the Heat.
By Zarar Siddiqi
TrueHoop Network

Bosh
Allowing 146 points to the Hawks on Wednesday has Toronto Raptors players questioning coach Jay Triano's defensive schemes.
"We don't buy in on the defensive end of the floor, and every time something happens it's, 'It's OK, it's alright.' It's not alright. We're just letting problems go by," said
Jarrett Jack
.
"Coaches have to do a good job of changing it up and coming up with a better scheme because right now it's not working," said Antoine Wright, who didn't play despite being a defensive specialist.
"We haven't stopped anybody all year. We're just not a good team," said Chris Bosh after his 2-point effort.
With below-average defenders such as Jose Calderon, Andrea Bargnani and Hedo Turkoglu in the lineup, it's no surprise that the Raptors are a bad defensive team. However, after signing Marc Iavaroni as a defensive coach and spending all of the preseason on defense, an all-time worst 118.3 defensive rating is surprising.
Triano's aggressive helping schemes have left already-poor defenders struggling to make rotations, leaving many to question whether he's playing to their strengths.
Turkoglu is averaging 10.6 shot attempts, his lowest total since 2003-04; he went 1-for-7 with two turnovers in the fourth quarter against Washington, the exact type of clutch situation he was hired for. Is it incorrect utilization by Triano or simply just a bad signing?
Questions are being asked of GM Bryan Colangelo, who has traded all his major acquisitions in Toronto -- T.J. Ford, Jermaine O'Neal and Shawn Marion.
The fans are polarized on Bargnani, whose rebounding and defensive issues many have trouble looking past. He had zero rebounds on Wednesday as the Raptors got outrebounded 51-29. Calderon has also been struggling defensively, allowing dribble penetration far too easily.
Toronto has lost nine of 11 games and has conceded 114.6 points per game during the span.
To read more, check out Siddiqi's TrueHoop Network blog, Raptors Republic.
9.

Artest: When Past Meets Present

Artest
At least now we know why Ron Artest would reveal that he drank alcohol before playing in games for the Chicago Bulls about a decade ago. He did it for the kids.
"The whole point of the testimony was to share the problematic times in my life with the youth," Artest said Thursday. "I have a program coming up pretty soon that I'm going to go visit schools and share situations that I've gone through."
To read the entire Adande column, click here.