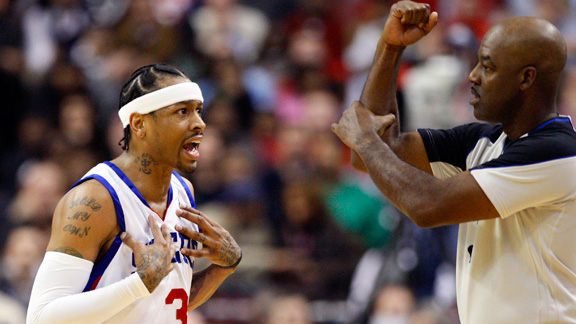 AP Photo/Matt Slocum Allen Iverson returned to action with the Sixers, and that included stating his case to officials.
1. Returning Points On Iverson's Philly Debut
By Chris Sheridan
ESPN.com
PHILADELPHIA -- We walk away from this one with three overriding thoughts regarding Allen Iverson's return to the Philadelphia 76ers:
• Iverson can still fill an arena, at least this one, and he brought a buzz to a Sixers game for the first time since, well ... since he made his return here with the Nuggets two years ago and kissed the center circle before tipoff, just as he did again Monday.
• Iverson can still play, he still has some quickness, but never again will he be the blur he once was on a night-in, night-out basis. Furthermore, in the team pecking order, he is not even the Sixers' most important A.I. Far from it, in fact.
• Iverson will help, but he's more of a Band-Aid than a panacea for a team in the midst of a deep slide, a Philadelphia squad whose losing streak reached double digits after it let Denver turn a close game into a blowout with a 17-0 second-half run that led to a 93-83 victory for the Nuggets.
And what did Iverson learn? What will he remember? Where is his game at?
We'll start by letting him speak for himself first.
"Myself, from the circumstances of not having been out there on the basketball court for a month, just having one day of practice and tying to learn everything on the fly, and playing that many minutes [38] after not playing at all, I'm proud of myself. I did the best I could. My heart said yeah, but my body said no. My legs were weak, my arms were weak, I was telling my teammates on one play I wanted to go baseline, I seen the opening, and my heart said yeah and my legs said no, and I just couldn't do it. So it's going to take some time," Iverson said.
Those comments came from a locker stall near a concrete pillar in the center of the Sixers' locker room, a long way from the cushy corner stall Iverson occupied for so many years but which is now the property of the Sixers' true best player, Andre Iguodala.
It was Iguodala who carried the load on offense for the 76ers with 31 points, and it was the Nuggets' aggressive trapping of Iguodala in the third quarter that took the Sixers away from what had been working for them offensively as they kept things tight through the first 36 minutes.
Option B once Iguodala was trapped was Iverson, and as the man said himself, his legs just weren't there.
We counted only two occasions all night in which Iverson took the ball hard to the bucket in traffic, drawing fouls both times, while there were at least twice as many occasions when his quickness manifested itself in sudden stops on drives that allowed him to pull up for a jumper or a fadeaway.
A couple of times that move worked for Iverson, who shot 4-for-11 and had 11 points, six assists and five rebounds. But late in the game, the Nuggets knew it was coming, and they attacked Iverson with something from Philadelphia's old bag of defensive tricks: Assigning a speedy young whippersnapper to shadow him, slap at him and harass him, which is what rookie Ty Lawson did. Lawson even recorded a blocked shot against Iverson (the second of Lawson's NBA career; the first was against Minnesota's Jonny Flynn) on an attempted jump shot, and it should not go unmentioned that Lawson (whose favorite Iverson memory from when he was just a wee lad was Iverson's crossover move on Michael Jordan during the 1996-97 season) absolutely toasted Iverson for an uncontested layup on an isolation play late in the game.
The Nuggets' 17-0 run took the charge out of what had been an electric evening at the Wachovia Center, where the Sixers have failed to capture the imagination of this city in the years since Iverson left -- even while they were making the playoffs the past two seasons but playing postseason games in front of thousands of empty seats.
Monday night's crowd was a sellout of 20,664, almost 9,000 more paying customers than Philadelphia averaged over its first eight home games. If we estimate (conservatively) that each of those 9,000 extra folks dropped 50 bucks apiece on tickets, parking and concessions, that means the Sixers pulled in about $450,000 more in revenue than they would have if this was a typical meaningless Monday night of malaise.
Or to put it another way, the Sixers made enough money in one night to cover a substantial portion of the prorated NBA minimum they are paying Iverson (a large chunk of that money comes out of a special league fund, not from the wallets of the Sixers' owners).
Every night from here on out, provided Iverson sticks around, means Iverson is producing a profit.
But as for the basketball, Philadelphia remains a team with a steep hill to climb to get back to the level it was playing at the past two seasons when Andre Miller was running the show. The Sixers weren't flashy, but they were good.
Now, they're measurably flashier. Better? That remains to be seen.
But the good vibes were an unmistakable positive.
"When it comes to any profession, and even with a marriage or a friendship or anything like that, both partners want to feel appreciated," Iverson said. "And that's the biggest thing. I feel like the fans here appreciate me, my effort and how I come to play every night, and that's all you want as a basketball player. So that was the best part of the night, just hearing these people's voices all over again.
"So it was bittersweet because I wanted to win so bad regardless if I played well or not, but we just got beat by a better team."
Indeed they did, leaving Philadelphia at 5-16 -- a record that reveals, at this point in the season, that there are 27 teams that are better than the Sixers.
And once the euphoria of this reunion wears off, there's still three-quarters of a season to learn whether Iverson can play together in the backcourt with Lou Williams, whether Marreese Speights can return from a knee injury to provide the frontcourt depth that's so sorely lacking, and whether the fans will keep coming and paying good money to see a player whose best years -- no matter how exciting he still can be -- are still a decade behind him.
Chris Sheridan covers the NBA for ESPN Insider.
Dimes past: Nov. 18 | 20-21 | 22 | 23 | 24 | 25 | 27-28 | 29 | 30 | Dec. 1 | 2 | 3 | 4-5 | 6
2. Donaghy's Book Details Inside Action
By Henry Abbott
TrueHoop

Tim Donaghy's book "Personal Foul" is a page-turner.
At the heart of the book is a gripping and sad first-hand account of a gambling addiction tearing apart a family, a career and a reputation. To the detriment of
his wife, children, job, the legacy of his father and all sense, Tim Donaghy tells of growing increasingly obsessed with the highs of winning. Table games at casinos, poker games with friends, golf games, horse races, football, basketball -- he says he bet on all of it to such an extreme that the mob, the FBI, the NBA and federal prosecutors got involved. Donaghy now joins Shoeless Joe Jackson, Ben Johnson, Pete Rose and the like in the pantheon of sports infamy.
"Personal Foul" is hardly all gambling addiction, though. Anecdotes include Charles Barkley dumping a container full of Gatorade on Donaghy in the referee's locker room; Donaghy sneaking away from the media surrounding his house in a daring nighttime golf cart raid, and the story of the prisoner who almost literally "broke his kneecaps," perhaps on behalf of the mob.
The book's primary mission, however, is to promote the theory that the NBA's independent investigation by attorney Lawrence Pedowitz, the FBI and the U.S. Attorney's office has been unable to disprove Donaghy's claim that he didn't fix games, because he didn't have to.
According to Donaghy, so many referees and league officials have axes to grind with various players, coaches or owners that insider knowledge can lead to an unheard of rate of sports gambling success.
To read more, check out Abbott's TrueHoop blog entry.
3. Daily Dime Live Recap
ESPN.com writers and TrueHoop Network bloggers chatted with fans and gave their in-game opinions throughout Monday night's slate of games -- all in Daily Dime Live.
MONDAY'S BEST

Billups

Chauncey Billups, Nuggets: On A.I.'s night, the man he once was traded for went for 31 points, eight boards and eight assists in a 93-83 Denver win over Philly. His 42 minutes on the court were his second most of the season.

MONDAY'S WORST

Radmanovic

Vladimir Radmanovic, Warriors: Vlad had some good shooting games last week (17 points versus Denver, 20 versus Houston), but this loss served as a counterpoint. He missed eight of nine shots in a 104-88 loss to OKC.

QUOTE OF THE NIGHT

"We'll get it together, believe me."

-- Sixers guard Allen Iverson, whose new team has lost nine straight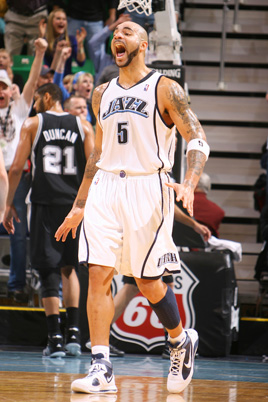 NBAE/Getty
Jazz forward Carlos Boozer (27 points) celebrates a hoop during Utah's 104-101 win over the Spurs.
7.

Knicks Thankful For Wins
By Chris Broussard
ESPN The Magazine

Duhon
NEW YORK -- The results say it started on Dec. 1, when the Knicks handed the Phoenix Suns a stunning 27-point loss at Madison Square Garden. But the genesis of this small ray of light actually began on Thanksgiving.
In Denver for the holiday, the Knicks' players gathered in a restaurant at the Ritz Carlton. It wasn't meant to be a team powwow, just a chance to get some decent food.
"The Thanksgiving meal they made for us wasn't that good,'' Knicks guard Chris Duhon said. "So we had to go somewhere else.''
But the quest for food turned into an exercise in chemistry building, as the players watched football, talked trash, played cards, and rapped about having fun on the basketball court. No coaches were present. The Knicks lost their next two games, but gained confidence after playing well against contenders Denver and Orlando.
Then they won four of their next five games, including Monday's 93-84 victory over the Portland Trail Blazers that pushed their season-long win streak to three.
To read more, check out Broussard's TrueHoop Network blog entry.
By John Hollinger
ESPN.com

Landry
I haven't heard anyone mention his name yet, so let me be the first to put this out there: If Carl Landry doesn't get some votes for the Sixth Man award, there needs to be an investigation.
Everyone likes to talk about the no-talent, overachieving Rockets (11-9), but Landry has dominated off the bench. He basically becomes Houston's go-to scorer as soon as he enters games, because he can shoot from midrange, score in the post and get lots of garbage buckets off the ball. Landry is averaging 16.3 points a game off the bench with a sizzling 56.7 percent shooting mark and comes in at 88.8 percent from the line. His rate of 25.3 points per 40 minutes is better than the rates of
Antawn Jamison
(19.50),
Danny Granger
(19.77) and
Monta Ellis
(17.24), except Landry produces his on far fewer shots. As a result, Landry has the highest PER of any reserve to play at least 300 minutes (23.94), far outpacing the likes of
Jamal Crawford
(17.11) and
Jason Terry
(18.15). He also helps answer the nagging question of "How is Houston doing this?" If he keeps it up, he may not only win some hardware but also help nudge the Rockets to a surprise playoff appearance.
To read more, check out Hollinger's PER Diem.
Allen Iverson scored 19,583 points and recorded 4,283 assists in 697 games for the Sixers from 1996 to 2006. Those are the largest point and assist totals recorded by a player for any NBA team prior to the player's return to that team. The previous highs were 16,120 points by Chris Mullin before he returned to the Warriors in 2000 and 4,790 assists by Derek Harper before his return to the Mavericks in 1996.