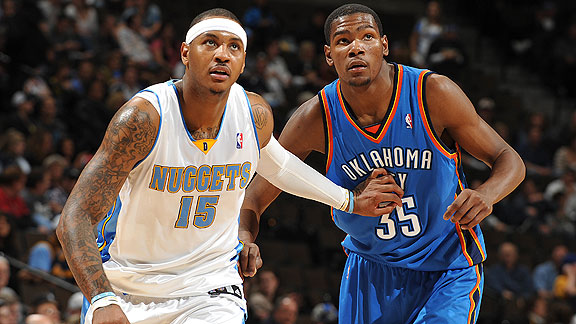 Garrett W. Ellwood/NBAE via Getty Images Carmelo Anthony got his usual 31, enough to top Kevin Durant (32 points) and the Thunder.
1. Nuggets Shaping Up As Legit Challenger
By John Hollinger
ESPN.com
DENVER -- Let's start with a disclaimer: They will not be displaying video of this game in the Smithsonian.
Yet Denver's perfunctory 102-93 win over Oklahoma City on Monday night showed how the Nuggets might be the one team that can prevent the Western Conference playoffs from turning into the Lakers Invitational. While other alleged threats like Portland, San Antonio and Utah continue to stumble, the Nuggets stand at 18-7 aft the 25-game mark with a stout plus-7.0 point differential -- not in the Lakers' range, perhaps, but close enough to stay in the hunt.
"We're right below the two or three really good teams," said Nuggets coach George Karl, after first grilling your correspondent about where his team might stand in Tuesday's Power Rankings.
In truth their position won't change any. But that belies the fact that on Monday night, we saw a new side to the Nuggets, one we'll need to see in the future if they're going to present a viable threat to L.A. For once, the Nuggets ground out an ugly win rather than prevailing in a track meet.
On Monday night, the Nuggets failed to bring their A-game offensively. They couldn't engage Oklahoma City in the type of up-tempo game Denver normally forces in the mile-high confines of Pepsi Center. Denver had only five fast-break points -- a microscopic total in the Soda Can -- and made just four 3-pointers.
Normally, that spells disaster for the Nuggets. This time they won, because a defense that has been largely hit-and-miss this season gave one of its best efforts. Denver held the Thunder to 39.2 percent shooting and forced 21 turnovers; the carnage would have been worse if Oklahoma City hadn't scored 32 points in a largely meaningless final quarter.
Denver came into the game ranked just 15th in defensive efficiency, and consistency on that end remains an issue -- witness the home loss to Minnesota on Nov. 29, for instance. Yet in the big picture, those moments have become less frequent.
"I think there's always a stage [in the season] where consistency comes," said Karl. "Our fundamental foundation is much bigger than it was at this time last year, much bigger."
"I think we're close," said Chauncey Billups, who is no stranger to consistent, veteran teams. "But I don't really compare our teams [in] Detroit with this team because we were all veterans, we'd been through a lot. This team is pretty young, we went through some battles last year, but that was only one turn. [In] Detroit it was every single year we played over 100 games. So it's a little different. But we're coming man, we're coming."
I can hear readers in Southern California protesting already -- threaten the Lakers? Ha! The Nuggets are frail, both physically and emotionally, and give up far too much size to the Lakers' post tandem of Andrew Bynum and Pau Gasol to beat the Lakers four times out of seven.
Yet Monday night's game cemented a few ideas for Denver proponents. First, when the Nuggets' three-man frontcourt is at full strength, they can beat just about anybody. The Nuggets went to 18-4 when their starting frontcourt of Kenyon Martin and Nene starts. However, they lost all three games Martin missed, and lost them in fairly depressing fashion (at Charlotte, at Detroit with four of Detroit's best players missing, and at Atlanta by 25).
This isn't because Martin is some kind of superstar -- he had six points in 37 minutes on Monday night -- but rather because the Nuggets just don't have the personnel to replace him. In a related story, the Nuggets are 0-3 when Joey Graham starts. I'll let you guess which three games those were. Yes, another frontcourt body would be nice.
"Do we need to find another player to play in the rotation?" said Karl "Maybe."
To beat the Lakers, more like definitely. The good news is that finding that player -- a big man who can guard the likes of Bynum and Gasol in May and June -- may not be as much of a long shot as some suspect. For one, several teams with playoff hopes have been both disappointing and have high payrolls (Washington and Indiana, for instance), which could lead them to shop moderately priced veteran bigs like Brendan Haywood or Jeff Foster.
For another, the idea of Denver's taking on salary doesn't seem quite as ridiculous as it did a few months ago. Yes, the Nuggets are in luxury-tax territory and the franchise doesn't generate huge sums of money. However, owner Stan Kroenke is one of the league's few moguls to see his net worth increase in the past year -- that large stake in Wal-Mart may not be sexy, but it is recession-proof. As a result, he might feel more inclined to pull the trigger on a deal that brings in a veteran post defender if it can buy him two extra wins in the conference finals this spring.
Otherwise, the Nuggets have all the pieces. It starts with Anthony, obviously, who has evolved into a legitimate superstar who ranks third in the league in value added and has become a much more dedicated defender. On Monday night, he carried the Nuggets through offensive malaises both early (13 points in the first eight minutes) and late (six straight points when the Thunder threatened in the middle of the fourth) while competently checking Durant for long stretches.
Beyond him, the Nuggets look stacked. Billups is the heady point guard who keeps everything together, Arron Afflalo is a defensive stopper and floor-spacer, and Martin and the vastly underrated Nene do all the dirty work inside. To complement that crew they have speed (Ty Lawson), shooting (J.R. Smith), size (Chris Andersen) and energy (the currently out-of-favor Renaldo Balkman) coming off the bench. Nine pieces fit, they just need a 10th -- a veteran center who can play in May and June.
"[They're] as talented as any team we've faced," said Thunder coach Scott Brooks. "They've got inside, they've got outside, they've got big defenders, they've got a great coach. ... If they play defense, they're going to be tough to beat."
So file this one away for future reference if it comes to pass. The Nuggets are talented enough that, with health, they can probably count on being No. 2 in the West when all the dust settles. Yes, the gap between No. 2 and No. 1 remains, but one can argue it's smaller than last season -- especially after that 26-point beatdown the Nuggets put on L.A. on Nov. 13.
If the Nuggets can learn how to grind out more wins when the shots aren't falling, as they did Monday night, they'll move a little closer. And if they can fulfill their goal of finding another big man to cement the frontcourt rotation, it's fair to wonder if that gap will vanish entirely. None of that may not show up in Tuesday's Power Rankings, but come May it could prove telling.
John Hollinger writes for ESPN Insider. To e-mail him, click here.
Dimes past: Nov. 27-28 | 29 | 30 | Dec. 1 | 2 | 3 | 4-5 | 6 | 7 | 8 | 9 | 10-11 | 13
2. Brooks New No. 1 Soph
By David Thorpe
ESPN.com

Lopez
The difference between being a rookie and a second-year player is not just a season of experience. Fans and coaches also have much bigger expectations for sophomores, with less tolerance for mistakes.
With the season in its second full month, many of the sophs are now finding their stride. The big men are still dominating this list, but the guards are moving up the ladder.
1. Brook Lopez, Nets | Previous rank: 6

Lopez is delivering for the Nets even though opposing teams know he is the team's best offensive player right now. In the two wins the Nets notched this past week, he averaged 28 points and 12 rebounds. The best part is we can expect his production to only increase over the next few months as his new coach and teammates learn to better utilize him. With a few more wins, Lopez's first All-Star appearance would not be out of the question.
To read the entire story, click here.
3. Daily Dime Live Recap
ESPN.com writers and TrueHoop Network bloggers chatted with fans and gave their in-game opinions throughout Monday night's slate of games -- all in Daily Dime Live.
MONDAY'S BEST

Flynn

Jonny Flynn, Wolves: The rookie went for 28 points, including a driving layup that was the difference in the 110-108 road win in Utah. That's win No. 4 for the Wolves, who just might be eyeing a three-game win streak. No kidding.

MONDAY'S WORST

Ellis

Monta Ellis, Warriors: Misses 11 of his 14 shot attempts as the previously reeling Sixers held him to a season-low eight points. Ellis came in averaging 24.7 ppg. His 7-17 Warriors could easily be 8-20 before Santa's in the chimney.

QUOTE OF THE NIGHT

"It's like, no disrespect, but [Golden State's] Mikki Moore gets the start and I don't. Not that he's not a good player ..."

-- Sixers forward Elton Brand on being considered a bench player early in the second year of an $80 million, five-year deal.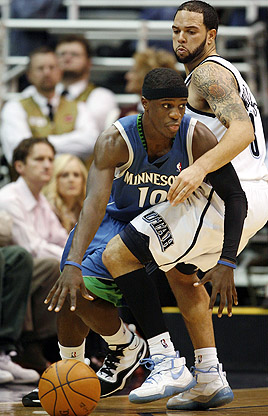 (AP Photo/Steve C. Wilson)
Timberwolves guard Jonny Flynn posted a career-high 28 points while Jazz guard Deron Williams went for 38 points and 13 assists.
By Rob Mahoney
TrueHoop Network

Nowitzki
The Dallas Mavericks have the nerve to treat basketball like a game. Some nights, they'll sprint out to a big lead and take a breather, just because they can. Others, they'll tie Dirk Nowitzki's hands behind his back just to see what happens. And when they're really in a sporting mood, they'll do both, cough up turnovers at twice their usual rate, and laugh as the mayhem unfolds.
We've seen it happen against the Jazz, the Rockets, the Pistons, the Bucks, the Spurs, the Kings, the Sixers, the Suns, the Bobcats, and as of Monday night, the Hornets. Whereas Chris Paul was once a reminder of everything the Mavericks were not (quick, young, and ruthless), for 48 minutes he was merely a plaything. A plaything that managed 20 points, 16 assists, and five steals, but one still trapped within the confines of the Mavericks' game.
It's not as if Dallas had complete control, but perhaps that's what keeps a veteran team like the Mavs intrigued with the possibilities. Rather than eliminate the suspense by taking care of business, Dallas insists on flaunting its vulnerability. The offense falls off track, the pick-and-roll defense breaks down, and the rebounding effort disappears. It's so clever a ruse that even the Mavs themselves are fooled into desperation, a desperation that only fuels the comeback fire of their opponents.
What was once a safe victory is now a matter of clutch execution and timing. Dirk Nowitzki unleashes his wrath, as every jab step and pump fake is like an expertly planned chess move. Jason Kidd rules the floor with his precision, placing every pass exactly where it needs to be and playing the angles on defense. And Jason Terry bides his time, licking his chops at the chance to rip a team's heart out.
These, ladies and gents, are the 2009-'10 Dallas Mavericks. They want you to think you have a chance, and they're ready to break your spirit.
To read more, check out Mahoney's TrueHoop Network blog, The Two Man Game.

Howard
Dwight Howard had 23 rebounds and took 22 foul shots on Monday. The only other active NBA player to have that kind of a 20/20 game is Shaquille O'Neal, who has done it three times (in 1994, 1999 and 2000).