THURSDAY'S BEST

Chandler

Wilson Chandler, Knicks: Scores a season-high 27 points, adding seven rebounds and six assists in the win over the Bobcats. Chandler has scored 23 or more points in the Knicks' past three games, all wins.

THURSDAY'S WORST

Hill

No. 1 draft picks' PT: Bobcats guard Gerald Henderson, the 12th pick in the draft, got his fifth straight DNP. Knicks forward Jordan Hill, the No. 8 pick, drew his 15th DNP in his past 16 games.

QUOTE OF THE NIGHT

"I don't like us shooting 3s, to be honest."

-- Bobcats coach Larry Brown, whose team made 12 of 26 3-pointers (46.2 percent) in the loss to New York. Brown said he wants opposing defenses challenged more by ball movement.
5.

Up And Good For Gallinari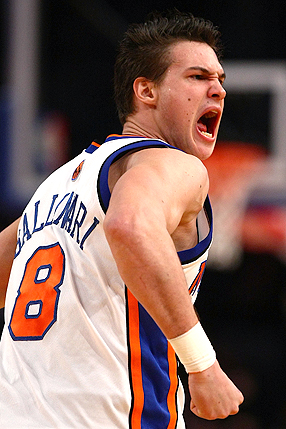 Chris McGrath/Getty Images
Danilo Gallinari roared his way to 17 points, sinking 5 of 11 beyond the arc. For the season, the 21-year-old Italian leads the NBA in total 3-pointers made (96-234, 41 percent).
7. Wallace For Defensive POY?
By Matt Moore
TrueHoop Network

Wallace
I'm not going to sit here and say with 100 percent certainty, "Gerald Wallace is a robot sent from the future to save mankind from opposing teams' offenses." I'm just saying I would be very interested to see the results of an X-ray. I'm beginning to think his missing time for a collapsed lung was just factory maintenance.
8. What's The Hurry?

The Hornets defeated the Thunder on Wednesday without scoring any points on fast breaks. It was the second game this season in which New Orleans failed to register a fast-break point (the other was a loss in New York on Nov. 2). Only one other NBA team has played a game without posting a fast-break point this season. The Spurs did it in a victory at Washington on Saturday.