SUNDAY'S BEST

Anthony

Carmelo Anthony, Nuggets: Goes for 37 points in the win over Utah, pulling down eight boards while sinking 11 of 12 free throws. He's 86.6 percent from the line this season, 80.2 percent for his career.

SUNDAY'S WORST

Dampier

Erick Dampier, Mavs: While it's OK to be a defensive-minded center, being an offensive vacuum doesn't help. Dampier spent 21 minutes not taking a shot or a free throw in a 110-88 loss to the Raps.

QUOTE OF THE NIGHT

"He's way more athletic than I ever was. He's shooting way quicker, he's got a quick first step. He's a tough matchup because he's so quick now off the dribble and he's shooting the ball really well this year."

-- Dallas forward Dirk Nowitzki on Andrea Bargnani's progress.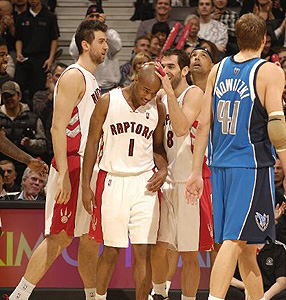 Ron Turenne/NBAE via Getty
Raptors guard Jarrett Jack gets a good luck rub from teammate Jose Calderon during a win against the Dallas Mavericks.
By ESPN Stats and Information

Howard
Dwight Howard scored a season-high 30 points on Tuesday against the Kings. Howard attempted 15 field goals, which tied a season high.
Howard is averaging only 9.2 field goal attempts per game this season, his lowest average since his rookie season (8.3 FGA PG). In his rookie season, he averaged 12.0 points per game.
No player in NBA history has averaged fewer than 10 field goal attempts per game and more than 10 free throw attempts per game for an entire season.
This season, Howard is averaging 9.2 field goal attempts per game and 10.1 free throw attempts per game.
9.

Firsts For African-Americans
By ESPN Stats and Information

Lloyd
The NBA's color barrier was broken in the 1950-51 season, marking the first appearance of black players in the league. The following is information regarding that season and the players that broke the color barrier, in anticipation of Martin Luther King Day on Monday, Jan. 18, 2009.
The 1950-51 season was fifth season in the history of the NBA.
FIRST BLACK PLAYER DRAFTED: Chuck Cooper (out of Duquesne) by the Boston Celtics in the second round in 1950; also Earl Lloyd was drafted by the Washington Capitols in the ninth round and Harold Hunter was drafted by the Washington Capitols in the 10th round.
According to George Sullivan, a New York Times reporter, one owner said, "Walter, don't you know he's a colored boy?" To which Celtics owner Walter Brown responded, "I don't give a damn if he's striped, plaid, or polka dot! Boston takes Chuck Cooper of Duquesne!"
FIRST BLACK PLAYER TO SIGN A CONTRACT: Harold Hunter with the Washington Capitols on April 25, 1950; he was cut in training camp. Nat Clifton signed with the New York Knicks on May 24, 1950.
FIRST BLACK PLAYER TO PLAY IN A GAME: Earl Lloyd with the Washington Capitols (WSH opened their season on Oct. 31, 1950, one day before Chuck Cooper and four days before Nat Clifton); Cooper's debut with the Celtics was also the debut of Bob Cousy and coach Red Auerbach with the team.