1. LeBron Wins Duel With D-Wade
Any time you have Dwyane Wade against LeBron James it is going to be a star-studded event. When you talk about the most complete players in the NBA, these two guys are right there at the top.
Wade has already been to the mountaintop, winning a championship with Shaquille O'Neal. Shaq also helped Kobe Bryant get three titles with the Lakers. Now he is trying to get one with LeBron, meaning Shaq would have won rings with the three top perimeter players in the NBA.
Wade has been watching all of the Nike puppet commercials, and he saw the big fuss made on Christmas and again last week when Kobe and LeBron played against each other. You could tell he came out fired up, and he threw in 30 points in the first half Monday night to give Miami the early lead.
Then in the second half, the Cavs turned up the defensive intensity and put Wade on his heels, making him a passer, and that was the biggest reason Cleveland won the game 92-91 on the road.
Shaq also got a couple of big baskets as Cleveland's role players stepped up. On the final few possessions the fans got what they paid for. It was two superstars against each other. Part of being a finisher is playing defense on the other end of the floor.
With less than 30 seconds left to play and the Heat leading by one, Wade forced LeBron into a difficult shot, getting a key defensive stop. If you are LeBron and you're going to the right, you have to jump off of one foot and get to the rim. There is nothing anyone can do. Instead, he stopped, giving the defense a chance to recover.
LeBron got his revenge on the following possession: Wade tried an around-the-back pass, but LeBron stole it and went coast-to-coast, drawing a foul that led to the winning two free throws with 4.1 seconds left. LeBron also played tough defense on Wade on the game's final possession, forcing him to miss a long jumper at the buzzer.
Wade finished with 32 points, 10 rebounds and five assists, while LeBron had 32, 9 and 4. It would have been nice if the two signature players had guarded each other for 42 minutes instead of just a couple of possessions. LeBron has more players on whom to rely on a nightly basis, and that is why he is playing on a contending team and Wade is not.
Despite the loss, I still have the Heat as the sixth-best team in the East, behind the Celtics, Cavs, Magic, Hawks and Bobcats but in front of Toronto. The Heat still need an impact player to play with Wade.
I think when healthy, the Celtics are No. 1 in the East, but the Cavs aren't that far behind. Cleveland has a league-best 35-11 record and has won 15 of its past 18 games.
Mike Brown is doing a great job with that team, despite the fact he is always under the microscope because he coaches LeBron. He does a good job of mixing up the pick-and-rolls and putting LeBron in different places on the floor.
Kobe Bryant is the second coming of Michael Jordan, but LeBron is the new version of the Big O with his ability to score, rebound and pass. He almost averages an Oscar Robertson-like triple-double, and he is very durable. You never even know when he is hurt.
ESPN analyst Jalen Rose is a regular contributor to the Daily Dime.
Dimes past: Jan. 6 | 8-9 | 10 | 11 | 12 | 13 | 14 | 15-16 | 17 | 18 | 19 | 20 | 22-23 | 24
2. Noah Finds Some Winning Moves
By Nick Friedell
ESPNChicago.com

Noah
SAN ANTONIO -- Joakim Noah could barely walk straight Monday morning. His left foot was killing him. The plantar fasciitis that caused him to miss Saturday's game against the Houston Rockets hadn't gone anywhere and he sat dejectedly on a folding chair at the AT&T Center, resigned to the fact that he probably wasn't going to be able to play Monday night.
"It's just frustrating right now," he said at the time. "I'm limited, I can't really move."
When he finally got to the arena, his thinking hadn't changed much.
"I didn't think I was going to play when I got to the arena," Noah admitted. "But the taping on the bottom of my foot actually made it feel a lot better. I just went through my routine and I felt like I could help the team."
It sure didn't seem like he was doing that early on, though. Noah looked miserable out on the floor, a painful grimace etched on his face with almost every step. But, just like his teammates, when you thought he didn't have any gas left in the tank, he came through in a big way. The young center had a key tip-in, blocked a shot and hit several clutch free throws in the final minutes as the Chicago Bulls knocked off the San Antonio Spurs 98-93, earning their third win in a row.
To read the entire Friedell blog entry, click here.
3. Hollinger's Midseason Awards: Varejao DPOY
By John Hollinger
ESPN

Varejao
Defensive Player of the Year: Anderson Varejao, Cleveland

Varejao has always been among the game's best frontcourt defenders, but have you seen the guy this season? He's moved beyond the Raggedy Andy flopfest of recent years to become a court-roving defensive monster. The shift in the game toward stretch 4s and pick-and-roll guards has only increased his value, as his freakish mobility for his size makes him one of the few players capable of both defending the post and smothering quick guards on switches.
A perfect example came against Portland on Jan. 10, with the Cavs nursing a six-point lead and less than four minutes left. Brandon Roy came off the pick-and-roll looking to explode to the rim, just like he's done a thousand times before, but Varejao made the switch so quickly that Roy went right into his chest. Roy was stymied and stunned, dribbled the ball off his leg and out of bounds, and the Cavs were well on their way to leaving the building with a victory.
His value goes far deeper than one play, of course. According to BasketballValue.com, Varejao has the best adjusted defensive plus/minus in the league at minus-11.5 points per 100 possessions, which in rough terms means the Cavs are below average without him on the court and the best in the league when he's on it. And unlike a lot of the Cavs' plus/minus differences, this one wasn't built on LeBron James' coattails; Varejao spends much of his playing time with the second unit.
To read the entire Hollinger midseason awards story, click here.
4. Daily Dime Live Recap
ESPN.com writers and TrueHoop Network bloggers chatted with fans and gave their in-game opinions throughout Monday's games -- all in Daily Dime Live.
MONDAY'S BEST

Paul

Chris Paul, Hornets: Hits the winning bucket from 15 feet with 3.8 seconds left. That was the difference in a 98-97 win over the Blazers, capping a 24-point, 12-assist, seven-rebound and five-steal night for Paul.

MONDAY'S WORST

Jefferson

Richard Jefferson, Spurs: His balky back couldn't have helped. RJ goes 1-for-8 from the field in a 98-93 loss to the Bulls. That's the third straight home loss for the Spurs, and fourth in five games. Maybe a rodeo road trip will help.

QUOTE OF THE NIGHT

"We were all slipping. It seemed like every Clipper was slipping, then when Ray Allen slips, they want to bring it in and address the issue, so that's what we were chirping about. It was kind of dangerous out there for both teams."

-- Clippers center Marcus Camby on the terrible floor conditions in Boston.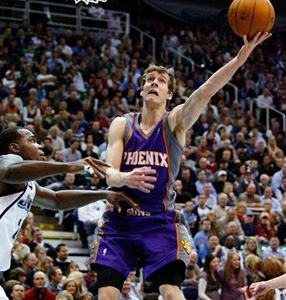 (AP Photo/Steve C. Wilson)
Suns guard Goran Dragic goes to the basket en route to a career-high 32 points in a loss to Utah. It was the Slovenian guard's second straight game with a career high in points.
8.

Chatting With Sheridan
By Chris Sheridan
ESPN.com

Stoudemire
Bryan (Xenia, OH): Please tell me the Suns won't trade Amare Stoudemire for Zydrunas Ilgauskas just to get under the luxury tax. I can't imagine the fans reactions to that ... or Steve Nash 's for that matter.
Chris Sheridan: Here's the thing when talking about proposed Suns trades: They've shown that they'll take pennies on the dollar for their assets, so no one is going to initially offer them much more than cap relief and either a low first-round pick or a borderline youngster. If it's a Cavs deal, I'd expect Phoenix to get little more than Ilgauskas (whom they'd presumably buy out, Jawad Williams and whatever filler is needed to made the salaries match (Cleveland can sign-and-trade Wally Szczerbiak and/or Lorenzen Wright.)
Remember, the Suns are the same team that gave away two unprotected first-round picks just to get Kurt Thomas' $8 million off their payroll a few years back. The second of those No. 1 picks goes to the Thunder this year, by the way.
To read the entire Sheridan chat, click here.
By Tim MacMahon
ESPNDallas.com

Terry
The Dallas Mavericks might have found a solution to their slow-start epidemic during their long, strange road trip.
The 3-2 East Coast swing began with a blowout loss to Toronto with a healthy core and ended with a franchise-record 50-point win over the New York Knicks despite the absence of two starters.
The Mavs left home 10 days ago hoping to get into a rhythm with the starting lineup the team brass envisioned as the norm this summer, featuring Josh Howard at shooting guard. They returned to Dallas with Howard back in a reserve role and the reigning Sixth Man of the Year filling that spot with the starting five.
Coach Rick Carlisle didn't intend to make Jason Terry a starter. The coach's hand was forced when Howard became ill and couldn't play against the Washington Wizards, but Carlisle decided to stick with it after Terry provided an early-game spark the Mavs had been missing.
"We've got to make sure we come out with the force that we need," Carlisle said. "Right now, I just think it's the best way for us to go."
• For the full MacMahon story, click here.