1. Lakers Still Sharp Without Kobe, Bynum
LOS ANGELES -- Notice how this time of year you don't hear anyone saying "it's just one game" in the NBA. We've seen enough of the season to take plenty from 48 minutes of basketball, and the obvious conclusion to draw from the Lakers' 101-89 victory over the Spurs on Monday night was the Lakers aren't mortally wounded without Kobe Bryant and Andrew Bynum, and the Spurs aren't better for adding Richard Jefferson.
The Lakers haven't had Bryant (sprained left ankle) for the past two games and Bynum (bruised right hip) for the past game and a half, but during that time they ended a nine-game losing streak at Portland and sent the Spurs -- their supposed rival for Western Conference supremacy at the start of the season -- deeper into also-ran status. If San Antonio at full strength can't beat a short-handed Lakers team in as favorable conditions as teams visiting Los Angeles could ask for, we should stop considering the Spurs among the contenders.
The Lakers tapped into their potential and demonstrated that they haven't been better than the sum of their parts so far. Lamar Odom's game isn't a natural fit alongside Bryant, and Bynum has had his difficulties fitting in with Pau Gasol. But ask Odom and Gasol to do more by necessity, with no viable alternative, and they inscribe their initials all over the stat sheet. Odom has always been better with the ball than playing off it. Monday he was grabbing rebounds, initiating the fast break, driving by power forwards and posting up guards to the tune of 16 points and 10 rebounds.
Gasol led the Lakers in every major category, with 21 points, 19 rebounds, eight assists and five turnovers. He seemed to relish having the ball placed in his hands almost every possession, as well as providing the last line of defense and playing all but two minutes of the game.
"Tonight was fun," Gasol said. "We're playing hard. When you play hard and give your best and things work out, you're happy."
The freedom on offense and fun that comes without Bryant could end Wednesday if Bryant comes back from the injury against the Jazz in Utah. For his participation in that and the All-Star Game, Kobe says, "If I'm not able to play, I won't play. But if I'm healthy I will. It's as simple as that."
No one thinks the Lakers can win a championship without him, because someone's going to have to make the big shots on the road. Phil Jackson implied the reason the Lakers often downgrade into a Kobe-watching team when he's out there is that he makes it so easy by seemingly scoring at will.
"It makes it a lot easier on everybody when you don't have to work as hard to score," Jackson said.
On the flip side, watching the Lakers without Bryant can be easier to watch if you want to see a team effort and not a dynamic individual performance. The Lakers were two baskets away from placing seven scorers in double figures. They beat a full-strength Spurs team.
But this victory can't be counted as one against an elite team. The Spurs are 29-21, much closer to being out of the playoffs than they are to the Lakers' record in the Western Conference, and six victories shy of last season's pace.
"For some reason I'm not getting through to this group," Spurs coach Gregg Popovich lamented, before laying into everything that's wrong with his team. "It's about mental toughness and physical toughness and passion, a group jelling together and pulling for each other, and we're not doing it."
It's easy to zero in on Jefferson. The Spurs acquired him and his expensive contract (for this season and next) with the hope of adding firepower. So far all he's given them is 12.1 points and 3.6 rebounds per game -- numbers that aren't much better than Roger Mason's 11.8 ppg and 3.1 rpg last season.
Popovich stopped just short of selling him out, responding to a pregame query on Jefferson by saying, "He's still in the process of trying to find himself on the court, both offensively and defensively. Maybe the defense takes a little bit longer. But at this point he's still a work in progress."
And that was before Jefferson shot 2-for-9 with only two rebounds.
Afterward, Popovich was very succinct in his response to a question when asked if he needs to see more from Jefferson.
"That would be a great thing," Popovich said.
ESPN columnist J.A. Adande is a regular contributor to the Daily Dime.
Dimes past:
Jan. 20
|
22-23
|
24
|
25
|
26
|
27
|
28
|
29-30
|
31
|
Feb. 1
|
2
|
3
|
4
|
6-7
|
8
2. Hill Climbs Into Prominent Spurs Role
By Kevin Arnovitz
ESPN TrueHoop

Hill
LOS ANGELES -- It's all about positional flexibility these days. Coaches and general managers want players who can fill and defend multiple positions: centers who can launch and hit from beyond the arc, forwards who can use their length to torment speedy point guards, wings who can handle the ball like point guards.
Spurs guard George Hill is one of those guys. He's got a strong enough handle to play the point and a ridiculous 6-foot-9 wing span that allows him to cover just about any shooting guard in the league.
The 26th overall pick in the 2008 draft, Hill made a name for himself early in his rookie campaign last season. He got a start at point guard in only his fourth professional game after Tony Parker went down with an early-season ankle injury. Hill flourished as a starter on both ends of the floor and established himself as a rotation player, though he saw his minutes diminish as he struggled with his jumper and his playmaking down the stretch.
That decrease in playing time was enough to motivate the rookie to get into the gym in the offseason.
"Practicing my shot over the summer is really starting to pay off," Hill said.
That's for sure. Hill has raised his effective field goal percentage on jumpers from 35.6 percent last season to a healthy 44.6 percent in his second season. That improvement prompted Spurs coach Gregg Popovich to slot Hill into the starting lineup as the shooting guard alongside Parker.
"George Hill is just getting better and better as each week goes by," Popovich said. "I think he's the most improved player in the league this year."
When Parker needs a blow, Hill slides over to the point and runs the show for the second unit.
Which does position does Hill prefer?
"You're always going to like playing the 2 just because it's your natural position," Hill said. "But I embraced and loved learning the 1 position. It really doesn't matter for me."
It isn't just Hill's offensive flexibility that's compelled Popovich to hand his second-year guard 30 minutes per game since New Year's.
"Playing the defense that he does, the way he's starting to make decisions in pick-and-rolls -- that makes him a valuable player for us," Popovich said. "That's why I've got him starting at that 2 position."
Apart from the increased accuracy from the field, the biggest factor in Hill's growth this season is mental -- much of it courtesy of Popovich.
"Confidence," Hill said is the primary message drilled into him by his coach. "Play like you're the best player on the floor."
That's a tall task, given that Hill plays on a roster that includes Tim Duncan, Tony Parker and Manu Ginobili. Hill might not be the best player on the floor, but he has convinced his coach, teammates, opponents and himself that he can play alongside the legends -- and even make them better.
Kevin Arnovitz is a regular contributor to the Daily Dime.
3. Daily Dime Live Recap
ESPN.com writers and TrueHoop Network bloggers chatted with fans and gave their in-game opinions throughout Monday's games -- all in Daily Dime Live.
MONDAY'S BEST

Carter

Vince Carter, Magic: Half man, half a hundred (almost). Vinsanity turns back the clock with 48 points, dropping in 19 of 27 shots in a 123-117 win over the Hornets. He nearly broke his career high of 51.

MONDAY'S WORST

Okafor

Emeka Okafor, Hornets: Foul trouble helps limit him to nine scoreless minutes. Dwight Howard had a lot to do with that. Meka also missed all four of his shots and managed only two boards.

QUOTE OF THE NIGHT

"I know one regular question I'm not getting tonight: 'What's wrong with Vince?' Anybody got that question tonight?"

-- Magic coach Stan Van Gundy, who saw Carter score 34 points in the second half alone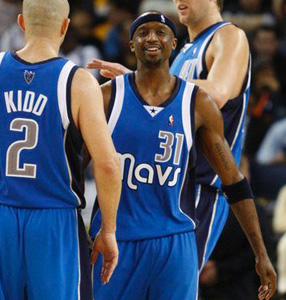 . (AP Photo/Ben Margot)
Jason Terry celebrates with teammate Jason Kidd after scoring a season-high 36 points, including the go-ahead 3-pointer. The Mavs rallied from a 14-point deficit to beat the Warriors 127-117.
By Chris Sheridan
ESPN.com

Hinrich
Oliver (NY): I am a Laker fan, but seriously, not taking Kirk Hinrich is a MISTAKE. Cleveland looks like the frontrunner to win it all. Hinrich is THE perfect triangle and Laker point guard. Do you really think Lakers owner Jerry Buss will pass on a giant increase in odds to win it all for the money saved?
Chris Sheridan: You are assuming the Bulls are ready to pull the trigger on that reported deal (Hinrich-Adam Morrison), which they are not. I think if they can do a [Tracy] McGrady deal in which they clear John Salmons/Tyrus Thomas along with Hinrich to clear room for a second max free agent, that's the more preferable route.
And regarding the Lakers, I think they are of the same mind as the Celtics: They will make a no-brainer deal, but they won't take on unnecessary risk or money when they know there will be a lot of players taking buyouts between Feb. 19 and March 1 who will then be begging for spots on those two rosters.
To read the entire chat transcript, click here.
By Tim McMahon
ESPNDallas.com

Terry
OAKLAND, Calif. -- Mark Cuban said Monday evening that he'd have a feel for the "suckiness quotient" of his Dallas Mavericks by the All-Star break.
It was off the charts in the first half against the Golden State Warriors.
A defense that had been awful for more than a month hit a new low ... or high. The Warriors' 70 points were the most the Mavericks had allowed in a half since January 2009.
At the end of the third quarter, the Mavericks were on the verge of losing consecutive games to the two worst teams in the Western Conference. Then a funny thing happened: Dallas decided to fight, dominating the fourth quarter en route to a 127-117 win at Oracle Arena.
"That's as desperate as it gets," said Dirk Nowitzki, who finished with only 15 points on a night in which three teammates set season scoring highs.
Jason Terry had 36 points, Josh Howard 25 and Drew Gooden 24, but the postgame talk in the visitors' locker room wasn't about offense. It was about the dominant defense down the stretch, a rare sighting for Dallas these days.
While outscoring the Warriors by a 37-19 margin in the fourth quarter, the Mavs held Golden State to 33 percent shooting. That's quite a feat for a squad that has allowed its past seven foes to shoot at least 49 percent from the floor. The Mavs forced seven turnovers in the quarter, fueling their offense.
To read the full story, click here.