1. Kobe's All-Star Status? Uncertain
It's looking more and more like the All-Star Game will be without one of its brightest lights, a PR hit the NBA really can't afford right now. In other words, a potential lineup with Carmelo Anthony, Kevin Durant, Steve Nash and Tim Duncan needs Kobe Bryant more on Sunday than a lineup that included Jordan Farmar, Sasha Vujacic, Josh Powell and DJ Mbenga did Wednesday night against the Utah Jazz.
That latter group did just fine, like every other combination coach Phil Jackson threw out on the court in the Lakers' 96-81 victory over the Utah Jazz in Salt Lake City, their final game before the All-Star break. It was the Lakers' third consecutive victory without Bryant, who has a sprained left ankle, and their success makes him feel better about having to sit out ... and only strengthens the argument for him missing the All-Star game Sunday.
"I don't miss games, so if I miss games I want to make sure that I'm ready," Bryant said. "I don't want to miss them in vain. Guys are playing so well, there's no need for me to rush."
The Lakers' thought process is that if he doesn't play in the All-Star Game at Cowboys Stadium, he will have had 10 days off before their regular season resumes with a game against Golden State on Feb. 16. They think that should be sufficient recovery time. If he plays Sunday, he could aggravate the injury and reset the clock, and Bryant sounds as if he doesn't want to waste the three games he just missed.
Bryant will travel to Dallas to fulfill the multitude of appearances, media obligations and promotions that come with a spot on the All-Star roster. He won't make a commitment beyond that.
He has formulated a standard line, which he first put to use Monday in reference to both the Jazz game and the All-Star game: "If it's healthy, I'll play."
Expect him to repeat that about 100 times during Friday's 45-minute media session.
Bryant said the ankle is "a little bit" better than it was after teammate Lamar Odom stepped on it and caused it to roll in a 99-97 victory over Charlotte last Wednesday.
"I can put a little bit of pressure on it," Bryant said. "There's no need for me to rush."
When you hear Bryant preaching patience, you know he has accepted the need for him to sit down. The Lakers sound as if they'll trust Bryant's judgment. According to Jackson, it was Bryant who came to him and proposed sitting out the game in Portland on Saturday, which ended Bryant's string of 235 consecutive games played. Jackson had the sense after the team's shootaround Wednesday that Bryant wouldn't play, and when the media was allowed in the locker room 90 minutes before the game, Bryant was stretched out on a trainer's table, wearing a black sweatsuit, his arms covering his face, looking far from someone who was about to play in the game.
"I want him to do what's right for him," Jackson said. "If he's 100 percent and he feels like he's right to play, then play. If it's not, then he shouldn't play in the game. It obviously wasn't right, he couldn't play in these last three games we played, so he should measure that.
"I think he could've [played in Utah], but it would've aggravated it, and why? He's got a period of almost a week to rest."
He gets a week only if he doesn't play in the All-Star Game, which is another implication that he won't.
It would be a huge blow to the annual spectacle, which is expanding to an even bigger size this year in the venue of the new Cowboys Stadium. Bryant was the leading vote getter in the Western Conference, his name punched or clicked on almost 2.5 million ballots. Fans who buy tickets or turn on the TV want to see No. 24 ... especially after digesting what should be an undercurrent of negative news about labor talks.
One of the qualities that makes Bryant a favorite All-Star selection of the fans is the same thing that would make it risky for him to play: He never goes through the motions. He has been named the MVP of the All-Star Game three times, and he even takes the defensive side seriously.
There are always promotional considerations, as well. The All-Star Game is often the time for national debuts of new shoes, but Bryant's latest Zoom Kobe V Nikes are already out; he's scheduled only to wear a special All-Star color scheme on Sunday.
Bryant has also reached the stage that he understands this game is a chance to give back to the league. And after participating in the All-Star Game 11 times (in addition to the dunk contest and rookie game his first year), he still values the NBA version of the Super Bowl -- even if it doesn't determine a champion.
"I put a lot of significance on it, because you owe a lot to the NBA, a lot to the fans," Bryant said. "It's very important. I don't want to give you the whole song-and-dance, 'As a kid...' and that sort of stuff, but that's the truth of the matter. Even after all these times I've done it. Every time I've played them, I've always played 100 percent. It's always fun for me to play in these games. We'll just have to see how it goes."
From what I saw and heard Wednesday, I don't think he will give it a go Sunday.
J.A. Adande is a columnist for ESPN.com.
Dimes past:
Jan. 24
|
25
|
26
|
27
|
28
|
29-30
|
31
|
Feb. 1
|
2
|
3
|
4
|
6-7
|
8
|
9
|
10
2. Odom Excited To Be On Team USA
By Dave McMenamin
ESPN Los Angeles

Odom
Kobe Bryant was a member of the USA Basketball Men's National Team known as the "Redeem Team" at the Beijing Olympics in 2008, and now Lamar Odom might get a chance at some personal Olympic redemption alongside Bryant in the 2012 Olympics.
Bryant and Odom were among the 27 players named Wednesday for the national team pool that will be used to select the rosters for this summer's world championships in Turkey and the 2012 Olympics in London.
"It's pretty cool to play on that stage and to try to get back there and get the opportunity to play for a gold medal -- it's a big deal for me," Odom said before the Lakers' game against the Utah Jazz. "I'm excited."
Odom was a member of the 2004 USA Basketball team that finished with a disappointing bronze medal in Greece, causing the United States to revamp its Olympic selection process and appoint Jerry Colangelo to develop a program that would bring together American basketball players for coaching, team-building experiences and player evaluation in non-Olympic summers.
To read the entire story, click here
3. Daily Dime Live Recap
ESPN.com writers and TrueHoop Network bloggers chatted with fans and gave their in-game opinions throughout Wednesday's games -- all in Daily Dime Live.
4. Bosh In Rare Company At Break
Elias Sports Bureau

Bosh
Chris Bosh (23 points and 12 rebounds on Wednesday) reached the All-Star break with per-game averages of 24.4 points and 11.4 rebounds. Only three other active players have ever averaged both 24 points and 11 rebounds per game at the break: Shaquille O'Neal (seven times), Tim Duncan (twice) and Kevin Garnett (once).
By Maurice Brooks
ESPN.com
WEDNESDAY'S BEST

Curry

Stephen Curry, Warriors: Golden State had dropped nine games in a row. The rookie made sure the streak didn't get to 10. He set career highs in points (36) and assists (13) and tied his season best with 10 rebounds to notch a triple-double in the Warriors' rout of the Clippers.

WEDNESDAY'S WORST

Gordon

Ben Gordon, Pistons: It is never a good thing when a player has as many fouls as points, but Gordon accomplished just that, going 0-for-8 from the field (0-for-4 on 3-pointers) en route to scoring just three points.

QUOTE OF THE NIGHT

"It'd be a huge amount of regret if we'd lost this one. We'd have hated to look back and be one game away from making the playoffs ... one game away from the seventh or sixth seed, or whatever it may be, just because of a game you lost here in February."

-- Bobcats center Nazr Mohammed, who scored 21 points, grabbed 20 rebounds and had the game-winning dunk against the Timberwolves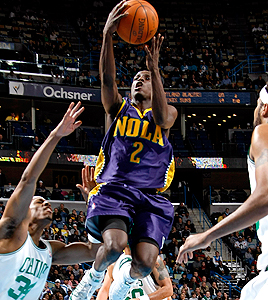 (Layne Murdoch/NBAE/Getty)
Filling in for injured All-Star Chris Paul, rookie Darren Collison scored 13 of his 25 points in the fourth quarter to steer the Hornets past the visiting Celtics, 93-85.
8.

Some Good News For Lopez
By Sebastian Pruiti
TrueHoop Network

Despite another Nets loss to drop their record to 4-47, Brook Lopez had reason to celebrate. He was one of the 27 NBA players named to the 2010-12 USA Basketball Men's National Team. This is the group that will compete in the 2010 FIBA World Championship in Turkey, and the U.S. Olympic team will eventually be selected from this group. This is a great honor for everyone selected, but Lopez's making this team should be considered quite an achievement.
Due to the Nets' record, we have seen Lopez get overlooked for other honors in his short time in the league. He was considered one of the best rookies last season but finished third in the Rookie of the Year voting (Derrick Rose, whose Bulls made the playoffs, won the award). This season, Al Horford was selected over Lopez for the backup All-Star center spot even though Lopez has better numbers across the board. This isn't to take anything away from Horford, who is a very good player, but I would guess if the Nets' record were similar to the Hawks', Lopez would be playing this Sunday instead of this Friday.
For Jerry Colangelo and Co. to select Lopez despite the mess in New Jersey shows you how impressive the 21-year-old has been. This selection will also help Lopez in the second half of this season. He takes every single Nets loss pretty badly, and you can see it through the TV screen. This kid played at a very good college program, and he probably didn't lose 47 games in his whole basketball lifetime until now. So to see Lopez finally get something positive out of this season brings a smile to my face.
Read more from Pruiti at NetsAreScorching.
By Kyle Weidie
TrueHoop Network

In his Wednesday Per Diem, John Hollinger listed the Wizards as one of the NBA's biggest disappointments this season, scathingly calling them out individually and collectively. Hollinger pulled no punches, denoting some as selfish, some as clueless, and even dubbing Fabricio Oberto (a seemingly innocent bystander in Washington's unimaginable season) as worthless.
Hollinger usually draws the ire of Wizards fans for his unabashed criticism of their team, but this time, there can be little protest of his assessment. There is, however, one exception. Hollinger, like many others, almost precludes Flip Saunders from culpability for the season's woes.
Extenuating circumstances deriving from the team that Ernie Grunfeld built have taken the brunt of the blame as nary a Washingtonian has pointed a finger in Flip's direction. Knowledgeable fans understand that the coach cannot play the game for the players.
But heading into the All-Star break with a 17-33 team, should Saunders be given a complete pass? If asked to grade him, most would probably give an incomplete. But the guy is still getting paid in the first season of a four-year, $18-million contract, isn't he? Saunders should not be immune from a fairly graded assessment.
From claiming that teaching is the base of his coaching core, to providing players with his offensive playbook on iTouches, to establishing positive relationships with his players from day one on the job, Saunders has said and done all the right things. But one must wonder, despite all the on- and off-court problems, why has Saunders had so much trouble getting his team to trust his proven instruction?
It's rather baffling, but one diagnosis might be that, even with Gilbert Arenas, Saunders has not had a point guard who can adequately run his offensive system where the point is expected to handle the ball 80 percent of the time. You can only do so much with what you are provided, but in the same turn, Saunders clearly hasn't effectively unified with his message.
He was brought to D.C. to transform a team with his grade-A experience, but from a coaching perspective, Saunders has only provided C-minus results while his team has failed miserably. With new students expected to come via a trade within the next week, the coach can only hope for better luck next semester, lest the Wizards become the child that the teacher left behind.
Read more from Weidie at Truth About It.