---
By Maurice Brooks
ESPN.com
SUNDAY'S BEST

Evans

Tyreke Evans, Kings: The rookie narrowly missed recording his second triple-double, scoring 29 points, grabbing nine rebounds and handing out 11 assists to power Sacramento to a 14-point win against the Wolves.

SUNDAY'S WORST

Lewis

Rashard Lewis and Jameer Nelson, Magic: The two Orlando starters combined to go 3-for-17 from the floor, finishing with seven points in the Magic's 96-89 loss to the Bobcats.

QUOTE OF THE NIGHT

"There's no science to it. It's not rocket science or brain surgery. You just have to win. If you make it complicated, it will be complicated. We just have to win games. That's all."

-- Toronto forward Chris Bosh on the Raptors' playoff chances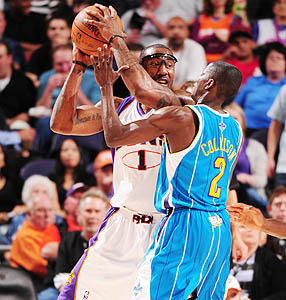 (Barry Gossage/NBAE via Getty Images)
Amare Stoudemire, who is averaging 30.7 points over his past seven games, lit up the Hornets for 36 points and 12 rebounds as the Suns coasted to a 120-106 home victory.
8.

The Pistons' Answer At Center?
By Dan Feldman
TrueHoop Network

Maxiell
You've probably heard about some of the Detroit Pistons' issues: too many overpriced shooting guards, poor defense, no cap room in sight.
But the most serious problem might have been their future at center. Ben Wallace has been exceptional this year, but at 35, he's not a long-term solution. His backups for much of the season, Chris Wilcox and Kwame Brown, aren't inspiring, either.
Enter Jason Maxiell.
Midway through the season, Maxiell evolved from Detroit's backup power forward into its backup center. Maxiell thrives with a defined role, and now he has one.
Former coach Michael Curry played him inconsistently last year, and so did John Kuester for half of this season. What seemed like a bargain at the time, Maxiell's four-year, $20 million contract extension looked exorbitant.
But tell him to play 20 minutes every night behind Wallace and, all of a sudden, you have a very productive player.
He still rebounds and dunks like he did at power forward, but playing center keeps him in the paint. Maxiell has a decent midrange jumper that he can use when the opponent takes away his low-post game, but he can be prone to drifting outside too often. That doesn't happen as much when he plays center.
Now, with Wallace sidelined by injury, Maxiell has stepped up even more. Starting the last six games at center, Maxiell is averaging 11.0 points and 10.8 rebounds and had a double-double the last three.
Until that run, there was a perception that Maxiell was better suited to be a backup rather than a starter. Not only did the numbers support the sentiment, but it made sense. At 6-foot-7, he's undersized even as a power forward -- but that's minimized against reserves, who are typically smaller than starters.
It's still extremely doubtful Maxiell is Detroit's center of the future. But there's a chance. And for the Pistons right now, that's as much as they can ask for.
To read the PistonPowered blog, click here
9.

Varejao The Difference For Cavs
By Chris Forsberg
ESPNBoston.com

Varejao
CLEVELAND -- The Boston Celtics entered Sunday's showdown against the Cleveland Cavaliers with an 18-18 record over their last 36 games.
How appropriate. Fifty-fifty. That ended up being the story of the game.
With a chance to jump-start a stagnant season, the Celtics watched the Cavaliers outwork them, particularly on the glass, where the hosts turned 17 offensive rebounds into a staggering 27 second-chance points.
To read the entire Forsberg column, click here