1. A Lot Of Drama In Chicago
By Nick Friedell
ESPNChicago.com
CHICAGO -- Derrick Rose has consistently displayed a tunnel vision focus during his short time in the NBA, so it should come as no surprise that the All-Star point guard was unaware of the biggest news of the night regarding a reported fight between Bulls coach Vinny Del Negro and his boss, vice president John Paxson.
"What happened?" the 21-year-old asked innocently.
When told of the circumstances regarding the fight, the point guard simply let it slide off his shoulders like another grasping defender.
"I never heard about it. If it did happen, it slipped past me," he said. "I really don't watch that stuff. When [Del Negro and Paxson] are around us, they're always kidding around, joking around, talking. I guess they're doing it behind closed doors. When they're around us, they're professionals."
Rose proved once again on Tuesday night that when it comes to taking care of business, he is slowly turning into one of the best in the league. He had a career-high 39 points and put the Bulls just one win or one Toronto loss away from a playoff berth.
But Rose's performance, like seemingly everything else at the United Center, was almost completely overshadowed by the news regarding the Del Negro/Paxson altercation over Joakim Noah's minutes.
The Bulls pulled off their biggest win of the year to date, but the players couldn't fully enjoy it because of the rumors swirling around their organization like a hellacious wind off Lake Michigan. "I'm sure it happens in a lot of teams. You just don't hear about it," Bulls forward Luol Deng said of the infighting. "We just have a snitch. Whoever told you guys, we got to find out who it is."
Deng may have been chuckling while discussing the possible snitch, but Noah certainly wasn't. "I think that that's none of your guys' business," he said. "Things happen in a team and an organization. But that has nothing to do with you guys. We deserve not to have these problems talked about right now. I think that we're fighting as players. We're giving everything we got. And I think that's the only thing that matters.
"I know you guys have to sell newspapers and all that, but I think it wouldn't be fair to us because I think we're giving everything we got and putting it all out on the line to try to make these playoffs and do something special."
Noah once again laid everything out on the line, playing 46 minutes and grabbing a game-high 16 rebounds, but even he knows better. No matter how his team fared on this night, it would pale in comparison to the juicy scandal that will be on the minds of Chicagoans whether or not the Bulls scrape out a playoff berth.
"That's all internal stuff," Del Negro said after the game, refusing to elaborate on anything. "I focus on what I can control. And what I can control is the preparation of the game. The preparation of the staff. And getting the players ready to go. We've been battling here for a while with a lot of different things. All season. And the guys have stayed together. They've shown great character. And they keep on fighting for each other. And that's a great sign."
Given all the twists and turns the Bulls have gone through this year, it does seem ironic that their entire season comes down to Wednesday night's game in Charlotte. "Personally, I feel fortunate we still have a shot," veteran guard Kirk Hinrich said after dropping 30 points on Boston. "We've let a lot of opportunities slip by this year. We've kind of been up and down. But we do have a shot and we're going to try and take as best advantage of it as we can."
Only the 2009-10 Chicago Bulls could turn a crucial late-season win into a secondary event.
Nick Friedell is a regular Daily Dime contributor.
Dimes past: March 26-27 | 28 | 29 | 30 | 31 | April 1 | 2-3 | 4 | 6 | 7 | 8 | 9-10 | 11 | 12
2. Opposite Directions
By Matt Moore
TrueHoop Network

Stoudemire
One team looked ready to ride. The other looked ready to hide.
It may not have been Seven Seconds or Less technically, but you couldn't help but get flashbacks to the Suns' mid-2000s heyday Tuesday as they blasted Denver 123-101. The speed, the up-and-down play, the iffy defense and the 3-pointers. Man, the 3-pointers. The Suns' bench shot 11-for-15 from the outer limits and suckered Denver into their game. The Nuggets seemed content to try to hustle in the transition game, even as the hole dug deeper and deeper, their perimeter shots rattled harmlessly off the rim, and Amare Stoudemire annihilated them.
The Suns have been playing well for the majority of the season, but Tuesday was definitely a salvo fired across the playoff battleground. These Suns, the Grant-Hill-finishing, Amare-muscling, bench-quick-triggered Suns, are not a team you want to see in the playoffs, unless you're the San Antonio Spurs. And even then, you're relying mostly on voodoo and black magic to finish off the Suns. They're beatable, just as they always have been, with stout defense and focused grinding. But there are also going to be games where they blow you out of the building. And if the engine for the Suns is their system and the frame is their talented roster, their fuel is their passion.
This Suns team genuinely loves playing together, and it shows all over the floor. Beyond the goofy Avatar videos and Twitter silliness is a team that is excited for each other's success, that is made up of guys who want to see each other do well. The Nuggets? They seemed out to get theirs, often electing for iso pull-up jumpers in transition instead of the rotations that put them in such a high-seed position to begin with.
There will be talk of coach George Karl, and Kenyon Martin, and the inevitable mention of "flipping the switch." But the reality is there's been something rotten in Denver for quite a while, and part of it is surely an emotional slump without their coach, who is battling cancer. But they'll need to rely on a favorable matchup to go deep in the playoffs. Of all the contending teams, they look the most vulnerable, the most incomplete.
The Suns? For so many years, they were crushed by the weight of expectations, matched against a stone-faced titan in San Antonio who had their number, exaggerating their failures. But now, they enter as just a team that had a good season, that's peaking at the right time, with a player playing for the biggest contract of his life and a little revenge, led by a Hall of Fame point guard who led the league in assists and shot 50-40-90.
Hot, I believe is the term.
Check out Moore in the Hardwood Paroxysm blog.
3.Coach Of The Year Watch
By Maurice Brooks
ESPN.com

Brooks
1. Scott Brooks, Thunder: He will win this award for turning the Thunder from afterthoughts to a team nobody really wants to see in the playoffs. His reward for his hard work? A first-round date with the defending champs.
2. Scott Skiles, Bucks: He got the Bucks to buy into defense and to play hard on every possession. It is too bad that because of Andrew Bogut's injury they won't be at full strength for the postseason.
3. Nate McMillan, Blazers: How much adversity can a coach overcome in one season and still lead a team to the playoffs?
4. Alvin Gentry, Suns: He actually has the league's highest-scoring team playing a little harder on the defensive end of the floor. Nash, Amare and the boys have exceeded expectations.
5. Jerry Sloan, Jazz: His greatness has always been overlooked. Despite a slew of injuries, Utah still has a chance to win 54 games.
To read the entire Awards Watch, click here.
4. Daily Dime Live Recap
ESPN.com writers and TrueHoop Network bloggers chatted with fans and gave their in-game opinions throughout Tuesday's games -- all in Daily Dime Live.
---
By Maurice Brooks
ESPN.com
TUESDAY'S BEST

Rose

Derrick Rose, Bulls
With his team fighting for the final playoff spot in the East, he came through with a career-high 39 points, seven assists and five rebounds to lead the Bulls past the Celtics. Teammate Kirk Hinrich added 30, five and four.

TUESDAY'S WORST

Billups

Chauncey Billups, Nuggets
Looking to win the Northwest Division, Denver came out flat and was crushed by the Suns in Phoenix. He failed to give out an assist in 34 minutes of action.

QUOTE OF THE NIGHT

"If you're challenging your coach to a fight, that's crossing the line. If you get to the point where you can't have a civil conversation with someone to ask why you're playing someone, that's out of line."

-- TNT's Kenny Smith on the reported altercation between Bulls vice president John Paxson and coach Vinny Del Negro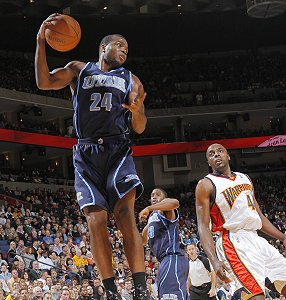 (Rocky Widner/NBAE/Getty)
Carlos Boozer left the game with an injury, but it didn't matter to the Jazz because they had Paul Millsap to take his place. The forward grabbed 24 rebounds to power Utah past Golden State.
By Brian Kamenetzky
ESPNLosAngeles.com

Artest
Asked Tuesday afternoon at shootaround what could be learned from Tuesday night's game against the Kings along with Wednesday's "visit" to the "Clippers," Phil Jackson scrumpled (new word!) his face, looking for an answer before finally copping to the truth.
Not much.
Not gonna lie: That sort of candor takes a little bit of the shine off the apple, you know? He might as well have recommended we all stay home and watch "Lost."
But while it will be extremely difficult to take any lessons from the Lakers' 106-100 win over Sacramento and apply them to the playoffs when they begin Sunday at Staples against the Thunder, the game did afford a chance for certain players, particularly those on the bench, to get some extra burn and find a little rhythm and confidence.
To read the entire blog, click here.
By John Hollinger
ESPN.com

Milicic
Darko Milicic played 71 minutes during a 53-game span with the Knicks and said he would return to Europe after the 2009-10 NBA season. But then along came the Timberwolves to inquire about his services. They traded little-used Brian Cardinal for Milicic at the deadline and turned him into a key rotation player, which had made no sense to me at the time. Well, he's showed enough promise in his 23 games -- and enjoyed them enough -- that he may extend his time in the states.
Before you get ahead of yourselves, it'll take a lot more than 23 promising games for me to talk myself into believing in Milicic again. We've watched him join a new team and go through the "he's doing some intriguing things out there" stage three times already, and all three ended with him near the end of the bench.
To read the entire PER Diem, click here.