1. Manu's Toughness Lifts Spurs
SAN ANTONIO -- It was Mark Cuban's original go-to quote for this latest installment of Mavericks versus Spurs, totally hate-free and seemingly devoid of any headline-making potential.
"We are who we say we are," Cuban said over and over, "and they are who they say they are."
Only now it doesn't seem like such a benign line.
Not when only one of these longtime rivals, three games into the increasingly physical Texas state championships, seems to have a clear grip on its identity.
In a taut and crucial Game 3, with its three old reliables working in concert as well as they have since their last championship back in 2007, San Antonio managed to overcome Manu Ginobili's broken nose and dig out a 94-90 victory over the Dallas Mavericks that didn't merely nudge the Spurs into a 2-1 series lead.
It also highlighted the difference between a team that really does know who it is and a team that, for all the potential spawned by its splashy midseason trade, suddenly looks dangerously light on the kind of continuity it's going to take to win this first-round showdown.
Things could always change quickly -- and they usually do in this rivalry -- but the Spurs' edge isn't merely the home-court advantage that they swiped by winning Game 2 in Dallas. It's how together and certain they looked when it mattered most, while the Mavericks were thrust into the disconcerting position of trying to win the most important game of their season in Dirk Or Bust mode.
It's the way Tim Duncan got the hosts rolling with 16 of his 25 points in the first half. It's how Ginobili wound up missing a mere four minutes of the third quarter after an inadvertent Dirk Nowitzki elbow inflicted a very bloody "nasal fracture." It's the grit Ginobili summoned after they bandaged up his own Steve Nash-style gash to keep leading with his face into the paint to score 11 of his 15 points in the fourth quarter ... before Manu ceded the ball to Tony Parker for Parker's flurry of three long (and highly clutch) jumpers after the Mavericks had seized an 81-80 lead with 3:03 to go.
With Parker (23 points) stepping up in crunch time after deferring to Ginobili for much of the fourth quarter and George Hill tacking on 17 points as well as sticky defense that stifled Jason Kidd, San Antonio became just the fourth team since 2000 to win a playoff game without draining a single 3-pointer.
"I always tell everybody that's why it's so special here, because everybody is unselfish and everybody puts their egos aside," Parker said. "It's different for me sometimes because I used to have the ball more, but Manu is playing unbelievable. He's playing at an All-Star level and the ball should be in his hands. If he's tired, then I will be aggressive and wait my turn. That's what I did tonight. I just waited my turn."
The Mavs, conversely, can't wait much longer for Shawn Marion or especially Butler to find a niche in this series. With his four starters not named Nowitzki combining for a mere 16 points, Dallas coach Rick Carlisle elected to give Butler's second-half minutes largely to backup point guard J.J. Barea and play Marion for less than six minutes in the second half.
You got the feeling that backup center Brendan Haywood wouldn't have played much, either, if starter Erick Dampier hadn't found foul trouble. Which is worrisome on multiple fronts for the Mavericks, given the money invested to bring in those newcomers and the way they faded in crunch time for the second consecutive game because Carlisle refused to go away from the "hot" lineup that made the comeback.
The lone solace for Dallas is that Nowitzki's 35 points and a combined 31 off the bench from Jason Terry (17) and Barea (14) -- along with an effective zone defense that fueled a run of 17 consecutive points in the third quarter -- were enough to give the Mavericks a shot at winning this one ... unnerved as they were by some of the whistles. (The Mavs are now 1-16 in the Cuban era in playoff games co-officiated by veteran ref Danny Crawford.)
But there's lots for the Mavs to fix even if San Antonio's least favorite referee -- Joey Crawford -- is here to work Game 4. The Spurs are making Nowitzki work for everything he gets and they're getting into the paint with ease amid those serious Dallas struggles to generate anything easy.
"I thought we at least made it tough on him," Spurs coach Gregg Popovich said of Nowitzki.
"In the half-court set," Dirk conceded, "they seem to take our options away."
Carlisle likewise has to figure out how to get Butler and Marion (who did supply solid first-half D against Ginobili) re-engaged before what now looms as a must-win Sunday.
It'll be daunting enough for Dallas to be reminded that the team that won Game 3 has gone on to win each of the teams' four previous playoff encounters. Going down 3-1 is not an option. Not with the way San Antonio is clicking.
Dimes past: April 1 | 2-3 | 4 | 6 | 7 | 8 | 9-10 | 11 | 12 | 13 | 14 | 17 | 18 | 19 | 20 | 21 | 22
2. The Jazz Grin And Bear It, Top Nuggets
By Kevin Arnovitz
ESPN.com

Williams
SALT LAKE CITY -- It's not that
Utah Jazz
point guard
Deron Williams
isn't an emotional player, but during the course of a game, that palette of emotions rarely features a smile. So when he flashed a big grin as he headed to the bench after Denver called a desperation timeout, it was obvious that things were falling into place for the Jazz. On the preceding possession, Williams picked off an errant pass on the defensive end and raced down the floor for an easy layup.
Jazz by 20 with fewer than nine minutes to go in Game 3.
Utah won the game going away, notching a 105-93 victory to take a 2-1 series lead.
Leading up to Friday night, acting Nuggets head coach Adrian Dantley made no secret of his intention to devote inordinate attention to Williams, who burned the Nuggets for 59 points and 25 assists in the series' first two games. While Williams didn't record the gaudy numbers he put up in Denver, he still finished with 24 points and 10 assists on a very efficient 8-for-14 shooting from the floor. In doing so, he fell one point short of being only the second player in NBA history to rack up 25 points and 10 assists in each of the first three games of a playoff series (Michael Jordan, first round, 1989).
More notable than Williams' individual production on Friday night was his leadership of the offense. The Jazz point guard made the Nuggets pay for loading up on him. Call it the Law of Basketball Reciprocity: A defense can't commit disproportionate attention to one player or area without surrendering an advantage elsewhere on the floor.
"[Denver] made a commitment to keep Deron boxed in," Jazz coach Jerry Sloan said. "Deron has played against that stuff, and if our other people do their job, we can get decent looks at the basket."
Those decent looks materialized all over the court against a Denver defense that seemed off-kilter for most of the night. Once Williams worked out of the trap, open shots were available all over the floor.
"They kept doubling me," Williams said. "I got it to the middle. We were able to run some pick-and-rolls and hit the middle guy and get down the lane. We patiently waited."
For much of the first half, that "middle guy" for the Jazz was other-sized forward Paul Millsap. Utah's supersub took over the game in the second quarter, when Utah built the lead it would never relinquish.
"Oh my God he was a monster tonight!" Boozer said. "That's the Paul Millsap we love."
Millsap had a perfect first half -- 18 points on 9-of-9 shooting from the field, along with eight rebounds. He finished with 22 and 19, a source of some disappointment for Boozer.
"I told him, 'I didn't know you had 19 boards,'" Boozer said. "'If you'd let me know, I would've gotten you one more!'"
To read more from Arnovitz, click here.
3. With Heat Nearly Done, Roster Changes Next?
By Chris Sheridan
ESPN.com

Beasley
MIAMI -- As you watch the replay of Paul Pierce's game-winner, take note of who was on the floor defending.
There was Dorell Wright, who was the isolation defender on Pierce and did not have an opportunity to use the foul that the Heat had to give, and the other four bodies were Michael Beasley, Quentin Richardson, Udonis Haslem and Mario Chalmers.
This is noteworthy for one major reason: There is a fairly strong chance that not a single one of those finishing five will be back with the Heat next fall when this soon-to-be-over series will be a distant, distasteful memory.
Yes, even Beasley -- the second overall pick of the 2008 draft.
What you may have missed on the eve of this series was a quote from Heat president Pat Riley that he seeks to build a dynasty this summer when Miami will have somewhere in the area of $24 million, as things stand now, to spend in free agency.
To read the entire column, click here
4. Daily Dime Live Recap
ESPN.com writers and TrueHoop Network bloggers chatted with fans and gave their in-game opinions throughout Friday's games -- all in Daily Dime Live.
---
FRIDAY'S BEST

Pierce

Paul Pierce, Celtics
This is the kind of Truth the Celtics can handle. Pierce bags the game winner, but also showed the scoring punch (32 points, eight rebounds) they need to make playoff noise.

FRIDAY'S WORST

O'Neal

Jermaine O'Neal, Heat
This series is not going JO's way. Spends 19 uneventful minutes on the floor for the Heat, yanking down four rebounds and netting two points on seven shots.

QUOTE OF THE NIGHT

"I had no doubt that he was going to return. He has a strong nose on him."

-- Spurs forward Tim Duncan on teammate Manu Ginobili returning to action after getting his nose broken by a Dirk Nowitzki elbow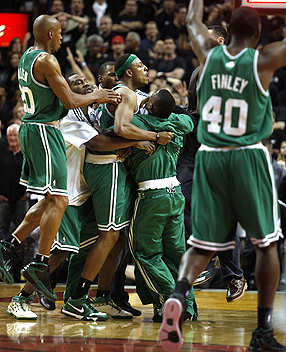 ( Marc Serota/Getty Images)
Celtics forward Paul Pierce celebrates with teamates after defeating the Miami Heat 100-98.
By Dave McMenamin
ESPNLosAngeles.com

Bryant
OKLAHOMA CITY -- The first three games of the Los Angeles Lakers and Oklahoma City Thunder's first-round series have been so close that if you break it down by the 12 quarters the teams have played, the Lakers have won five, the Thunder have won five and the other two were ties.
Even though Los Angeles is the No. 1-seeded team in the Western Conference facing off against No. 8 Oklahoma City, and only three times has a No. 8 toppled a No. 1, Kobe Bryant is expecting to play a lot more basketball against the Thunder this postseason.
"I'm not surprised at all [how close it's been]," Bryant said before the team's practice Friday at the Ford Center. "That's what they do."
When asked whether he hoped for a short series to rest his various injuries -- he missed nine games in the regular season -- before the start of the second round, the 14-year veteran said, "That's not going to happen.
"This is a dogfight," Bryant continued. "I'm not going to sit here and say the series is going to be over in five [games] or six [games]. We got a fight, man. We got a serious fight on our hands."
Bryant wasn't the first person on the team to say he thought the Thunder could push the Lakers to the brink. In his pregame comments before Game 1, Lakers coach Phil Jackson said he would be trying to manage the amount of minutes his players stay on the floor against Oklahoma City because, "We're playing seven games in 13 days."
To read the entire column, click here.

Durant
Andy (NYC): Isn't the fact that Kobe Bryant's struggling with his shot more reason for him to play Russell Westbook on D? He should focus on d and with him and Ron Artest slowing down Westbrook and Kevin Durant, the Thunder would have no way to score and on offense he can be more of a facilitator and let Pau Gasol and Andrew Bynum dominate inside.
When they've done that they've crushed OKC. When they haven't ... let's just say they've gotten different results.
J.A. Adande: So you're saying Phil Jackson should intentionally wear down Kobe so he's too tired to shoot? Interesting. I will say, the problem for those who say Phil should bench Kobe is that the Lakers fell apart without him at the end of the first and third quarters when he came out. If Phil had more confidence in his reserves he probably would keep Kobe out longer. But he played him 42 minutes last night, including the entire fourth.
Check out the rest of the chat, by clicking here