---
5.

Wooden's Wizardry For The Ages
Editor's note: John Wooden died on June 4, 2010, at the age of 99 in Los Angeles.
No one had the vaguest notion of the magical era that was about to begin, not even a hint that it had already begun. Not the players, not the writers and certainly not the coach himself. All John Wooden wanted to do, in his 16th season as the head basketball coach at UCLA, was win his first NCAA title.
Yet, on this evening of March 21, 1964, in the old and creaky Municipal Auditorium in Kansas City, Mo., the dawn of the age of John Wooden -- a 12-year stretch that ran without precedent and ended without parallel in the long annals of college sports -- was just breaking.
To read the entire column, click here.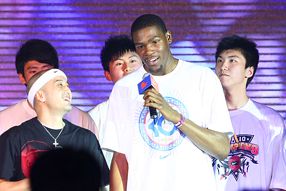 NBAE/Getty Images
From
Kevin Durant's blog
: "As far as my take on where some players might end up, I think D-Wade is going to stay in Miami, I think Bosh will go join him in Miami and I think with LeBron it's either Chicago or Cleveland. Just my guesses."
8.

What Happened To The Celtics?
By John Hollinger
ESPN.com

Garnett
LOS ANGELES-- I can describe Boston's Game 1 performance in three words: out of character.
Although we must give the Lakers their due -- Kobe Bryant was brilliant in the third quarter especially; Pau Gasol continued a dominating playoff run of his own; and L.A.'s defense took away a lot of the Celtics' easy looks -- the fact remains that Boston did three things that were completely outside its norm, and those were major factors in the 102-89 loss.
All those factors add up to one big-picture factor: For whatever reason, the Celtics didn't approach this game with anywhere near the intensity they showed in the first three games of the Orlando series.
Perhaps the most symbolic play came late in the first quarter, when L.A. guards Jordan Farmar and Shannon Brown went hurtling to the basket with no Boston big man in sight to challenge them. In 2008, one of the Celtics' big men would have blocked the shot, taken a charge or, at worst, knocked the offending Laker to the ground and made him earn his points at the line.
To read the entire column, click here.
9.

Instant Energy: Nate Robinson
By Brian Robb
TrueHoop Network

Saying it's been a tumultuous season for Nate Robinson would be an understatement.
From an extended benching in New York to a 13-point quarter to help the Celtics clinch a Finals berth against Orlando, the fifth-year guard has seen more than his share of highs and lows.
Despite the turmoil, Robinson has been a model citizen since arriving in Boston. He patiently waited his turn for an opportunity to help the C's offense this postseason after falling out of the rotation at the end of the season.
Luckily, that patience has paid off as Robinson has appeared to earn back Doc Rivers' trust, getting some playing time in these NBA Finals.
The former Knick had an off shooting night at the Staples Center in Game 1 (0-for-3), but, more importantly, he provided energy throughout his 13 minutes of playing time. Robinson ran the point well, chipping in with four assists, helping to key the Celtics' early-fourth-quarter, 10-1 run -- Boston's best stretch of play all night.
That kind of energy and production from Robinson will be crucial to the Celtics throughout this series. Against a team such as the Lakers, with players who are capable of putting up points in a hurry, Boston will need Robinson to be a spark plug.
The Celtics' offense is at its best when there is spacing. That's exactly what Nate's shooting range provides, opening up the interior against an imposing Lakers front line.
Robinson's speed on defense also will be key in helping deny dribble penetration to Jordan Farmar and Shannon Brown, something both got at will early in Game 1.
Few bench players are capable of providing the spark Robinson can deliver in any given stretch. The Celtics are going to need him to deliver on that potential to bring home banner No. 18.
To read more from Robb, click here.