1. The Better Team Won Game 5
By Chris Sheridan
ESPN.com
BOSTON -- On a night when the Boston Celtics looked to be 20 points better -- heck, maybe even more -- than the Los Angeles Lakers, the lead was down to a precarious five points with 39 seconds left when the signature play of Game 5 of the NBA Finals unfolded.
Kevin Garnett was inbounding from the sideline in the backcourt, there were 20 seconds left on the shot clock, and the Lakers were pressing man-to-man all over the court as Garnett was handed the ball.
Suddenly, Paul Pierce sprinted from the foul line closest to Garnett and headed for the frontcourt, and Garnett fired a high-arching lead pass toward where Pierce was heading. Pierce and Derek Fisher jumped simultaneously, and the taller of the two caught the ball. Pierce quickly spun toward the Celtics' basket as he was falling out of bounds, rifling a bullet pass toward Rajon Rondo as he made a beeline to the basket.
Rondo caught it and converted it into a layup, and a scoreless spell that had lasted 3 minutes and 21 seconds was finally over.
Not one guy, but three, had cooperated on the biggest clutch play of the game.
Quite fitting on a night when the Celtics were every bit the better team than the Lakers in winning 92-86, no matter how breathless Kobe Bryant had left everyone with one of his own signature hot streaks.
And even as Doc Rivers was conceding that the Celtics probably need to capture Game 6 in Los Angeles on Tuesday night to win banner No. 18, he was confessing that he was silently wishing Garnett had called Boston's final timeout instead of throwing that long pass to Pierce.
"Honestly, I would have rather had the timeout, because I thought Kevin's pass was a hard pass. He saw something that clearly I didn't see, but Paul made a catch, and the other thing we told them was to keep playing through the catch. Don't stop and hold the ball. Play and attack, and if we get a layup, we'll take it," Rivers said.
The layup accounted for the final two of Rondo's 18 points on a night when the Celtics had four players reach double figures to the Lakers' two -- Bryant with 38 and Pau Gasol with 12.
Rondo also had eight assists, but his seven turnovers were a large part of the reason that the Celtics -- despite a shooting percentage that was well above 60 percent for almost the entire 48 minutes -- still had a game on their hands in the final minute.
Garnett was "sensational," in Rivers' words, with 18 points, 10 rebounds, five steals and two blocks, and Pierce (27 points) kept pace with Bryant until No. 24 flew past him by scoring the Lakers' first 19 points of the third quarter.
This victory looked to be in the bag ("Gino Time," as they call it in Beantown) after Rondo came flying out of nowhere to tip in a missed shot with 3:56 left to make it 87-75, but Boston went cold. A turnover, then six consecutive missed shots -- three of them 3-pointers -- along with two clanked foul shots by Kendrick Perkins.
And the Lakers crept closer.
"I thought in the fourth quarter we tried to hold on to the game and didn't go get the game. We stopped playing the way we had for three quarters," Rivers said. "We can't do that in L.A."
The June gloom that blankets the California coast every morning at this time of year will be a welcome sight to the Lakers after a week spent in this chilly, drizzly, foggy city, where they had seemed to seize momentum with their Game 3 victory Tuesday night.
But momentum has been a tricky thing to grab and hang on to in this series, and Boston now seems to possess it after becoming the first team to win consecutive games.
The Celtics' collective energy was head and shoulders above the Lakers' throughout the evening (except for Bryant's third quarter), and from a tactical standpoint, a precision standpoint, an execution standpoint, Boston was just flat-out better. But the C's were sloppy at times and knock-kneed toward the end, allowing Los Angeles to stay within reach on a night when the Lakers' turnover total (14) surpassed their number of assists (12).
"I thought we had a spirited locker room at the end of our [postgame] session there," said Lakers coach Phil Jackson, whose 47-0 record when his team wins Game 1 of a best-of-seven series is in jeopardy. "They had a couple things fall into place, and we felt pretty good about our comeback and the way we played at the end of the game.
"We're upbeat about going into [Game 6]."
If there is a stretch the Lakers can point to as the one in which this game was lost, it would be the third quarter, when the Celtics scored on 11 of their first 12 possessions to neutralize what Bryant was doing in hitting shots from all angles with varying degrees of difficulty.
For more than a week, Rivers had been hammering home the point that a Kobe moment was going to happen and that the Celtics were going to have to withstand it.
That they did, but it was an uncomfortable final four minutes until the Garnett-to-Pierce-to-Rondo play gave them some breathing room.
"I was just showing off my Randy Moss and my Tom Brady in one play, that's all," said Pierce, who had his most sustained 48-minute offensive effort of the series. "Going up to catch it, then I went to my Brady mode when I was falling out of bounds to find Rondo on the receiving end. It was all instinctive."
When the Celtics are playing on instincts and in a groove, they are as good as it gets in the NBA.
And on this night, as he had done three nights earlier, Rivers had them as tuned in and focused as they had been since the second round of the playoffs, when they battled back from a 2-1 deficit to eliminate LeBron James and the Cleveland Cavaliers.
Rondo's bucket off the pass from Pierce gave Boston a 14-3 advantage in fast-break points, which more than compensated for the Celtics' deficits in 3-point shooting (the Lakers had seven to Boston's three), second-chance points (L.A. had a 22-14 edge) and free throws (the Celtics made just nine, the Lakers 17).
"Bottom line is, when they won Game 3, from that point on we felt every next game is a must-win. Each game is a Game 7," Rivers said. "We said it in Game 4, we said it today and we'll say it again. That's how we have to approach the game. We lost our wiggle room by losing [Game 3]."
They almost lost their wiggle room Sunday, too.
But with that long pass from Garnett to Pierce, and that subsequent bullet from Pierce to Rondo, the Celtics finished this job.
But their work is not done, and the Lakers -- as banged up and short-handed as they might be -- are not scared.
Game 6 will have a different dynamic, and the panic that is being felt in Los Angeles right now will transfer to the East Coast if the Lakers take the next one. And if you are purely a basketball fan, you should hope they do.
Chris Sheridan is a regular contributor to the Daily Dime.
Dimes past: May 24 | 25 | 26 | 27 | 28 | 29 | June 3 | 5 | 6 | 7 | 8 | 9 | 10 | 11 | 12
2. Lakers Need To Get Bryant Some Help
By J.A. Adande
ESPN.com

Odom
BOSTON -- The summation of the Lakers' Game 5 in Boston came from the postgame press conference moderator, who announced that Phil Jackson would speak first, then Doc Rivers, a yet-to-be-determined number of Celtics players, and finally: "It looks like L.A. will only be Kobe in here."
It made perfect sense, since it was only Kobe out there on the court. At one point Kobe Bryant had scored half of the Lakers' points: 29 of 58. He finished with 38 in the Lakers' 92-86 loss. Bryant also led them with four assists and had the team's lone blocked shot.
No other Laker did anything of value. Andrew Bynum played more than 31 minutes and reported no issues with his injured right knee, but grabbed only one rebound. Ron Artest couldn't keep Paul Pierce from unleashing a 27-point night, while Artest missed seven of his nine field goal attempts and two free throws with 43.3 seconds remaining that extinguished the Lakers' last hope for victory. The Celtics have made him the primary outlet for when Bryant is doubled, and Artest hasn't made them pay consistently.
To read the entire column, click here
3. Boston Bench Won't Calm Down
By Henry Abbott
TrueHoop

Robinson
Talking about the Celtics' bench earlier in the Finals, Phil Jackson observed that "they played desperate, and they got away with it."
Doc Rivers knows what Jackson's talking about.
When it comes to the energy level of his team, he craves balance, but he seldom gets it. Of course, a team needs all those good high-energy things like activity and passion, but ideally they come with a certain measure of calmness, wisdom, understanding and recognition.
Remember, Jackson has won ten championships advising his teams to meditate, in no small part to engender a certain presence of mind.
To read the entire column, click here
4. Daily Dime Live Recap
ESPN.com writers and TrueHoop Network bloggers chatted with fans and gave their in-game opinions throughout Sunday's game -- all in Daily Dime Live.
By Maurice Brooks
ESPN.com
SUNDAY'S BEST

Pierce

Paul Pierce, Celtics
He said he wasn't in a personal duel with Kobe Bryant, but it sure looked like he was. The Truth fired in 27 points -- his best scoring game of the Finals -- as the Celtics moved within one win of another NBA championship.

SUNDAY'S WORST

Fisher

Ron Artest and Derek Fisher, Lakers
The two starters combined to shoot just 4-for-18 from the field, offering little help for Kobe Bryant, who carried the offense for Los Angeles with 38 points.

QUOTE OF THE NIGHT

"We're down 3-2: Go home, win one game, go into the next one. Simple as that."

-- Lakers guard Kobe Bryant on what his team must do to win the series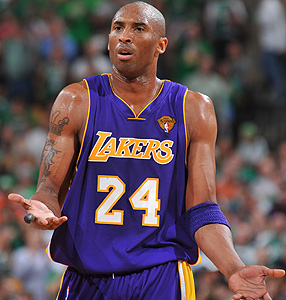 Brian Babineau/NBAE/Getty Images
Kobe Bryant did a little bit of everything, tallying 38 points, five rebounds and four assists, but the Lakers couldn't keep up with the Celtics in Game 5, falling 92-86 on the road.
By John Hollinger
ESPN.com

Pierce
BOSTON -- For you old-timers who lament the absence of the mid-range jump shot, the show by Paul Pierce and Kobe Bryant in Game 5 was a sight for sore eyes.
The MVPs of the past two Finals, and the presumptive favorites to win the award this time around, combined to score 65 points Sunday in Boston's 92-86 win over the Lakers, and did it with an epic display of old-school scoring. Bryant scored 38 points without a dunk or a layup, while Pierce's 27 included two chippies but no dunks -- and, like Bryant, he scored the vast majority of his points from distance.
In fact, this was a vintage display of yesteryear scoring. Instead of watching the modern drive-and-kick game, we saw two savvy, polished scorers showing off all their tricks: mid-range jumpers off the dribble, hesitation moves, up-and-unders and tough leaners in traffic.
The closest shot for Bryant came on a lob he tipped in from two feet away from a difficult angle near the right block, part of an explosion of 17 straight L.A. points by Bryant to start the third quarter. He made two other shots from inside 10 feet, but 10 of his 13 field goals came from further, plus he drew nine free throw attempts without getting into the paint (including two on technical fouls on Boston, it should be noted).
Most of his damage came on high-difficulty, twisting fadeaways from the middle distances. Boston arguably defended Bryant better than in any other game this series, and he scored 38 points anyway because he was converting such difficult shots. He hit four of 10 3-pointers, sullying his percentage only because of three desperate jacks in the final half-minute, and made a stellar six of 12 from mid-range.
"He's the best shot-maker in the game," said Boston coach Doc Rivers. "I kept turning to [assistant coaches Tom Thibodeau and Armond Hill) and saying, 'Those are tough shots.'"
"He was brimming with confidence," said Lakers coach Phil Jackson, who said he thought Bryant was also able to elevate better on his jumper in that third-quarter stretch because he had his ankle re-taped at halftime.
It wasn't an unusual event either; Bryant has been sticking the mid-range jumper all year. He took nearly five a game and 42.9 percent of them; in the playoffs he's at 46.1 percent after Sunday.
To read the entire column, click here
9.

Celtics Take The Series Lead

The Celtics took a 3-2 lead in the NBA Finals with a Game 5 win over the Lakers. The Lakers had won their past 14 playoff games in series that were deadlocked entering the game, the longest streak of its kind for any NBA team since the Bulls won 16 straight playoff games under those circumstances from 1996 to 1998. Before Sunday night, Los Angeles hadn't lost a playoff game in which the series was tied since Game 1 of the 2009 conference semifinals against Houston.
Kobe Bryant scored 38 points in the Lakers' loss to increase his point total for this year's playoffs to 622. It's the third time Bryant has scored at least 600 points in one postseason, and he's the first player in NBA history to do it in three consecutive years. The only other player to score at least 600 points in the playoffs three times in his career was Michael Jordan (1992, '93 and '98).
Bryant scored 23 straight points for the Lakers in Game 5, overlapping the second and third periods. He was the first player to score at least 20 consecutive points for a team in an NBA playoff game since LeBron James scored the last 25 points for the Cavaliers in a double-overtime victory against the Pistons in Game 5 of the 2007 conference finals.