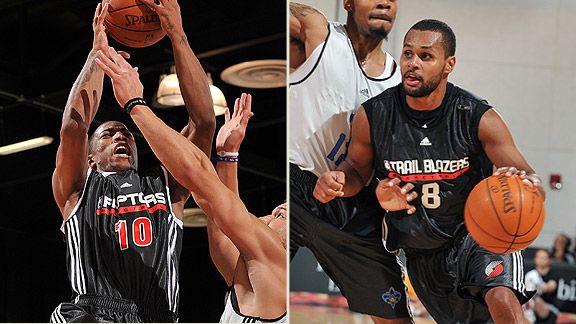 NBAE/Getty Images The Raptors are expecting more from DeMar DeRozan, while Patty Mills has impressed the Blazers.
1. DeRozan Working To Become More Complete
By Kevin Arnovitz
ESPN.com
At the Las Vegas Summer League, athleticism is the most commonly cited variable that distinguishes NBA-caliber players from the rest of the talent. Toronto Raptors guard DeMar DeRozan's athletic gifts established him as a top-10 pick in the 2009 draft, despite an underwhelming one-and-done season at USC. DeRozan displayed his explosiveness and agility for much of the 2009-10 season at varying levels of refinement, finishing his rookie campaign with a player efficiency rating (PER) of 12.58. He showed strength (finishing near the rim) and weakness (playmaking) in the precise areas where you'd expect an athlete to succeed and fail.
Chris Bosh's departure leaves the Raptors with a vacuum in their offense, and DeRozan is probably the only player on the roster with the dynamism to fill that void. But to be the name on the marquee in Toronto, DeRozan will have to graduate from an athlete who can ball to a ballplayer who can leverage his athleticism. If he's going to achieve as a shooting guard, he must extend his range to beyond the arc, where he converted only four shots during his entire rookie season. DeRozan will also need to apply all that athleticism and length against the scorers who are torching Toronto on a regular basis. The Raptors finished dead last in defensive efficiency last season. As he enters his sophomore season, DeRozan is well-aware of this opportunity, and the improvement in his game it will require on both ends of the floor.
"If I want to be more effective, I really have to slow down and not only use my athleticism all the time," DeRozan said. "I have to learn how to play different kinds of ways, and I'm learning."
On Tuesday, we saw glimpses of DeRozan's learning curve and his expanding game. He scored 23 points, shooting 10-for-15 shooting from the floor. Although he unleashed some ferocious dunks, there was substance and nuance to go along with the aerial effects. DeRozan showed off a tighter handle against pressure, something that hampered his one-on-one game at times last season. That added confidence in his ballhandling allowed DeRozan to make better decisions off the dribble, whether it was spinning away from help defenders or finding a seam.
"Athletes last for [only] so long," DeRozan said. "Being young, I want to develop now so that I can go 50-50 with my game -- skills, then use my athleticism when I have to."
DeRozan still exhibited plenty of that raw athleticism, especially in tandem with Sonny Weems, his closest friend on the team. The two wingmen teamed up on consecutive alley-oops in the second quarter. The first jam came in the half court when Weems sneaked behind the Houston defense on a dive to the hoop, where DeRozan found him with a lob. On the next possession -- a break in transition -- Weems returned the favor when DeRozan ran the baseline and met Weems' pass at the rim for the slam.
"That's what young guns do," DeRozan said. "When we came out, Sonny said he was going to go back door and I threw it to him. Then I knew when we were on the fast break together, I knew he was going to throw it up."
DeRozan's primary defensive assignment on Tuesday was staying with Chase Budinger (and occasionally Jermaine Taylor) versus Houston's active three-man sets, closing out on the second-year sharpshooter and staying with him in transition. For the most part, DeRozan succeeded on all three counts. He selectively provided help but usually opted to stay glued to his man.
"I need to improve my defense, especially going at the 2 position, going against players like Kobe [Bryant], Ray Allen, those type of guys every night."
Evidence gathered at summer league has to be viewed with a jaundiced eye. As DeRozan himself suggests, there's simply no substitute for meaningful NBA games. Matt Janning and Chase Budinger aren't exactly comps for Bryant or Allen, but at least DeRozan acknowledges that the trajectory of his growth as a player will be central to the Raptors' fortunes.
To return to respectability, Toronto will need a superstar -- and there's only one candidate on the roster.
Kevin Arnovitz is a regular contributor to the Daily Dime.
2. Sanders Shows Off His Shooting Touch
By Jeremy Schmidt
TrueHoop Network

Sanders
Despite being matched up against former No. 2 pick Hasheem Thabeet often, Larry Sanders finished his second summer league game with 22 points on 9-for-14 shooting, an eye-opener for Bucks fans fretting his nine-point debut on 4-for-15 shooting. But those numbers weren't what concerned Sanders the most when he emerged after the game and saw the box score in my hand.
"Where my rebounds at?" asked Sanders, the supposedly offensively challenged Bucks rookie forward. (He was pleased to see nine as his final tally.)
After learning his rebound total, the 6-foot-11 big man still pored over the stat sheet.
"And how many blocks?" (Two was the answer.)
Blocked shots are supposed to be Sanders' forte, with a few rebounds on the side. The offense he displayed, which included a game tying 3-pointer with 0.7 seconds left, surprised everyone. Everyone but Sanders, apparently. His eyes lit up when I asked him about his outside shooting.
"It's just something I been working on," Sanders said with a smile. "When someone says I can't do something, I like to go and work on it. I haven't really played much five-on-five or organized ball since my last college game. I've just been working on my game."
Getting out from under the pressure of a debut seemed to do wonders for the excitable Sanders.
"Yesterday, coaches told me I had to relax." said Sanders. "I was wired and rushing things, trying to force stuff. Today, I just let the game come to me."
And come to him it did. Sanders hit two 3s in the last 34 seconds, long after he'd found a comfortable rhythm through short jump shots and dunks. And to think, Sanders was questionable before the game after a hard fall on his wrist in Monday's game. He wasn't concerned about it after Tuesday's effort.
"It's sore, but I can always fight through sore. That's a mental thing," said Sanders.
Enthusiastic, talented and tough? If Sanders keeps this up, the Bucks will feel like they won the lottery with their draft pick once again.
Jeremy Schmidt is a regular contributor to the Daily Dime.
3. Cavaliers Expect Big Things From Hickson
By John Krolik
TrueHoop Network

Nobody knows exactly what the LeBron-free Cleveland Cavaliers are going to look like next season. What will the Cavs look like without LeBron James at the helm? What changes will new coach Byron Scott implement? Will owner Dan Gilbert attempt to go for a winning season by making some moves, or will the Cavaliers go into a full rebuilding mode?
Nobody is certain about what the answers to those questions will be, but just about everybody agrees that the Cavs will use J.J. Hickson a lot more than they did over the course of Hickson's first two years in the NBA. The former first-round pick's talent has been obvious ever since he averaged 19.4 points and 7.8 rebounds per game during his first summer league in 2008. What hasn't been obvious is whether Hickson can play with enough discipline to utilize that talent properly.
The promise Hickson showed in that 2008 summer league is still apparent. At 6-foot-9 and 240 pounds, Hickson is an amazing athlete for his size, capable of exploding to the basket and scoring from a number of angles in a wide variety of situations. If opponents forget where he is for the briefest of moments, there's an excellent chance they'll end up watching him rise up to the rim for a hoop on that same possession.
Unfortunately, Hickson's weaknesses have prevented him from staying on the court long enough to showcase his talents. Defense and rebounding have always been issues for the 21-year-old forward; when Hickson checks into the game, missed rotations and botched rebounds have historically come in along with him.
Two years after Hickson's breakout summer league, not much has changed. The North Carolina State product still shows flashes of brilliance, or at least extreme competence. On Tuesday, Hickson finished alley-oops, faced his man up for a strong and-1, converted a beautiful reverse layup with the explosiveness and grace of a wing player, and even drained a pull-up jumper for good measure.
The bad news for Cavaliers fans is that Hickson's defensive issues are still there. Hickson was regularly out of place on defense, and the D-League Select squad managed to shoot 56 percent on 2-point baskets against the Cavaliers' summer league team. To make matters worse, Hickson grabbed only one rebound in the first half. Hickson did step up his intensity in the second half, playing better defense and grabbing eight rebounds, but his lack of defensive focus in the first half was not what the Cavaliers coaching staff wants to see from their young power forward this summer.
After the game, Scott had this to say regarding Hickson: "[Hickson] came to me and said he thinks he can have a bigger impact. I do too. His role is obviously going to be expanded, and I told him, 'I expect you to play extremely well next year. '"
For the past two seasons, the championship-or-bust pressure on the Cavaliers made putting Hickson into the rotation a risk not worth taking. Much of that pressure is gone now, and Hickson will have much more of a chance to prove himself than he did under former coach Mike Brown. Scott expects Hickson to step up and play a major role for the post-LeBron Cavaliers. Only time will tell if Scott can mold the young power forward into the two-way force he's always been capable of becoming.
John Krolik is a regular contributor to the Daily Dime.
4. Daily Dime Live Recap
ESPN.com writers and TrueHoop Network bloggers chatted with fans and gave their in-game opinions throughout Tuesday's games -- all in Daily Dime Live.
---
5.

Breaking Down Pondexter
By Joe Gerrity
TrueHoop Network

Pondexter
The first-round pick continues to impress on the defensive end. He's active off the ball and has shown the capability to stay in front of his man, something the Hornets desperately needed last season on the perimeter.
Under the tutelage of new coach Monty Williams, the Hornets are expecting an immediate contribution from Pondexter. Offensively, he's a quality finisher and capable of cutting to the hole or hitting a pull-up jumper at an NBA level. Before too long, he should be in contention with Julian Wright to receive substantial minutes in relief of the aging Peja Stojakovic.
Joe Gerrity is a regular contributor to the Dime.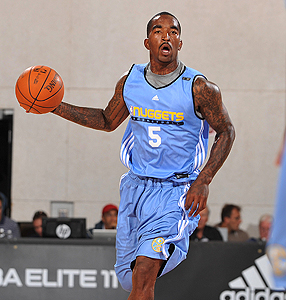 (Garrett Ellwood /NBAE/Getty)
J.R. Smith is one of the top sixth men in the NBA, so it was surprising to see him running up and down with the Nuggets on Tuesday. The reason he's playing in Vegas? It's better than taking the chance of injury while playing in a local high school gym.
7.

Sacramento's Little Big Man
By Zach Harper
TrueHoop Network

With the Kings' offense slow to get started and the Lakers packing the paint against a DeMarcus Cousins-centered attack, the Kings turned to Devan Downey to get something going. You may remember Downey as the scrappy point guard who led South Carolina to an upset of No. 1-ranked Kentucky in late January. Now he's the point guard who found a way to penetrate into the Lakers' summer league defense and get his team into a winning offensive flow.
Downey's biggest downside -- his size (5-foot-9) -- is also probably what allows him to be so effective in a setting like this. There's no true zone defense to prevent him from driving to the basket. Teams can pack it in against him, but they still have to abide by man-to-man principles for the most part. Downey capitalizes by finding holes in the defense that only quick, small point guards can get into. And when he gets deep into the defense, he makes things happen for his team.
"Once you get in that paint, it's going to suck everybody in," Kings summer league coach Mario Elie said." And it's going to enable our players to get open looks."
The open looks were created with the penetration and good spacing. Donte Greene, Cousins and Wayne Chism benefited from the defense being taken out of position. Downey gave the Kings energy on both ends of the floor and the Kings turned a 9-0 deficit to start the game into a comfortable win. Downey was a pest to the Lakers' guards and once again used his size -- or lack thereof -- to his advantage. He annoyed the Lakers with three steals and got the Kings going in transition.
Downey can't change his size to fit the mold of what NBA front offices wish him to be. But he can find ways to make it work. Tuesday, he made it work.
Zach Harper is a regular contributor to the Dime.
8.

Breaking Down Patty Mills
By D.J. Foster
TrueHoop Network

Mills
Most 6-foot point guards with diminutive frames would be wary of mixing it up, but Mills isn't your typical guard. Despite his stature, Mills is a scorer first and foremost who actually does some of his best work off the ball. One display of his aptitude without the rock came when Mills hurled himself at a Hornets defender almost twice his size, setting such a thick baseline screen that his own man had to scurry off to help. The suddenly wide-open Mills then floated to the perimeter for a clean 3, bringing his total on the evening to 14 points on 6-for-9 shooting.
In Mills, the Blazers look to have another threat off the bench who can pack a punch offensively, whether he's the primary ballhandler or not. With players like Brandon Roy and Jerryd Bayless typically dominating the ball, Mills' abilities away from the play should prove valuable.
D.J. Foster is a regular contributor to the Dime.
9.

Breaking Down Othello Hunter
By Bret LaGree
TrueHoop Network

Three weeks ago, Atlanta Hawks assistant general manager Dave Pendergraft called Othello Hunter's season-and-a-half with the Hawks as an experiment they didn't see through. Hunter appeared in just 23 games for 125 minutes with Atlanta. Despite having no immediate need for him, the Hawks assigned Hunter to the D-League for just three games during the 2008-09 season. After the Hawks released him in January, he finished the 2010 season in Greece, averaging 10 points and seven rebounds in 23 minutes per game for Ilisiakos.
His first stretch of regular playing time since his senior season at Ohio State may have given Hunter the confidence to again demonstrate his strengths on the glass and around the basket. Through four games with the undefeated Denver Nuggets summer league team, Hunter has again produced when given playing time, averaging 13 points and five rebounds in 24 minutes per game while making more than two-thirds of his field goal attempts."
Bret LaGree is a regular contributor to the Dime.