1. Deng's New Pregame Routine Pays Off
By Nick Friedell
ESPN Chicago
CHICAGO -- As reporters filed into the Chicago Bulls' locker room for the first time on Monday night, they were greeted by a strange sight. Luol Deng was sprawled out on the floor, by himself, watching tape of the Blazers' last game against the Knicks.
The rest of the locker room was empty and quiet. Every so often a teammate would pop his head in to watch some tape, but they would leave shortly thereafter. Deng just sat there and stared up at the screen. He couldn't have been very comfortable; the only thing propping up his head was the thin grey carpet that covered the floor.
It was as though he was trying to zone everybody and everything out -- which isn't that surprising given how poorly he had played over the first two games of the season. The 25-year-old was just 7-for-23 from the floor entering Monday night and was not developing into the second offensive weapon that Derrick Rose needed in Carlos Boozer's absence. After looking so aggressive in the preseason, Deng had disappeared on offense and barely played during the Bulls' fourth-quarter comeback over the Detroit Pistons on Saturday night.
The cries for a Carmelo Anthony trade only intensified with Deng's poor performance, and plenty of fans were ready to write off the veteran forward. The usually reserved Deng just kept to himself, knowing his time would come and he would break out of his mini-funk.
That time came on Monday night.
Deng dominated the Blazers, scoring a career-high 40 points and reminding Chicago fans of the player he can still be and reminding his teammates that he can still be the secret weapon to the Bulls' success this season.
"I was just sitting back, just watching him," Rose said with a smile. "He was hitting every shot that he threw up. Everybody played well, rebounded the ball a little bit, running the break, trying to get to the line. We got to play aggressive throughout the whole game."
Without question, this was the Bulls' best game of the season, but it was also one of the most aggressive games Deng has played in a long time. He was an economical 14-for-19 from the field and he continually drove to the basket and opened up the floor for the rest of his teammates. He knew from the outset that this was his night.
"In the first quarter, I made some shots that didn't feel good coming off my hand," he said. "After that, I stayed with the jump shot and I just had a lot of open shots."
It wasn't just Deng's offense that impressed his teammates and coaches, though. He played solid defense on Brandon Roy, holding the Blazers' All-Star to just 17 points on 4-for-12 shooting.
"We want to be a defensive team first, and I thought Luol from the start of camp has been that way," Bulls head coach Tom Thibodeau said. "He goes hard on defense every day in practice. I was glad that in the first two games he didn't get down, he just kept working and he kept working on his game. Got in early, stayed late, getting a lot of shots up, so I was very confident that he would come around."
Deng's turnaround gives the Bulls hope that they will be able to compete even with Boozer out of the lineup. His ability to score takes an offensive burden off of Rose that he simply couldn't carry every night.
"It's hard when a team has to double team two people," Rose said. "They're always sending two people on me now, every time I come off [a] pick-and-roll. Or if I have [an] iso, they're sending somebody baseline. To have somebody making shots, it gives them trouble where their rotations are kind of slow."
Deng's performance also gives the rest of the team a boost of confidence. There was no question his teammates were feeding off the energy. They saw how easy his shots were coming in the offense and they wanted to get in on the action.
"He got 40 points, but it wasn't any iso's," Bulls guard Kyle Korver said. "It wasn't like we were standing around watching Lu, and that's pretty special. To have someone who can get 40 points, and we didn't really call a whole lot of plays for him, he got a lot of stuff just going to the basket off the swing. It wasn't like we kicked it up to him and he just went one-on-one, and that kind of keeps everyone in the game."
To say everyone was locked into the game on Monday night for the Bulls might be an understatement. Every player who played, scored (Kurt Thomas was the only guy who didn't play). Rose had 13 assists, Joakim Noah had a double-double with 10 points and 10 rebounds, and Korver and Taj Gibson combined for 23 points of their own.
"It's just one guy kind of going all the time, but then all of a sudden you feel like it's your turn to make a shot or to shoot a shot and there's no [free] flow or rhythm," Korver said. "Lu scores 40 tonight, Derrick scores 39 last game and it was the same game. When you got guys who can score 40 points in a night, [and] we haven't even started with Booze yet, so I think that says a lot about our team."
It also says something about Deng's ability to block out all of the criticism and just go out and play. That's a trait that Thibodeau already appreciates in his new small forward.
"Even in the first two games, I didn't think he shot the ball well, but I thought he played well because of all the things that he's doing," Thibodeau said. "He's moving without the ball, he's cutting hard, he's making the extra pass and he's playing really good defense. And tonight, he was terrific offensively, his body was in motion. [He] got out, ran the floor well, so he did a number of different things."
One of the biggest things being that he created a new pregame routine for himself. As I walked out of the locker room, I asked him if he was going to continue watching tape while laying on the floor in the locker room.
"Yeah," he said with a smile. "We got to stick with it."
After his performance on Monday night, who can blame him?
Nick Friedell covers the Bulls for ESPNChicago.com and ESPN 1000.
Dimes past: October 27 | 28 | 29 | November 1
2. Can Baron Lead The Clippers?
By Arash Markazi
ESPN Los Angeles

Davis
LOS ANGELES -- Baron Davis sits in front of his locker, soaking his feet in a bucket of ice and looking at the crowd across the room. Hidden behind the mass of reporters and cameramen is Blake Griffin.
The scene actually makes Davis smile as he watches Griffin being asked about the prospect of the Clippers finally changing their losing ways.
Two years ago, it was Davis who was the center of attention. Two years ago, he was the Clippers' prized addition, the one who would turn around the team's fortunes.
Back then, Davis expected to join Elton Brand in rekindling the playoff magic the Clippers had experienced two seasons earlier when they fell one win short of reaching the Western Conference finals. But Brand ended up signing with the Philadelphia 76ers and Davis wound up on a team that seemed directionless.
His frustration off the court with management and the coaching staff showed in his performance on the court. Davis' first two campaigns with the Clippers have resulted in two of his worst seasons as a professional.
"To come here in the prime of your career and not have the results I was used to having in my previous years was very frustrating for me," Davis said. "It was really discouraging. It was something I had to work out from a mental aspect and stay as focused as I possibly could on getting the team better, and it just never seemed to turn around."
To read the rest of the column, click here
3. Daily Dime Live Recap
ESPN.com writers and TrueHoop Network bloggers chatted with fans and gave their in-game opinions throughout Monday's games -- all in Daily Dime Live.
4. Kings Run Down Raptors
Elias Sports Bureau

The Kings rallied from a 17-point first-half deficit to beat the Raptors, 111-108. It's the second time this season that the Kings have won a game in which they trailed by more than 15 points, after winning only one game of that type over the previous two seasons.
By Maurice Brooks
ESPN.com
MONDAY'S BEST

Deng

Luol Deng, Bulls: The forward enjoys playing against the Blazers. After scoring 38 against Portland in March of 2007, Deng established a new career high, firing in 40 points as Chicago coasted to the victory.

MONDAY'S WORST

Blair

DeJuan Blair, Spurs: San Antonio won the game, but it didn't get much of a contribution from its starting center, who didn't score and was whistled for four fouls in 20 minutes of action.

QUOTE OF THE NIGHT

"I was light-headed [at halftime] and not sure what it was, I was in the locker room shaking. I drank a lot of fluids and felt a little sick, but I went out there and played."

-- Sacramento's Tyreke Evans after shaking off a stomachache to lead the Kings to a win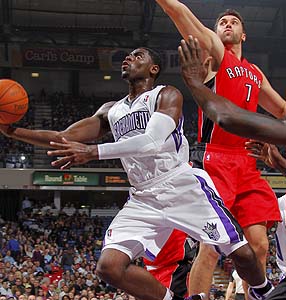 (NBAE/Getty)
Second-year guard Tyreke Evans had 23 points, seven rebounds and five assists to help the Kings slide past the visiting Raptors.
8.

Dr. Jack Remembers Lucas
The Big Man has taken Maurice Lucas from The Game. This time there was no scowl, no request to "let me go a few minutes more." Luke knew it was time to come out. He had typically "left it all out there" and had gone to the bench for a well-deserved rest.
Maurice Lucas has left us. Gone is The Intimidator of the 1976-77 championship Portland Trail Blazers -- the macho man with the bulging biceps and menacing stare. Luke was the physical spirit of that team. He enjoyed intimidating opponents and began each game by delivering a few sharp elbows to anyone who crossed his path.
Luke had acquired a tough-guy reputation when he decked 7-foot-2 strongman Artis Gilmore with one punch in an ABA game before both became NBA players. I urged him to establish that same persona in the NBA. Luke loved the role. He had every Blazer's back. If an opposing player had a problem with any Blazer, he had to deal with Luke first.
To read the rest of Ramsay's column, click here.
By Nick Friedell
ESPN Chicago
CHICAGO -- No matter how hard he tried, Derrick Rose knew he probably wasn't going to continue to lead the league in scoring.
"If anything, as a point guard, I could always say I led the NBA in scoring for the first two games," Rose said with a laugh after Monday morning's shootaround. "That's something I could tell my kids when I'm older. Back in 2010, I led it for two games. But right now, I'm just doing whatever my team needs me to do and that's to score."
For the first time all season, Rose finally got to focus on doing something else for his team besides putting the ball in the basket. The 22-year-old dominated the game by distributing, finishing with 13 assists and proving to everyone yet again that his game is still maturing every day.
"I thought Derrick was terrific," Bulls head coach Tom Thibodeau said. "I thought he got a fast pace to the game, got us some easy scoring opportunities, and I thought he was great with the pass tonight. I think he's reading what's happening. They trapped him more and he made the right play."
Luol Deng made plenty of plays, scoring a career-high 40 points, but Rose was just as dominant, calmly picking apart the Portland defense.
"That was my whole goal," he said. "Just seeing how can I control the game the easiest way. They're blitzing, they're keeping two people on me, every time I come off pick-and-roll so I have to pass the ball and tonight people were knocking down shots."
Rose's quick thinking is one of the biggest reasons why Deng, and the rest of his teammates, had such big nights.
"I thought Derrick's decisions were great today," Deng said. "That's because they were double teaming up, but Derrick's so strong that he passes out of that double team and it's not a lob pass, so it's really hard for a defense to adjust."
Joakim Noah agreed. He has been the beneficiary of plenty of Rose passes in the past few years.
"I think we're an unselfish team, but obviously everything goes through Derrick," Noah said. "They were very aggressive defending Derrick with the blitzes on the pick-and-roll and it's going to leave other people with better opportunities."
If Rose continues to develop the passing aspect of his game, he is going to ascend to the top of the game even faster than many experts think. He's also going to help the Bulls earn a lot of easy victories, as they did on Monday night.
Nick Friedell covers the Bulls for ESPNChicago.com and ESPN 1000.