By Maurice Brooks
ESPN.com
SUNDAY'S BEST

Richardson

Jason Richardson, Suns: J-Rich got hot from deep and the rest of his teammates followed his lead. He finished with seven triples and the Suns connected on a team-record 22 3-pointers in a win against the Lakers.

SUNDAY'S WORST

Douglas

Toney Douglas, Knicks: He played just 18 minutes, but that was enough time for him to squeeze off 11 shots, making just one, in a loss to the Rockets.

QUOTE OF THE NIGHT

"With each consecutive shot, the hoop is just getting bigger and bigger. It was just one of those nights where I was just feeling it."

-- Spurs forward Matt Bonner after going 7-for-7 on 3-pointers against the Thunder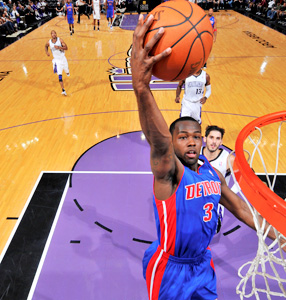 (NBAE/Getty)
Rodney Stuckey fired in 17 points against the Kings for the Pistons, who have bounced back from a slow start to the season to post four wins in five games.
8.

Rose Versus Rondo? More Please
By Jon Greenberg
ESPN Chicago

Rose
CHICAGO -- As Derrick Rose practiced his corner 3-pointer an hour and a half before Saturday's game against the Washington Wizards, he was unexpectedly crowded by a bunch of guys in sweaters and sport coats hanging around the visitors bench.
He looked over, a bit confused, and kept shooting.
Why was the media invading his space?
Not to see returning "icon" Kirk Hinrich, who later got a very nice ovation from the crowd and a video tribute. Hinrich said a few hellos, tied his shoes and jogged to the opposite end of the court.
Nope, Rose' s shooting space was where the Wizards wanted their rookie phenom John Wall to talk, maybe to keep the horde from invading the locker room, where Wall is just a rookie on a middling team.
To read the entire column, click here.
9.

Jackson, Odom Question Foul
By Dave McMenamin
ESPN Los Angeles

Odom
LOS ANGELES -- In the Los Angeles Lakers' third game of the preseason, Lamar Odom served as a lab rat for the NBA's new technical foul rule, picking up what he described as one of the "weirdest technicals I've ever gotten" for keeping his arm raised for too long after being whistled for a foul against the Sacramento Kings.
That technical occurred in the second quarter of an exhibition game and cost him $2,000. The technical foul that Odom was called for late in the fourth quarter of the Lakers' 121-116 loss to the Phoenix Suns on Sunday might have cost his team the game.
Odom absorbed contact from Hedo Turkoglu as he made a layup with 53.7 seconds remaining in the fourth quarter to cut Phoenix's lead to 111-109. Odom spun around and signaled to referee Ron Garretson that he should have been awarded an and-one call and a chance to bring the Lakers to within one at the foul line. Instead, Odom's reaction drew a technical foul from referee Tony Brown and Steve Nash made the shot to put the Suns up by three with the ball.
It was a two-point swing that Lakers head coach Phil Jackson said "changed the context of the ballgame."
To read the entire column, click here.