1. Chris Paul Takes First Loss Hard
Those of you waiting for the first glimpses of Chris Paul unhappiness this season finally got some Monday night, as long as you weren't picky about the details. None of this dismay came in the pessimistic vein so many are expecting ... and all of it was directed at the same guy.
Himself.
After picking up two quick and costly fouls in the third quarter and going scoreless in a hesitant fourth quarter against the Dallas Mavericks' packed paint, Paul trudged onto the team bus with unmistakable disgust, insisting that the last unblemished record in the NBA this season has perished mostly because of his bad choices.
The double-digit lead New Orleans squandered in the final 7:44. The 25 3-pointers they were lured into hoisting as a team by the the Mavs' effective and ever-improving zone. The foul trouble that kept the Hornets' floor leader on the bench for nearly 10 crucial minutes and snuffed out the early flow that got him 20 of his 22 points by halftime.
"All that's my fault," Paul said.
The reality, of course, is that Paul was exaggerating. And no one in the Hornets' locker room was even looking for mea culpas, least of all from Paul.
If any team or star player out there can be pardoned for an off night, CP3 and his Hornets had to be first in line. They stayed unbeaten for a full 20 days, leaving behind an offseason of franchise-wide uncertainty and upheaval -- and then a dreadful preseason -- by winning their first eight games, unexpectedly establishing themselves as a defense-first operation and shaming prognosticators all over the NBA map.
"We knew at some point," Hornets forward David West conceded after this 98-95 defeat, "that everything wasn't going to click in our favor."
The Mavericks, furthermore, had a lot to do with the lack of fourth-quarter clicking that dropped the Hornets to 8-1. Dallas merged a clutch late flurry of six 3-pointers with another dose of the unheralded D that has delivered the Mavs' own promising start (7-2) despite the injury absence of explosive guard Roddy Beaubois and, more recently, Caron Butler.
Yet it's likewise no exaggeration to say that the Hornets' shocking arrival as the NBA's last remaining team without a loss, combined with the thrilling finish and resultant raucous crowd, made this the first real basketball night of the season in Big D.
It's been far more of a baseball town lately, thanks understandably to the Rangers' first-ever run to the World Series as well as the Cowboys' panic-inducing freefall. Even the Mavs' home win last Monday night over the mighty Boston Celtics, also clinched by a fourth-quarter defensive stand, had been consigned to afterthought status, largely because the Cowboys fired coach Wade Phillips earlier that day.
One week later? The ousted Phillips himself was in the building to see what the Mavs could do with the all-new Hornets and especially Paul, who eventually did ease up on himself long enough to reflect favorably on a start no one saw coming.
"It's been real enjoyable," Paul said. "Just the fact that I'm back playing. Sitting out [37 games] last season was real hard for me."
Fears about keeping Paul happy have hung over the Hornets for months, after a summer dominated by stories about his looming free agency in July 2012 and Paul's first-time public disclosure in June to ESPN The Magazine's Chris Broussard that he'd be open to a trade if the Hornets were not prepared to spend what it takes to get back to Western Conference contention.
Perhaps no team, then, needed a fast start more than New Orleans, where a rookie coach (Monty Williams) and rookie GM (Dell Demps) have been trying to convince Paul that they have the system and the plan to build a winner around him, despite their shared lack of experience and the various handicaps that the Hornets face as a small-market team.
Yet it turns out that Paul needed a fast start more than anyone knew, too. For his psyche.
"Like I've said, this was a crazy summer," Paul said. "But I tell people all the time that I wasn't thinking this summer about all the rumors and stuff. My biggest thing was my [surgically repaired left] knee. I was questioning if I'd ever be able to be me again.
"I'm still a work in progress, but I'm just glad that I can play. There were times this summer where I was like, 'Man, is my knee ever going to let me play basketball again?' That's what I was worried about. I wasn't worried about the rumors."
And now?
"I'm so much more relaxed," he said.
Eight straight wins to open the schedule and his supremely efficient play at the point -- Paul entered Monday's game shooting nearly 51 percent from the floor, 46.2 percent on 3-pointers and 90 percent from the free-throw line -- have clearly calmed things down for everyone associated with the Hornets.
The focus, at least for now, has shifted to everything happening around Paul. One example is management's unquestioned determination to make at least one significant trade this season (perhaps by combining Peja Stojakovic's expiring contract and second-year guard Marcus Thornton) that gives CP3 even more incentive to want to stay.
Another is the impact of recent arrivals such as Trevor Ariza, Marco Belinelli and Willie Green, which prompted Paul's former teammate Tyson Chandler to say: "They're actually deeper than when I played there. They've got some athletic wings. That's what we lacked when I was there, athletics wings that can get out, take some pressure off Chris, handle the ball well and move side-to-side well defensively."
You won't get any firm declarations from Paul about what all the above might mean for his future. But let's be honest: Just as it was way too soon for the Hornets to even consider trading Paul away during the summer tumult -- why panic when Paul, unlike Carmelo Anthony, doesn't have the leverage of a superstar in the final year of his contract? -- it's too early for Paul to get swept up in anything. Even the best start in franchise history.
You are obliged to note, however, that Paul doesn't exactly sound displeased by what he's seen so far ... up to and excluding Monday night.
"I'm excited about my teammates," Paul said. "We've got a lot of guys on our team that are hungry. I think we're in a good spot right now."


ESPN.com senior writer Marc Stein
• On Twitter @ESPNSteinLine | On TrueHoop | On ESPN.com | On email
• Follow ESPN's NBA coverage on Twitter | On Facebook | On Google+
Dimes past: Oct. 27 | 28 | 29 | Nov. 1 | 2 | 3 | 4 | 5 | 7 | 8 | 9 | 10 | 11 | 12-13 | 15
2. How Bosh Is Like Pau Gasol
By David Thorpe
Scouts Inc.

Bosh
There's a certain power forward for a talented team who has heard some of the worst criticism any NBA player ever hears. They say he's too soft. They say he doesn't like contact. They say he's only good on offense. Most brutal of all, they say he's the kind of guy who will never win a championship.
Of course you know who I'm talking about. Yep, it's ... Pau Gasol!
Did you think I was talking about Chris Bosh? In a way, I was. But first let's recall the story of Gasol.
I vividly remember, during the 2008 playoffs, when the new Laker was being savaged in this way.
I defended him vigorously. I discussed how much pushing and shoving exists in international play and the Euroleague, and said that no player of Gasol's pedigree would be overwhelmed by what they found in the NBA playoffs. I mentioned how he had been a target for his team -- and the opposing defenders -- for a decade plus, and yet had always been amazingly productive. I thought the "haters" were dead wrong.
To read the entire Heat Index blog, please click here.
3. Daily Dime Live Recap
ESPN.com writers and TrueHoop Network bloggers chatted with fans and gave their in-game opinions throughout Monday's games -- all in Daily Dime Live.
MONDAY'S BEST

Ibaka

Serge Ibaka, Thunder: What's one way to keep the comeback machine that is Utah down? How about a career-high 22 points on 9-of-13 shooting, 11 rebounds and four blocks for the big man from Brazzaville in a 115-108 win.

MONDAY'S WORST

Gay

Rudy Gay, Grizzlies: Gay has raised the bar with some outstanding performances for Memphis, but his 4-for-17 shooting marked the first time this season he scored fewer than 18 points. The Griz fell to Orlando, 89-72.

QUOTE OF THE NIGHT

"You can't do nothing on the bench. That's my fault. I felt like the fouls were here or there, that's my fault, I can't expect the refs to not call it."

-- Hornets guard Chris Paul, who went to the bench after picking up his fourth foul in the third quarter.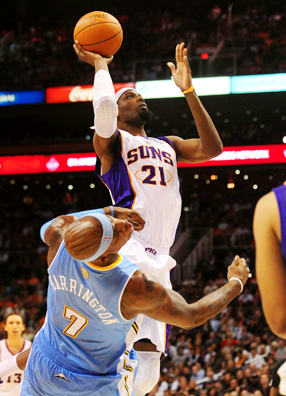 (Jennifer Stewart-US PRESSWIRE)
Look out, Al Harrington. That's Suns forward Hakim Warrick making 7-of-9 field goal attempts en route to a season-high 21 points. Phoenix took a 100-94 win over the Nuggets, who lost despite a 20-20 night from Carmelo Anthony.
7.

Perkins Eyes January Return

Perkins
BOSTON -- Kendrick Perkins can now look ahead -- optimistically and realistically -- to the day he will again play basketball for the Boston Celtics. He said that day is not that far away; he's pointing to a mid- to late-January return.
When he does return, he'll have many people to thank for getting him through the recovery process of major knee surgery. But two stand out: Wes Welker of the New England Patriots and a deceased man whose identity will forever remain unknown.
Perkins tore both the anterior cruciate ligament and the medial collateral ligament in his right knee during Game 6 of the 2010 NBA Finals. He waited a month before undergoing surgery, getting a second opinion from Dr. Thomas Gill, the man who performed the ACL surgery for Welker. Gill told Perkins to get his quad muscle as strong as possible. Perkins did that and then had the surgery July 15.
Monday was the four-month anniversary of the procedure, which was performed by Celtics team physician Dr. Brian McKeon. Perkins walks without a brace, can do shooting drills and, to the untrained eye, looks like he could step in at starting center Wednesday night against the Washington Wizards.
To read the entire column, click here.
9.

A New Dawn For Warriors

Guber
Now that Peter Guber has joined the NBA, finalizing his purchase of the Golden State Warriors along with Joe Lacob, there's no owner I'm more interested in hearing address the underlying racial aspect of the NBA, a league of predominantly white ownership that consists of majority African-American players watched by largely white crowds.
As a movie and music producer, Guber is familiar with this dynamic in Hollywood, most notably when he and executive producer Quincy Jones put together the cinematic version of Alice Walker's book "The Color Purple." He spoke eloquently on the topic of race in the entertainment business in Charles Barkley's book "Who's Afraid of a Large Black Man" and Guber's notion of tribalism accounted for a Thanksgiving-plate portion of my column on LeBron James, race and the NBA. We talked on the phone Monday shortly after he and Lacob had their introductory news conference for the Bay Area media.
To read the entire blog entry, please click here.