1. Magic Turn It Up On Defense
By Brian Windhorst
ESPN.com
ORLANDO, Fla. -- Nobody stomps, grimaces and rants like Stan Van Gundy. The more hoarse his voice, wrinkled his suitcoat and frizzed his hair, the better he seems to feel.
So you know it took some personal restraint and perhaps some soul searching to announce that he's going to try to ease off on his temper tantrums as he did last week.
Concerned his constant pressure on his Orlando Magic players was becoming counterproductive, Van Gundy said he planned to step back and allow the team to have some more space. And this was following two terrible home losses, one in blowing an 18-point lead to the Utah Jazz and another bewildering defeat to the Toronto Raptors.
The Magic were playing some substandard defense at the time, which is supposed to be as much their calling card as 3-point shots, and also the area Van Gundy was harping on.
How is it working out? Well, Van Gundy still had a few moments when he looked his vintage peeved self Thursday night but the Magic have turned things around. Their 105-89 win over the Phoenix Suns represented their third consecutive victory and third consecutive good defensive effort.
In the short term, Van Gundy's pledge to get on his team less is being rewarded with more focused and energetic defensive efforts.
"We have to hold each other accountable," said Jameer Nelson, who had 15 points and 12 assists. "It can't be just coming from Stan. And I think we've been doing that the last few games. We need more of it."
After several shaky defensive performances -- rock bottom was giving up 110 points and 50 percent shooting to Toronto -- the Magic have looked more like the team expected to challenge for the title.
Over the past three games they have held the Nets, Grizzlies and Suns to an average of 84 points a game.
Thursday the Suns didn't have Steve Nash, who sat out the game with a groin injury, and certainly that played a role. So did the Suns' absolutely brutal schedule.
Thursday marked the end of perhaps the most demanding five-day stretch for any team in the league this season. The Suns played Sunday in Los Angeles and beat the Lakers, then won at home against the Nuggets on Monday. Then it was a long trip to Florida where they were hammered by the Heat and Magic on Wednesday and Thursday.
"I doubt if anybody else has that on their schedule," Suns coach Alvin Gentry said.
But it wouldn't be fair to pin what happened just on the Suns' fatigue. There was no mistaking the defensive intensity the Magic played with, especially in the first half when the game was in question.
The Magic were attacking the Suns' pick-and-rolls, defensively, and tearing out to the 3-point line to deny Phoenix its favorite offensive weapon. It was clear even on the second unit, where big men Brandon Bass and Marcin Gortat were rotating 20 feet from the basket to challenge long jumpers. The Suns shot just 3-of-18 on 3-pointers.
Even Dwight Howard, who doesn't need to be lauded for his defense, looked to have some pep in his step as he successfully hustled to limit the quickness of the Suns' small but quick big men.
"Stan has been stressing it every day," said Bass, who is off to an excellent start with career highs in scoring and rebounds averages. "He's always talking defense, defensive aggressiveness, defensive intensity. We can have the best system but it takes individual effort, and over the last few games we have all been more engaged."
But this has been seen before by the Magic. Over the last several years when they have played their best defense they have ripped off huge win streaks. But they have been known to lose their grip at times and rely on their depth of talent on the offensive end.
Last season, Van Gundy had to plead his team to pick it up defensively after losing seven of nine games during a miserable stretch in January. Eventually, thanks in part to Van Gundy's pressure, they had the best record in the league over the last two and a half months of the season.
The status of their defense will be tested over the next week, with a road game against the red hot San Antonio Spurs and a rematch with the Heat before Thanksgiving. It will also likely be a test of the new Van Gundy policy. But right now the coach likes the results of his little experiment.
"Our guys have done a better job of helping and closing [out on shooters]," Van Gundy said. "We've played with good energy and good intensity."
Brian Windhorst is a regular contributor to the Daily Dime.
Dimes past: Oct. 28 | 29 | Nov. 1 | 2 | 3 | 4 | 5 | 7 | 8 | 9 | 10 | 11 | 12-13 | 14 | 15 | 16 | 17
2. Checking Out The Mood Around Portland
By Andrew Tonry
TrueHoop

Oden
When he learned Greg Oden would require yet another season-sending microfracture surgery, Portland Trail Blazers coach Nate McMillan called his young player to offer condolences and words of encouragement.
McMillan might well give the same talk to Blazers fans. Indeed, it's been a rough week in Portland.
Beset by a torrent of franchise-altering injuries, the Trail Blazes' early-season hopes have turned every bit as sour and wet as Portland's unrelenting winter rain. The air around the Rose Garden and the team it houses has grown heavy and thick.
Most depressing to the Blazers and their fans was the perception that they had weathered the storm. After losing 311 player-games to injury the previous season, they were finally nearing full strength.
Envisioning a healthy roster this summer, newly hired general manager Rich Cho proclaimed the team "one or two pieces away" from championship contention.
Now, just three weeks into the season, those dreams have vanished.
Brandon Roy's recent diagnosis is potentially more damaging to the franchise's long-term hopes than the loss of Oden for another season.
It is Roy, after-all, who's in the first year of a max deal. Yet just weeks into the season, he's sitting out, resting painful knees. Thursday's game against the Nuggets marked Roy's second on the inactive list.
After two surgeries on each of Roy's knees, doctors say there is little else they can do -- there's no meniscus left to operate on. Pain from bone rubbing against bone figures to dog Roy for the remainder of his career. Whether he'll ever produce at the same rate as in seasons past is suddenly an open question.
Yet with knowledge of his injury situation firmly in hand, Blazers brass signed Roy to a max deal. "He has earned this max contract regardless of what problems might come along," team president Larry Miller told the Oregonian.
Miller and company appear to be taking a similar approach with Oden -- basically crossing their fingers and doubling down.
Instead of letting Oden go or attempting to re-sign him for less, Miller said he plans to extend Oden a $9 million qualifying offer this summer. "I don't feel like I'm ready to give up on Greg Oden," Miller explained. "I don't think anybody in our organization is ready."
Blazers fans, on the other hand, aren't so confident. They fear another season of mediocrity. Or worse.
As he did with Oden, McMillan is talking calmly, rationally and taking things one day at a time -- work hard, and better things will come.
So far, McMillan's confidence has steadied the team, who are 2-0 without Roy. Maybe it'll work for fans, too.
Read more from Tonry at Portland Roundball Society.
3. Daily Dime Live Recap
ESPN.com writers and TrueHoop Network bloggers chatted with fans and gave their in-game opinions throughout Thursday's games -- all in Daily Dime Live.
4. Pacers Block Their Way Past Clippers
Elias Sports Bureau

The Pacers blocked 14 shots in their win over the Los Angeles Clippers on Thursday, their highest total in one game since Dec. 22, 1996, when they had 15 blocks against the Toronto Raptors. Erick Dampier led the way that night with five blocks, Antonio Davis had four, and five other Pacers contributed at least one rejection.
By Maurice Brooks
ESPN.com
THURSDAY'S BEST

Aldridge

LeMarcus Aldridge, Blazers: With their leading scorer Brandon Roy unavailable (knee injury), the Blazers leaned on Aldridge and he didn't disappoint, scoring 24 points and grabbing 10 rebounds as Portland rallied past Denver.

THURSDAY'S WORST

Jordan

DeAndre Jordan, Clippers: He has been getting the start at center while Chris Kaman is out, but the Clippers are going to need more than zero points (0-for-7) and five fouls from the big man.

---

TWEET OF THE NIGHT

This injury & time off the court really matured me. Ole lady told me a while ago everything happens fa a reason.less than a minute ago via Twitter
cdouglasroberts

---

QUOTE OF THE NIGHT

"Everything on that team revolves around Steve Nash, so they didn't have him tonight and they struggled."

-- Magic coach Stan Van Gundy after Orlando routed Phoenix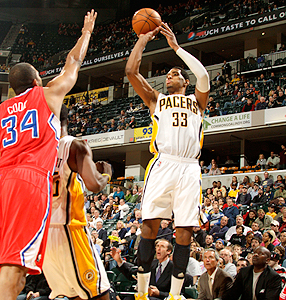 (Layne Murdoch/NBAE/Getty)
Danny Granger shook loose for 22 points, seven rebounds and five assists, but it was his defense on the Clippers' Eric Gordon that earned him props in the Pacers 27-point victory.
8.

Should Miami Pick Up The Pace?
By Kevin Arnovitz and Tom Haberstroh
ESPN.com

LeBron
Kevin Arnovitz: Ever since the season started, we've been debating whether the Miami Heat are, at their very core, the kind of methodical half-court team that should finish in the bottom third of the league in pace. Or whether they should they take advantage of their collective athleticism and make every game a track meet.
Wednesday night against the Phoenix Suns, the Heat racked up 99 possessions, which is a pretty zippy tempo. It was Miami's second-fastest game of the seasib (103 possession versus Minnesota).
Is it telling, or merely coincidental, that these were also Miami's two most efficient offensive games?
Tom Haberstroh: No, it's not coincidental. The Heat need to run, not just because they have the athleticism to pull it off, but more so because underdogs want games to be played at a snail's pace. When David goes against Goliath, David doesn't want 100 rounds -- he wants 10. Every extra possession presents another opportunity for the Heat to capitalize on their edge in talent. Thus, they should stretch the game, not shrink it.
To read the entire column, click here
9.

I Know What You're Thinking
By Brian Kamenetzky
ESPN Los Angeles

Kobe
The "telepathy" shared by Kobe Bryant and Pau Gasol isn't something mystical or otherworldly, really. It's two people communicating in a language in which few on the basketball court are fluent. For all the focus on Kobe's athleticism or drive, you can't set aside for a moment how smart he is as a player. Kobe sees things develop and anticipates the actions of opposing defenses incredibly well. In Gasol, Bryant again has a playing partner as smart as he is, with enough talent to keep pace, as well. This was an underrated aspect of Kobe's on-court relationship with Shaquille O'Neal. Shaq enjoyed the loose, clown prince reputation and had the size that allows him to impose his will in ways Gasol can't, but in the day it wasn't just Shaq's physical gifts, but his intelligence as a player helping him forge so much success with Kobe.
In a lot of ways, it's fitting that Gasol and Bryant often communicate in Spanish on the floor, able to exchange things without opponents prying into their business. It's a literal example of what they do from a pure basketball end.
Bryant and Gasol may still have differences in personality and makeup, but this part of their relationship was clear from the start. It's seen almost nightly when the Lakers put so much of their fate during fourth quarters in the two-man game of high screen and rolls. It works because both are so inclined to make the right basketball play.
To read the entire column, click here.