1. Heat's Big 3 Moving Up In Chemistry Class
By Brian Windhorst
ESPN.com
MILWAUKEE -- They say the afterparty is always the one you want to be invited to. Late Monday night it was the show after the show that revealed everything about where the Miami Heat are in their closely watched journey.
Who knows where their 88-78 victory over the Milwaukee Bucks, the Heat's fifth win in a row, will ultimately rank in importance over the course of the very long season. It was a solid win over a scrappy Bucks team that could've given Miami plenty of problems despite an underwhelming 7-13 record.
At the start of a difficult stretch of schedule -- nine of the Heat's next 13 games are on the road with the Utah Jazz up next on Wednesday night -- it was the kind of win that lays a foundation for a team.
Push that to the back for a moment. After it was all over, LeBron James, Dwyane Wade and Chris Bosh joked with each other, demonstrating the considerable progress the Heat seem to be making. The three leaders -- they're not the entire team but they're pretty darn important -- are showing some chemistry both on and off the court.
Sharing two microphones in a makeshift interview area in a dark corner, James, Wade and Bosh put on a mock comedy show poking fun at the media and each other.
Dressed in sweaters and jackets as they prepared to head out into a frigid Wisconsin night, it felt more like three guys hanging out in a dorm room than a news conference.
"This was the first time tonight I got booed on the road, I haven't heard those boos all year," James joked after his 17-point performance.
"Luckily D. Wade and CB showed up tonight, I was very distracted. They were able to help me through the night."
Rim shot.
Before the game when Wade was talking about his retired No. 3 Marquette jersey that hangs in Bradley Center rafters, James told Wade he remembered watching him lose to Kansas in the Final Four.
"You weren't watching the game, you were riding around in your Hummer," Wade said.
"Yeah, I know, I watched it in there," James said. "I had satellite."
After the game Wade, who had another strong performance with 25 points playing in front of his old Marquette fan base, made the mistake of bringing up the banner again.
"I took a moment earlier to make LeBron look up at my banner in the rafters," Wade said.
"Oh, you mean the one that said Glenn Rivers?" James shot back.
Zing.
Up next: the topic of Wade's career-high 14 rebounds, several of which were credited to his stat line after Bosh, who had 16 points and 12 rebounds, tapped them out to him.
Wade: "I stole about one rebound from him."
Bosh: "One?"
Wade: "Maybe two."
James: "Uh, huh."
Wade to James: "You're not really fighting down there, either. Don't even act like you do. As I told [Udonis Haslem], he should take his time [coming back from injury]. Don't even rush to come back, there's a new rebounder in town. "
Tip your waitresses.
These sorts of exchanges may be commonplace in any locker room. But that the Heat are letting their guard down like this in a public setting is a sign the strains that appeared to be costing them game after game just two weeks ago are receding.
What does this all mean when actually playing the game? It is easier to see than to quantify. During their current winning streak, the Heat are playing with more intensity and aggression -- and comedy.
It was visible during a moment midway through the fourth quarter when the Heat's lead, which had been as many as 15 points, had been whittled down to three. The Bucks were getting some good play from Corey Maggette, who scored 20 points on a night when both Brandon Jennings and Andrew Bogut struggled, shooting a combined 9-of-28 from the field.
The crowd was into the game. The live band was blaring. The Heat were in some hot water.
Then James hit a jumper. Then Wade hit a jumper. Then Bosh had a putback layup. The Heat defense stiffened and the Bucks missed nine shots in a row. Game over.
That is what good teams do, but that wasn't what the Heat had been doing. They lost five consecutive road games by folding in moments like that.
"I'm not sure we could've pulled this out earlier in the year," Spoelstra said. "Our trust has gone a long way. There is a stronger connection with the group but you can never weigh how much it is. You can see it with our group. We're gaining confidence. That stuff does translate to the court."
Indeed, it could be just a phase; the NBA season is a progression of phases. But it does feel like the Heat are getting better.
So much so that James, who earlier this season complained about not having fun, has started using that word again.
"It's growing every day," James said. "Right now, we're playing good basketball and that makes it fun."


NBA Writer Brian Windhorst
• On Twitter @WindhorstESPN | On ESPN.com
• Follow ESPN's NBA coverage on Twitter | On Facebook | On Google+
Dimes past: Nov. 19-21 | 22 | 23 | 24 | 25 | 26-28 | 29 | 30 | Dec. 1 | 2 | 3 | 4-5 | 6
2. Amare's Reward Is Knicks' Success
By Chris Sheridan
ESPN.com

NEW YORK -- Perhaps the NBA should go ahead and change the Player of the Week to the Amare Stoudemire Award.
Because if the New York Knicks' big guy keeps doing what he did Monday night, he very well could win that accolade for the third time in as many weeks.
"He has that ability to rise to the occasion, and there's no reason he can't continue this," coach Mike D'Antoni said Monday night after Stoudemire made it at least 30 points in five straight games, dropping 12 of his 34 on the Minnesota Timberwolves in the fourth quarter of a 121-114 victory that gave the Knicks 10 wins in their last 11 games.
The Knicks stayed just one game behind the mighty Miami Heat in the Eastern Conference -- something no Knicks fan, player or executive could ever have imagined back in training camp, or even three weeks ago when the Knicks were in the latter stages of a six-game losing streak. That skid threatened to relegate them to yet another season of irrelevance in the city where they've been ignored for the better part of the past decade.
Instead, they are off to the best start to a season since 2000-01 (the last season in which they won a playoff game) when they won 14 of their first 22 games.
Also, this is the latest the Knicks (13-9) have been four games above .500 since the end of that 2000-01 season.
"We have it going right now. We just have to keep it going," Raymond Felton (18 points, 11 assists) said. "We're playing great basketball, team basketball. We have to not be complacent and keep it rolling."
• Click here for the full Sheridan story.
3. Daily Dime Live Recap
ESPN.com writers and TrueHoop Network bloggers chatted with fans and gave their in-game opinions throughout Monday's games -- all in Daily Dime Live.
MONDAY'S BEST

Stoudemire
Amare Stoudemire, Knicks: Goes 15-for-23 from the field, giving the Knicks the offense to run past the Wolves in a 121-114 win. That's five straight wins for the MSGers. Spike Lee can hold his head high again.
---
MONDAY'S WORST

Green
Jeff Green, Thunder: Green's worst shooting night (1-9 FG) of the season did not help the cause in a 99-90 loss to the Bulls. Coulda been worse though, but OKC's starters made all 22 of their free throws.
---
TWEET OF THE NIGHT
If Clipper fans are smart, they'll start a "We're No. 29!" chant right now.Tuesday, 12:19 a.m. via web
John Hollinger
johnhollinger
---
QUOTE OF THE NIGHT
"It was a bad basketball game and we just played worse than they did."
-- Magic coach Stan Van Gundy on his team's 80-74 loss to Atlanta.
By Nick Friedell
ESPN Chicago

Boozer
CHICAGO -- Did you ever think you would see a game where Derrick Rose and Joakim Noah would combine to go 6-for-21 from the field with 17 points, and the Chicago Bulls would win convincingly?
Welcome to life with Carlos Boozer, Chicago.
Playing in just his fourth game of the season, Boozer racked up 29 points and 12 rebounds as the Bulls earned a 99-90 win over the Oklahoma City Thunder on Friday at the United Center. In the process, he also proved that he is becoming the consistent second scoring option the Bulls missed last season. He is the back-to-the-basket scorer the Bulls have been craving for years.
"He makes the game easy, where I just got to pass it to him," Rose said. "He's going to find a way to score or get fouled. And that's what we need right now on this team -- where somebody in the post or someone down low that can really score, and that's him."
Boozer's mere presence on the floor created problems for an Oklahoma City squad that didn't have to face him during the regular-season opener in late October. His ability to score down low freed up shots for his teammates on the wings. Kyle Korver and Luol Deng combined for 32 points. More importantly, Boozer's offensive prowess took some stress off Rose and Noah to provide continual offense. In short, he did on Monday what he was brought in to do.
7.

If They Can Make It There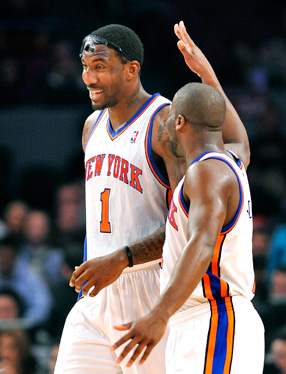 (AP Photo/Kathy Kmonicek)
First-year Knicks Amare Stoudemire and point guard Raymond Felton enjoyed a 121-114 win over the visiting Timberwolves.
8.

Grade Expectations In LA
By Andy Kamenetzky
ESPN Los Angeles

If your high school was anything like mine, you got your big report cards at the end of each semester, plus two progress reports in between, at the end of the first and third quarters. The Los Angeles Lakers are now 14-6, 20 games into an 82-game season, about as close to a quarter of the way through as can be. Used to be I'd try to beat our neighborhood postman home, in an effort to intercept any bad news before my parents popped open the mailbox.
Well, there's none of that chicanery when Internet report cards are concerned.
How do the Lakers stack up? Time to find out who's in trouble, and who gets his marks posted on the fridge at home.