1. Backup Big Men Centers Of Attention In Big D
By Jeff Caplan
ESPNDallas.com
DALLAS -- Through triumph and despair, Dirk Nowitzki has been a willing interviewee. Yet, on Tuesday night, after the Dallas Mavericks finally shook free of the pesky Golden State Warriors 105-100 for a 10th consecutive victory, Nowitzki was shooing away reporters.
"You don't want to talk to me," Nowitzki said after his game-high 25-point performance. "It was Ian's night. Ian and Ajinca's night."
For those scoring at home, that's "Yan" Mahinmi, and Alexis "ah-JIN-sa."
The keys to Dallas' 17-4 start have been a total buy-in to the team concept by a deep, star-studded roster plus timely contributions up and down the bench.
That extended Tuesday to the Mavs' mostly unknown French Connection, third- and fourth-string centers unexpectedly called to duty.
The twin Eiffel Towers did a number on the small-ball Warriors, combining for 15 points, 16 rebounds, three blocked shots and three steals in 30 overall minutes. They outplayed Golden State's trio of big men, Andris Biedrins (eight points, 11 rebounds), Dan Gadzuric (six points, one rebound) and Lou Amundson (four points, one rebound).
Dallas' starting center, Tyson Chandler, was out with a stomach illness. That gave the 6-foot-11 Mahinmi of Rouen, France, the rare green light for prime-time minutes.
Usual backup Brendan Haywood started in place of Chandler but picked up two fouls in the first quarter, as did Mahinmi. So Ajinca got involved in what was only the second game this season that the 7-footer from San Saint Etienne, France, has been active.
The lanky Ajinca played nine emergency minutes. He came in with less than a minute to go in the first quarter, and his arm-waving, hyperactive play kept him in until the 3:46 mark of the second quarter. All he did was head to the locker room with three points (including a swish on a 15-foot baseline jumper), a career-high six rebounds (three on each end), two blocked shots (including a Stephen Curry drive at the rim) and a steal.
Meanwhile, Mahinmi notched his first career double-double. The Spurs castoff, who last played extended minutes in an impressive showing in San Antonio on Nov. 26 to help snap his former team's 12-game win streak, now has one one more double-double this season than Haywood, the Mavs' $55 million man.
Eight of Mahinmi's 12 points -- three shy of his career-high -- came at the free throw line on 10 attempts, which ties Haywood's free throw total (in 32 attempts) this season. Mahinmi, with a career-high 10 rebounds in a career-tying 21 minutes, was so active that even though coach Rick Carlisle praised Haywood's work -- four points, six rebounds and three blocked shots in 19 minutes -- he stuck with Mahinmi for the entirety of a close fourth quarter, when the win streak was on the line.
Forgive yourself if Mahinmi doesn't ring a bell. The little-used third-year pro apparently even shocked and awed Golden State coach Keith Smart.
"We knew he was on the roster," Smart said before adding that he also knew he was a talented player.
"It's great, especially for a guy like me," Mahinmi said. "I'm looking for that kind of opportunity, and for me to be able to come out and, not knowing when I'm going to get my playing time, it's good. That means that all the work I do on an everyday basis works. So I'm going to keep doing what I do and hopefully get more playing time."
Chandler might recover from his stomach bout by Thursday's game against the New Jersey Nets. If not, Haywood will likely get the start, but Mahinmi, making less than $1 million, is pushing for minutes and Carlisle said he likes a good competition.
"He competes hard in practice. In games like tonight, he makes a strong case," Carlisle said. "I am not by any stretch saying Haywood didn't play well. I thought he did a good job, too. I just thought Ian's energy level was the real difference-maker in the game."
ESPN Dallas' Jeff Caplan is a regular contributor to the Daily Dime.
Dimes past: Nov. 19-21 | 22 | 23 | 24 | 25 | 26-28 | 29 | 30 | Dec. 1 | 2 | 3 | 4-5 | 6 | 7
2. Bynum To Give Gasol Much-Needed Break
By J.A. Adande
ESPN.com

Gasol
LOS ANGELES -- Even if Andrew Bynum does manage to return next week, it couldn't come fast enough for Pau Gasol.
There's still more right than wrong with the Lakers, who are 15-6 after beating the Washington Wizards on Tuesday night. It's just that the downside, such as lack of size on the active roster and an inability to put teams away lately, affects Gasol the most.
The Wizards cut a 19-point, third-quarter Laker lead down to three in the time it takes John Wall to dribble upcourt. That meant the Lakers' starters were in this for the long haul ... and Gasol hauled the longest.
He stayed on the court for 43 minutes, his 12th 40-minute night of the season and fifth in the past seven games. At least it was only his second game in six days, after a three-games-in-four-days stretch in which he noticeably wore down, his shooting percentage plummeted and he strained a hamstring.
"I'll be happy when Andrew gets back, just to see him play out there," Gasol said. "I know he's a big contributor for us. Obviously, that'll probably give me a little bit of a break in games. It'll be a win-win for a lot of people."
Well, except the Lakers' opponents. If Gasol can do this much damage when tired, imagine the havoc he'll wreak when he's refreshed and can switch between the center and power forward positions.
Even a little bit of a schedule break, after the Lakers cruised past the Sacramento Kings on Friday, made a difference in the first half of this game, during which Gasol's contributed eight points, eight rebounds and eight assists.
The Lakers had a 27-8 rebounding advantage at halftime, which prompted Wizards coach Flip Saunders to bench center JaVale McGee most of the second half. It also brought the first action in three games for Wizards rookie Kevin Seraphin, who turned 21 on Tuesday. As teammate Nick Young teased him beforehand: "Happy birthday. Now you get Pau Gasol."
Gasol hit Seraphin with a spin move and extended-arm finish that was reminiscent of James Worthy and reminded you just how agile the 7-foot Gasol can be. His 21 points, 14 rebounds and five blocked shots (he remained stuck on eight assists because the Lakers' offense stopped flowing through him) showed just how valuable he is.
He averages 20 points and is in the top 10 in the league in rebounds (14.4 per game) and blocked shots (2.7). He also ranks 10th in minutes played with just under 39 per night. He's the only 30-year-old among the top 10. In fact, no one else is over 25. And certainly none of the other players has been to the NBA Finals three consecutive years in addition to spending summers with his national team.
It's time to give Gasol a break. He's earned one.
J.A. Adande is a frequent contributor to the Daily Dime.
3. Daily Dime Live Recap
ESPN.com writers and TrueHoop Network bloggers chatted with fans and gave their in-game opinions throughout Monday's games -- all in Daily Dime Live.
4. Blame Gilbert, Not LeBron
By Howard Bryant
ESPN.com

Gilbert
LeBron James may always be the easy target of Cleveland's anger. But now that the LeBron jerseys have been burned, the extra security has returned to writing parking tickets and the traitor has exacted his revenge in the form of 38 points in a blowout win, it is obvious that the real culprit for the smoldering pile of ashes that is the Cavaliers is their owner, Dan Gilbert.
Gilbert has been riding a populist anti-LeBron wave since his comments shortly after the star left town, and it has allowed him to escape virtually all criticism and culpability for what at this moment is looking like a lost season.
Watching Cleveland lose at home to Boston last week in the game before the team fizzled in the showdown with the Heat is proof enough that the Cavaliers did not have a Plan B in the event that James left, a responsibility that falls on the shoulders of the owner -- who not only lost his best player, but also fired the coach and parted ways with the general manager last offseason. Those three were responsible for the two best years in Cavaliers history. It is Gilbert, and not James, who is primarily to blame for the state of the franchise.
During the epic night last Thursday, there was hatred on the faces of the some of the fans, frighteningly contorted expressions that suggest James represented more to them than a player who changed teams. Some wore T-shirts that read "The Lyin' King" -- a play on his "King James" nickname -- along with a James quote promising his determination to bring a title to Cleveland. Maybe they believed James belonged to them forever.
Or maybe the anger -- psychologists call it a "secondary emotion" -- was the manifestation of another reality: It may be generations before this team gets close to the peak again.
By Justin Verrier
ESPN.com
TUESDAY'S BEST

Smith
Josh Smith, Hawks: Joe who? Once Smith was the object of constant criticism for his baffling shot selection, but he was almost perfect in Atlanta's victory over the Nets, scoring a season-high 34 points (four shy of his career best) on 14-for-16 shooting. He also dished out seven assists, grabbed three boards and swatted away two shots to lead the Hawks to their fourth win in five games without their $123 million man.
---
TUESDAY'S WORST

Cleveland Cavaliers: Still reeling from a 28-point torching at the hands of LeBron and the Heat, the Cavs fell once again, this time 117-97 to the seven-win Sixers. The loss marks Cleveland's fifth straight, its seventh straight road defeat, and the seventh time it has given up at least 100 points in its past nine games. Hey, at least the Cavs are consistent.
---
TWEET OF THE NIGHT
Been up early in Portland having a cup of tea. Real men drink tea, right?10 a.m. ET via web
Steve Nash
the_real_nash
---
QUOTE OF THE NIGHT
"Or the perfect storm to get your [butt] kicked," Karl said. "One or the other."
-- Nuggets coach George Karl pregame when asked if getting his 1,000th career win in North Carolina, where he played his college ball, against Larry Brown, a former Heels teammate, was the "perfect storm." Karl's quip proved prophetic: The Bobcats held off a late rally to beat the Nuggets by two.
7.

Suns' Rotation Off-Kilter
By John Hollinger
ESPN.com

PORTLAND -- Normally, it's barely newsworthy when an NBA coach says he needs to look at cutting his rotation, particularly after a loss.
But this was Alvin Gentry saying it -- the same Alvin Gentry who used a 10-man rotation all last season while taking his Phoenix team to a surprise conference finals appearance. The Suns' second unit shredded all comers a season ago, but in Tuesday night's 106-99 loss to Portland it submitted yet another disappointing effort that had Gentry summoning the starters to return sooner than he ever intended.
"I don't know if we can play as many guys as we're playing," Gentry said. "That's the bottom line. We have too many perimeter guys that we're trying to work into the lineup. The numbers don't work."
The Suns led 75-69 after three quarters when Goran Dragic replaced Steve Nash to start the fourth. And that's when the game went off the rails for Phoenix. Two Dragic turnovers yielded a 10-1 Portland run and a tie game; Dragic got the hook after just 2:28 and Steve Nash came back in.
"We gave it all back in four possessions," Gentry said.
Long-term, this can't work. Nash played 39 minutes, something he was asked to do just once after January last season and once in 16 playoff games; the goal in Phoenix is to keep him closer to 30. Nash had six turnovers Tuesday night, including three in an unusually ragged offensive fourth quarter for the normally hyper-efficient Suns, and it's fair to wonder if the early return was a contributing factor.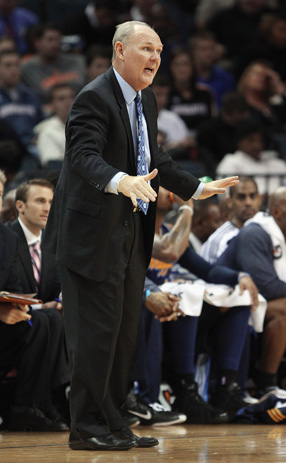 (Streeter Lecka/Getty Images)
George Karl entered Tuesday's tilt in Charlotte one win away from his 1,000th career victory. He left that way, too, after a 100-98 loss to the Bobcats.
9.

Miller's Games Streak Snapped
By Peter Newmann
ESPN Stats And Information

Miller
Brett Favre's lengthy streak of consecutive games played won't be the only one snapped this week.
Andre Miller, who had made 632 appearances in a row, was forced to sit Tuesday for the first time in nearly eight years as a result of a one-game suspension earned in Sunday's win versus the Clippers.
Incensed by a fourth-quarter push from L.A.'s Blake Griffin, Miller rammed into the Clips rookie at full speed and sent Griffin to the ground. Upon postgame video review by the league office, Miller was assessed a flagrant foul 2 for making "excessive ad unnecessary contact."
Nicolas Batum was bumped up to the starting lineup in Miller's stead, finishing with 12 points and two rebounds in Portland's 106-99 victory over the Suns.
Most Consecutive Games Played In NBA, Active
| Player | Consecutive games |
| --- | --- |
| Derek Fisher, LAL | 434 |
| Jarrett Jack, TOR | 309 |
| Boris Diaw, CHA | 288 |
| Emeka Okafor, NO | 277 |