SUNDAY'S BEST

Stoudemire
Amare Stoudemire, Knicks: Stoudemire scored 24 of his 30 points in the second half, pacing the Knicks past the Nuggets 129-125, their eighth straight win. He set a franchise record with his eighth straight 30-point game.
---
SUNDAY'S WORST

Green
Willie Green, Hornets: Accepting this award on behalf of the stingless Hornets, it's Green. He went 0-for-7 in a 88-70 loss to the Sixers. The Hornets have lost eight of their past 11, and shot just 14 percent FG in the first half.
---
TWEET OF THE NIGHT
To those asking why make any offer when NY can get Melo as free agent, I reply: If u can get him thru 2015, u do it. Lockout exits as factorless than a minute ago via web
Chris Sheridan
CSheridanESPN
---
QUOTE OF THE NIGHT
"As the minutes continue to drop and I'm not in the fourth quarter, I'm going to become unbearable on the bench and pretty much annoy him to the point where he has to put me in."
-- Spurs forward Tim Duncan, whose sub-30 mpg often sees him relegated to rest his 34-year-old frame on the bench near coach Gregg Popovich. He played his 1,000th game Sunday.
7.

C's Looking Livelier This Season
By Chris Forsberg
ESPN Boston.com

How is Boston performing compared to last season? We all know the Celtics faltered after Christmas last season, going 27-27 over their last 54 games. But the Celtics started 23-5 before the wheels came off. So we compared Boston's pre-All-Star numbers last season (50 games, 32-18) to where the Green stand through 23 games this season (19-4).
The Celtics are up in scoring (100.7-98.7), rebounds (39.7-38.8), assists (25.9-23.5) and field goal percentage (50.9-48.4). Boston is attempting five fewer 3-pointers per game and its efficiency rating is seven points higher than it was at last year's break.
Boston is slightly off pace in steals and blocks, but about the only category it is really underperforming in is free throws. The Celtics attempted nearly two more freebies per game last season.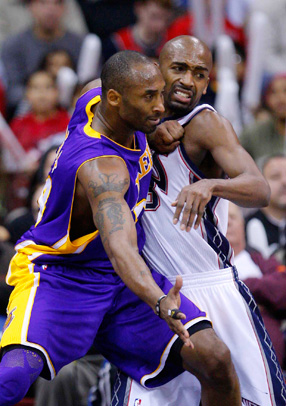 (Jim O'Connor-US PRESSWIRE)
Lakers guard Kobe Bryant tries to free himself from Nets defender Quinton Ross. Bryant finished with 32 points in the Lakers' 99-92 win.

The 76ers held the Hornets to 23 points in the first half of their 88-70 victory at Wells Fargo Center. That was one point more than the lowest total recorded in one half against the Sixers since the 24-second clock was introduced in 1954. Philadelphia held Denver to 22 points in the first half of a 9371 victory in 2002, and the Syracuse Nationals (predecessors of the 76ers) led the Milwaukee Hawks, 44-22, at halftime on Feb. 12, 1955.